Kickstart Your Career in Design
Wednesday July 21st, 2021
6:00 PM - 7:00 PM
Event Details
BrainStation's 'Kickstart Your Career in Design' series is focused on exploring what it takes to start your career as a UX/UI Designer. Each hour-long event is led by an industry leader in design, who will guide you through UX design principles, industry trends, and case studies of world-class companies taking a design-first approach to innovation.
What We'll Cover
- Industry and Trends
- Case Studies in Design
- Career Possibilities and Design Roles
- Mapping Out a Career Transition
- Next Steps
- Q+A With an Industry Leader
If you're interested in building a career in design, join us for a free overview of the field, delivered by one of our industry expert UX/UI Design Instructors.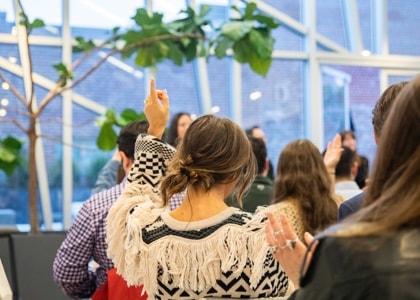 Speakers
Kelly Johnson
UX, MarTech at The Home Depot
Topics of Discussion
UX Design

UI Design

Design Principles

Design Career Paths
Become a Sponsor
Become a BrainStation Event Partner to get involved with some of the industry's most exciting thought leadership events. Fill out the form to learn more about sponsorship opportunities.
Reserve Your Spot
Join a dynamic group of like-minded professionals and industry leaders.
Wednesday July 21st, 2021
6:00 PM - 7:00 PM