Panel Discussion
FinTech | Democratization Through Digitization
Thursday September 26th, 2019
6:30 PM - 8:30 PM
136 Crosby St, 4th Floor, New York City, NY
Speakers From
Event Details
As technology continues to disrupt the financial services industry, FinTech companies are making financial literacy and planning easier and more accessible to all. With heightened competition, better alternatives, and increased transparency – all in the palm of your hands – the way we understand, manage and invest our money has fundamentally changed.
Join us as we discuss how FinTech has transformed our relationship with financial service providers and what the industry's leaders are working on next.
As a part of the BrainStation Gives Back Initiative, all proceeds from this event will be donated to Moneythink, an organization that empowers under-resourced students to achieve college success by supporting financial decision-making through coaching and technology.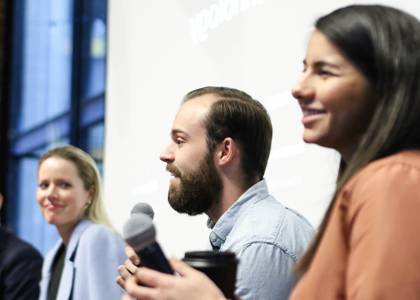 Event Speakers
Alexandria Stried
Chief Product Officer, Ellevest
Mark Sette
Portfolio Manager, Wealthsimple
Sasha Pilch
Sales, Plaid
Become a Sponsor
Become a BrainStation Event Partner to get involved with some of the industry's most exciting thought leadership events. Fill out the form to learn more about sponsorship opportunities.
Reserve Your Spot
Join a dynamic group of like-minded professionals and industry leaders.
Thursday September 26th, 2019
6:30 PM - 8:30 PM
136 Crosby St, 4th Floor, New York City, NY