BrainStation Vancouver Demo Day
Thursday September 29th, 2022
5:00 PM - 7:30 PM
455 Granville St, Vancouver, BC
Event Details
We're excited to welcome you to our Vancouver campus for Demo Day!
Demo Day is BrainStation's graduate project showcase, which celebrates everything our students have accomplished during their bootcamps.
Designed to connect graduates with cutting-edge companies, the event is an opportunity for our students to demo their final projects to hiring partners and the BrainStation community.
You'll network with industry professionals and meet top talent from our Web Development and UX Design programs.
Join us as we celebrate our return to campus with food and drinks!
Schedule
5:00 - 6:00 pm: Student Showcase & Networking
6:00 - 7:30 pm: Community Evening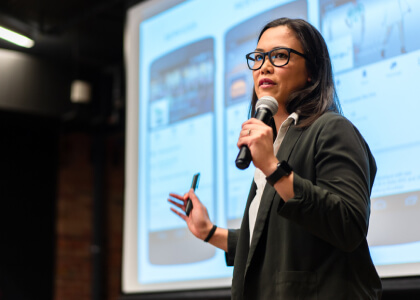 Topics of Discussion
Web Development Talent

UX Design Talent
Become a Sponsor
Become a BrainStation Event Partner to get involved with some of the industry's most exciting thought leadership events. Fill out the form to learn more about sponsorship opportunities.
Reserve Your Spot
Join a dynamic group of like-minded professionals and industry leaders.
Thursday September 29th, 2022
5:00 PM - 7:30 PM
455 Granville St, Vancouver, BC