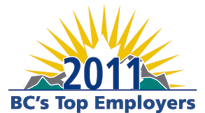 Chris Breikss and John Blown have come a long way since appearing in an episode of MacGyver as children.
In fact, they've come a long way since they first started their marketing company, 6S, in 2000. After 11 years in business, 6S has expanded from serving a small clientele to boasting an impressive client list featuring some of Canada's most influential companies. It's gone from a two-man operation to a full 25 staffers in their Yaletown office — but maybe it's no surprise that 6S is a popular company to work for.
They were named as one of B.C.'s 2011 Top Employers by Mediacorp. Mediacorp gave these reasons for selecting 6S:
helps employees save for retirement with a defined benefit or defined contribution pension plan (depending on employee group)
supports employees in the maintenance of their work-life balance with alternative work arrangements including flexible hours, telecommuting, 35-hour work week (with full pay), shortened work week (fewer hours with less pay), compressed work week, and a formal earned days off program
lets all employees share in the company's success with generous financial benefits including year-end bonuses, profit-sharing plan, and a share purchase plan
encourages ongoing employee development with tuition subsidies for job-related courses, subsidies for professional accreditation, a formal mentoring program, and in-house and online training initiatives
Congrats to 6S, and to the other companies that made Mediacorp's 2011 Top Employers list.