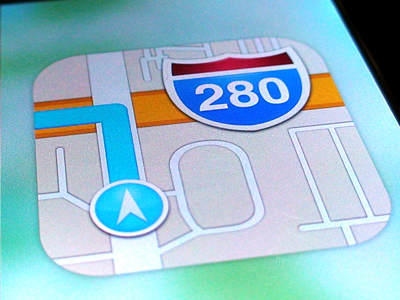 Every business wants to be top of mind in that critical moment when their potential customer needs their services.
Thanks to mobile devices, finding a product or service based on location or peer review is now a simple on-the-go task. For consumers and businesses alike, the value of a particular application that provides lookup services is driven by user adoption and partnerships. A critical mass of business listings and users are both necessary, but as in much of life, it's also all about who you know.
Until recently, Google's dual domination of the search and mobile mapping spaces gave their Google Places/Google Local listings a leg up over dedicated directory based brands like Yelp or Trip Advisor. As a result our web agency encourage clients to claim their Google Places/Local listing if they haven't already (especially now that Local has been integrated into Google+).
However, Apple's decision to launch their own mapping application in iOS6 opens the door to a new directory across the dominant iPad/iPhone/iPod product lines. While Apple could have developed their own proprietary solution, the iOS6 preview and industry articles reveal that the source of business listings and reviews will be the established directory, Yelp.
In fact, Yelp will also be the provider for business listings and reviews in Siri voice-assisted searches on iOS devices and Bing Local searches. This will impact Bing searches on the desktop, and will likely spill into integrated features on Windows Mobile tablets and phones.
So, what does this mean for your business? While you can't control how people review you on Yelp (except by offering a great customer experience), you can make sure you're found effectively.
If you haven't already, claim your Yelp business listing. You'll have to go through a process of validating your identity with Yelp (after all, you don't want just anyone controlling your business listing across the Apple and Microsoft kingdoms) and then you'll be able to update your business information to ensure you're found effectively and don't miss out on a potential customer connection.
It also means that monitoring Yelp reviews or even taking advantage of their updated metrics could offer important insights into your on-the-ground brand perception and what's holding back prospects from becoming fans.
This is a guest post that appeared originally online yesterday on the Domain7 blog.