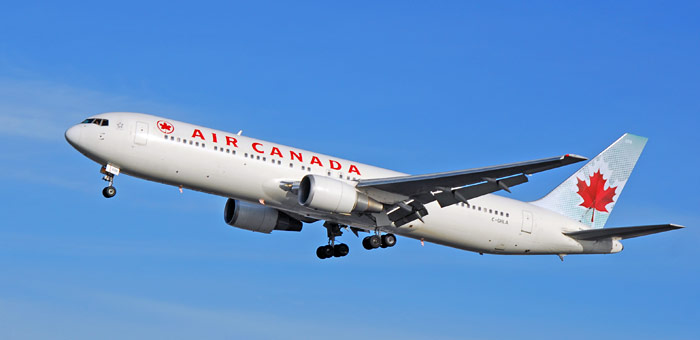 Air Canada announced Friday that the company is extending its Montreal to San Francisco service to a year-round offering.
Members of the Montreal tech community will be among those happy to see the change, particularly startups and venture capital firms travelling to Silicon Valley.
"Air Canada is solidifying its position as the only airline offering non-stop service between Montreal and California, with up to five flights per day," said Air Canada's Marcel Forget. "Both our San Francisco and Los Angeles flights have been scheduled to enable easy connections to Air Canada's extensive domestic and international network via Montreal."
Beginning in November 2013 the previously seasonal route will change to accommodate growing demand. At least one flight will leave Montreal every day at 5:35 in the evening and return from San Francisco every morning at 8:10. The company said both business and leisure passengers made a strong case for the extension.
Montreal-Trudeau Airport served more than 6.2 million of the airline's customers in 2012 and operates more than 100,000 of Air Canada's flights every year to 67 destinations.
One tech entrepreneur who was pleased with the announcement is 5by CEO and angel investor Greg Isenberg. The Montrealer frequently travels between the two North American cities.
Isenberg said it's an easy decision to choose Air Canada over a lower-priced competitor like US Airway's full-day Air Wisconson flight. Unlike the latter, Air Canada's service to San Francisco takes about five hours and comes with its signature in-flight entertainment for a "relaxing experience."
The only problem for startups is the price, said Isenberg. "My issue with Air Canada is it's so expensive if you book within two weeks of the flight," he told Techvibes. "Especially for early tech entrepreneurs it's almost inaccessible. It's great for VCs, it's great for angel investors or successful founders, but I don't think it solves the problem for the people who need it the most."
All flights will be operated with the Airbus A319 aircraft. Furthermore, the Montreal-San Francisco flights are timed to offer connections with the carrier's international flights from Montreal-Trudeau airport to a host of international and domestic Canadian locations.
Isenberg added that when he does fly Air Canada, the usual suspects are typically on the same plane. "It's always the people you'd expect: those from Real Ventures, from iNovia Capital, etc."