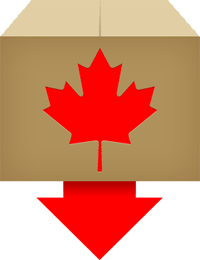 While cyber security is a big issue in Canada today, it might be more important to look at issues around access.
Recently, PBS posted a video explaining how the U.S. is falling behind in Internet service. While the focus is American, the video highlights some key issues in network infrastructure. It also got me digging a bit deeper into how Canada's services ranks among the world leaders.
There are a number of issues that face Canada's cyber infrastructure, but what's most pressing for us as Canadians is access. A significant amount of data from the PBS video is based on a Harvard study that ranks Canada at #19 overall — below the U.S. and several European and Asian countries. The OECD ranks Canada even lower.
How is Canada's Internet access inferior? According to the Harvard study, which takes into account factors beyond broadband access to include prices, speeds, and 3G mobile broadband penetration:
Our company-level pricing study for the highest-speed offers in the countries we observe here locates all of the Canadian companies but one in the cluster with the slowest speeds and highest prices," said the report from the university's Berkman Center for Internet & Society.
the Berkman Center found that regulatory hesitation and an over-reliance on competition between telephone and cable companies are the causes of Canada's poor performance. While the CRTC did institute open-access rules that require network owners to share their expensive and hard-to-replicate infrastructure with smaller competitors, it has only done so half-heartedly, the report said.
Part of the reason that this information comes as a surprise is that in Canada, we rely on the people and organizations that are responsible for our networks to report on them.
The country's biggest internet providers last year sponsored a study that found Canada was a world leader in many broadband measures.
It's no secret that there has been a lack of competition in the ISP market, but another consequence that isn't touched upon by these studies the issues concerning bit caps and possible user based billing, which Netflix has been vocal in opposing.
It may seem unfair to compare the network infrastructure of Canada, the second largest country in the world with one of the lowest population densities with relatively small geographical areas like The Netherlands, but it's also a difficult issue to ignore. Many homes in The Netherlands operate with fibre optic connections while in Canada, we're lucky to get these connections at our major distributing hubs. PBS reports that homes in The Netherlands often receive 20 times the download speed than homes in the U.S. With improvements in fibre optic technology, this difference could become 100 times faster.
As far as price goes, Great Britain has hundreds of Internet providers that have led to an overall increase in customer base and more affordable access.
As more of our business and communications shifts online, our access to online communities will be the key to developing an attractive environment for business and for fostering an educated workforce.