The ubiquitos Kindle eReader. I see them almost everytime I travel downtown by public transit. The Kindle is the #1 selling item on Amazon.com for two years running. It's also the most-wished-for, most-gifted, and has the most 5-star reviews of any product on Amazon.com.
Yesterday, Amazon introduced a new generation of Kindle.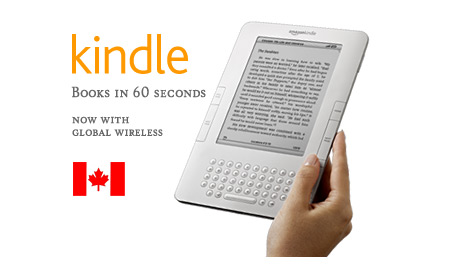 This edition, among other features, has improved contrast, a smaller body while keeping the same 6-inch reading area and is slightly lighter than the previous version.
The new Kindle also offers up to one month of battery life, double the storage, and more—all for only $189, and still with free 3G wireless—no monthly bills or annual contracts.
Or you can ge tthe Kindle Wi-Fi edition for for $139 – but you'll have to get a contract for network access.
The all-new Kindle and Kindle Wi-Fi are now available for pre-order at www.amazon.com/kindle3G and www.amazon.com/kindleWi-Fi, and will ship to customers in Canada and the States beginning August 27th.