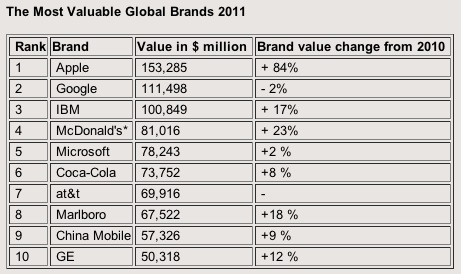 Clearly, technology on the whole is valuable.
Six out of the top ten "Most valuable global brands" in 2011 according to WPP's annual BrandZ study were technology firms. At the top, Apple surged a remarkable 84 percent—by far the greatest rise in the top 10—to fly past Google, which dropped two percent. Their values were pegged at 153 and 111 billion respectively.
Other technology firms included IBM in third place, which rose 17 percent to just under 101 billion, as well as Microsoft, AT&Tm and China Mobile, in fifth, seventh, and ninth place.
Waterloo's Research in Motion plunged 20 percent, falling to a value of $24 billion.
Image credit: MacRumors