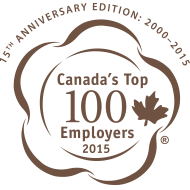 Now entering its 16th year, the Canada's Top 100 Employers project is a national competition to determine which employers lead their industries in offering exceptional workplaces for their employees.
Employers are evaluated by the editors of Canada's Top 100 Employers using eight criteria: physical workspace; work atmosphere; benefits; vacation; communications; management; training; and community involvement.
Technology companies in the list include telecommunications giants Rogers and Telus (but not Bell), as well as Waterloo darling OpenText (but not BlackBerry). SAP Canada and SaskTel also made as the list, as did BDC Capital. Other tech firms ranked include Digital Extremes—one of the smaller companies on the list with fewer than 200 employees—as well as Ericsson Canada and HP Advanced Solutions.
Check out the full list here.