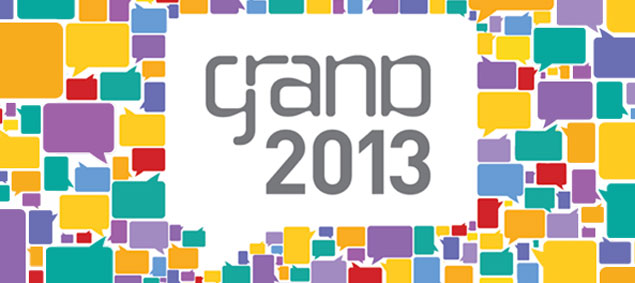 The Canadian Digital Media Network and sister organization GRAND-NCE are teaming up this year to co-locate their respective annual showcases in Toronto.
CDMN's Canada 3.0 conference is being held at the Metro Toronto Convention Centre May 14 and 15. The partnership between the two organizations marks a shared desire to grow Canada's digital media landscape from grass roots level research to commercialization.
"This is an exciting opportunity to exchange ideas and increase connections between faculty and students (who are actively engaged in digital media research across Canada) and their counterparts in government and industry," said Dr. Kellogg Booth, Scientific Director at GRAND. "We look forward to working closely with the CDMN to build on their past success in creating a national forum for digital media."
CDMN and GRAND are both considered "Networks of Centres of Excellence," or NCEs, which are organizations that offer programs to "mobilize Canada's best research, development and entrepreneurial expertise." Both organizations get their funding through this federal government institution. GRAND is considered a classic NCE focused on university-based research while CDMN is considered part of the Centre of Excellence for Commercialization and Research program, focused on commercialization.
The two organizations are set to move forward together in May when their showcases will be held simultaneously. For GRAND it marks their fourth annual digital media conference that will showcase a multi-disciplinary program of research and innovation spanning the broad spectrum of digital media from across Canada.
"We're bringing together the research community, industry, academia and government in such a fashion so that we accelerate their outcome," said Kevin Tuer, Director of CDMN. "So they get exposure from an industrial perspective and our people will get exposure from the research community. It's a win-win."
Because GRAND works with over 100 researchers from 26 universities across Canada, their annual conference serves as a way to bring researchers face-to-face. The agenda will include workshops, presentations by graduate students, keynote speakers, project meetings for researchers who are collaborating from different parts of Canada and more.
The organization sponsors research projects across Canada, from game technology solutions for children with neurodevelopmental disorders to copyright and intellectual property research. GRAND's motive is to push a broad spectrum of innovative digital media research into commercialization. Tuer calls his organization a "connector" to help bridge GRAND with the receptor community.
Booth calls CDMN "crucial to our long-term success." It's his belief that the CECR programs (such as CDMN) were started in order to help classic NCEs like GRAND get "those final couple of steps out of the way." The research was there in past year but getting it to the forefront for commercialization was challenging.
For academic researchers it's not always easy finding potential suitors in the form of companies willing to fund research.
"And that's really where CDMN comes in because they put a lot of effort into identifying small startup companies wherever they come from," said Booth. "So I see that as very positive and I think the MCE program was correct in realizing that there are simply limitations of what the traditional MCEs can do. It's hard to put all the additional effort to be courting industry."