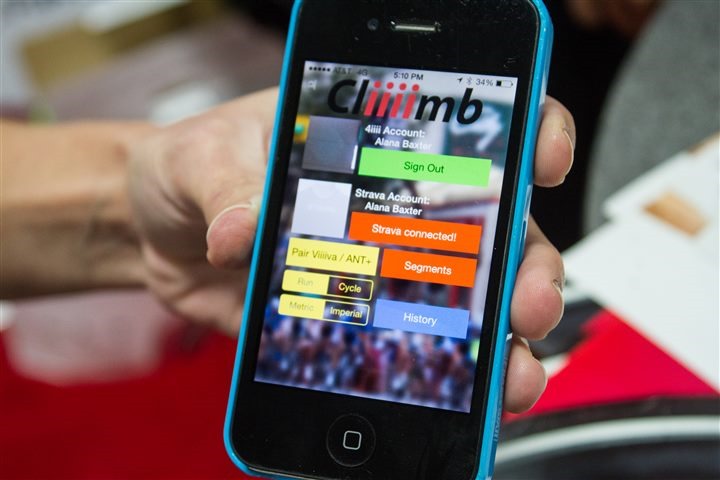 Interbike is North America's largest bicycle trade show and Cochrane's 4iiii Innovations was at it in Las Vegas this past September to unveil Cliiiimb.
Cliiiimb is 4iiii's new line of cycling, running, and triathlon training products that they hope will dictate the future of high performance training.
Cliiiimb Pro is an innovative combination of wearable technology and a compelling iPhone app that brings real-time King of the Mountain data to Strava users when they need it most: during their segment, not after.
"When hundredths of seconds can make the difference between a win or a loss, athletes need to ensure they are maximizing their training efforts," explains Alana Baxter, 4iiii Product Manager. "The technologies developed by 4iiii not only make it safer to train by keeping your focus on your run or ride but they also make it smarter by giving you real-time tools that tell you specifically whether you are under or over performing on any given segment. "
Cliiiimb has been designed and developed for the millions of Strava users who share their results on various routes called "segments." The athlete with the fastest time on a segment is named the "KoM" or "King of the Mountains" for that segment.
Users can run or ride against a virtual training partner or a previous personal best from segment leader boards. The app tracks your progress while the hardware gives you real-time audio and visual feedback on your position and progress.
Cliiiimb is ready to ship in time for the holidays, so if you're looking for a unique gift for a cycling enthusiast check it out online.