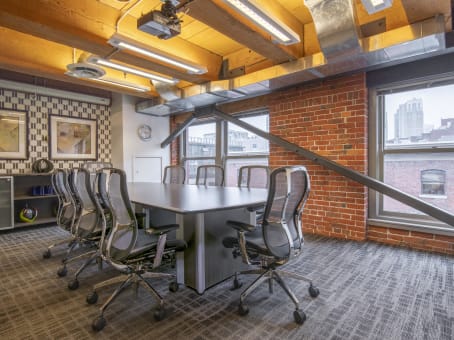 Regus, a provider of flexible workspaces, has opened its first coworking space in Canada.
Located in Vancouver's upscale Yaletown neighbourhood, the space is the company's 11th full-service business centre in the city but its first coworking-centric one. Regus says the space has a décor "that reflects Yaletown's unique style" and that it "provides a creative collaborative environment that offers all the amenities a business could need to succeed."
Wes Lenci, vice president of Regus Canada, predicts an increase in the use of co-working spaces as a key workplace trend of 2013.
"Research has shown that collaborative co-working spaces are proven to increase self-confidence due to a flexible working environment and being surrounded by a supportive community of like-minded professionals," explains Wes. "Members who use co-working spaces are more likely to expand their business networks and are more up to date on the latest business trends."
The space will be called the Regus Yaletown Centre. The new location provides the local startup community a range of options, including fully equipped offices, virtual offices with "a prestigious address," office support, meeting rooms, and membership of space they can use on their own terms.