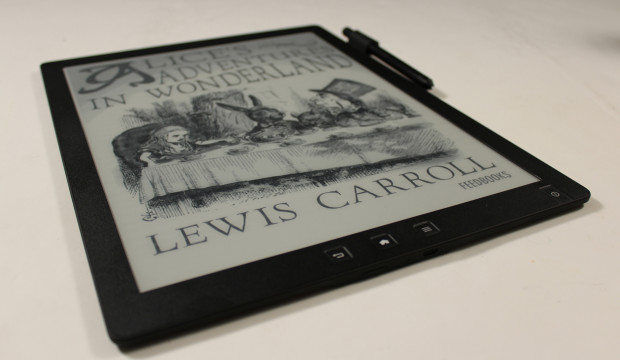 Michael Kozolowski knows a lot about e-readers. He's been blogging about them for years.
Now, he's going from writing about e-readers to making them.
"In covering the news we saw big holes in the market," he says. "A lot of people wanted something bigger than the standard Kindle or the standard Kobo."
And with the big e-reader makers seemingly uninterested in making a bigger physical product, Kozolowski saw an opportunity to do it himself.
He's now raising money on Indiegogo to bring a 13.3 inch Android e-reader to market.
In the e-reader market, he says "it's almost like a race to the bottom."
E-readers may have dropped in price since they've come out, Kozolowski says, but they've also dropped features. He says there seems to be an attitude in the e-reader industry that cheaper is better.
"I think these guys are out of touch," he says. "We wanted to do a device that sort of bucks the trend."
Kozolowski says he sees a couple different markets for the device. With longer battery life and less glare than a tablet, he thinks the device will appeal to people, like architects, who use their devices outside.
"We wanted something that's big that you could use outside, on site," he says.
He also thinks it will resonate with consumers who have poor eyesight.
While Kozolowski is developing software for the device, he's partnered with Taiwan-based Netronix for the actual manufacturing. That company is best known for building the Kobo reader.
He says it's a fully commercial-level product.
"The build quality is very high," he says.
And it's ready for production, he says. "It's not a prototype."
The device runs on the Android operating system, so it will work with apps put out by major e-book distributors.
Kozolowski says he decided to launch the device through a crowdfunding campaign to gauge how serious people were when they said they wanted a larger e-reader. Less than weeks into the campaign, Kozolowski has raised 139% of his US$42,000 goal and there are almost two months left to go.
For Kozolowski, it's just the beginning, he's already thinking about a second generation of the device.
"I'm excited about this, it's our first commercially viable product," he says. "I feel like this is a natural evolution of who I am but also who are company is."