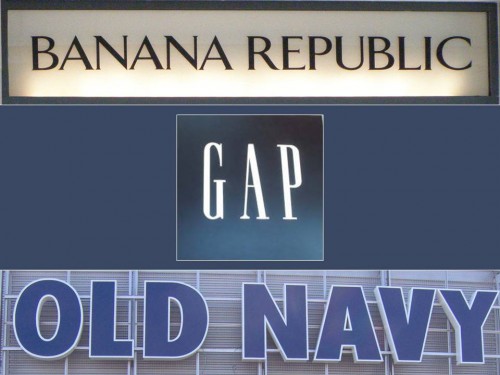 Like those preppy, Big Pony Polos? Or that embroidered Equestrian Knight with the classic plaid pattern?
Well rev up your car's engine and drive to your nearest Ralph Lauren or Burberry store, because not only do their online shops not ship to Canada, they don't even have Canada as a country option. Even Kuwait, Macau, and Aruba are apparently ahead of us.
But Gap and its tiered subsidiaries, Old Navy and Banana Republic, have finally answered our pleas. Last week, they officially launched fully Canadian online stores that ship to Canada, from Canada. This means no price conversions from U.S. dollars and no extra shipping charges for having your garments come from south of the border.
"Canadians are increasingly seeking effective online retail options and we have made significant investments to build a dedicated e-commerce site in English and French to meet these needs," Toby Lenk, President of Gap Inc. Direct, the company's e-commerce division said.
Chris O'Neil, head Google Canada, said in August that despite Canadians being some of the world's most web-savvy, we're horribly underrepresented by online retail. And he hit the nail on the head: surveys are always churning up that Canadians use the internet as much or more than anyone else, that it's embedded in our daily lives… and we love to shop as much as our southern neighbours, so why won't businesses make the effort?
Perhaps, in sync with Canadian stereotypes, we're too humble to ask: "Sorry for troubling you, sir, but we'd like to buy your products online."
But it shouldn't be our fault. Business should wake up and take notice, like Gap did, that we're a huge opportunity just waiting to be seized. But I suppose Gap is ahead of the game all-around—after all, their deal with Groupon was one of the hugest revenues for both organizations, and a first-ever of the type for Groupon.
Execs from similar companies should take notice of this innovative push North. Or they're going to have an awfully big gap to fill.