Who's On Now Connects you to neighbourhood service providers with a tap of your smart phone.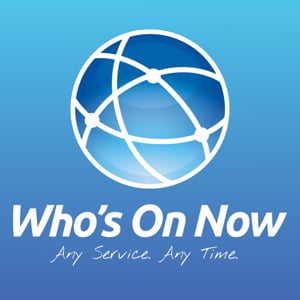 Where do you turn when your pipes explode in the middle of the night, your toilet suddenly overflows, or your babysitter cancels at the last minute?
Rather than sift through hundreds of businesses that populate through traditional online search, Who's On Now is the first mobile app that gives you instant access to the service providers you need, based on proximity, user ratings, and immediate availability.
Who's on Now is the first instant connect mobile search engine, making it fast and easy for local buyers and sellers of products and services to find each other, connect and transact with the free app. Who's on Now will revolutionize local business connections like Uber did for taxi rides, and provide a platform for smaller businesses without big marketing budgets to remain competitive.
With information at your fingertips in both IOS and Android Platforms, Who's On Now slashes the time you spend comparison-shopping, by connecting you with the seller you need, RIGHT NOW! And taking the stress out of getting real answers from professionals about immediate needs.
Who's On Now was developed by Founder Mehran Moeinifar, out of his personal frustration searching and connecting with a trustworthy electrician for his home. By aligning his technical know-how with what he saw as a huge opportunity to bring consumers and businesses together, the "uber of everything" was born.
"When you need a product or service, it can often be difficult to identify and connect with a trustworthy provider to do business with. A lot of times the phone number on Google is out of order, or an answering service says they'll call me back," says Moeinifar. "No one has time to wait when the toilet is overflowing, you need to know who is available now."
Using the app is easy as counting one, two, and three. It starts with a search by key words, and results are populated by proximity, availability, customer reviews, track record and response times. Businesses can broadcast via a live newsfeed. Customers are instantly connected with live search provider. A chat can be arranged for local businesses who respond the fastest to requests. Once a deal has been made, vendors are paid with a credit card and the service is delivered.