10:40am
Later this afternoon, Google is expected to unveil its vision for how a mobile phone should be made and sold. This move is being made to raise the internet search engine's bid to gain more control over how people surf the Web while they're on the go. Google's attempt to enter the mobile market will start with the Nexus One, the first smart phone designed by the company's own engineers.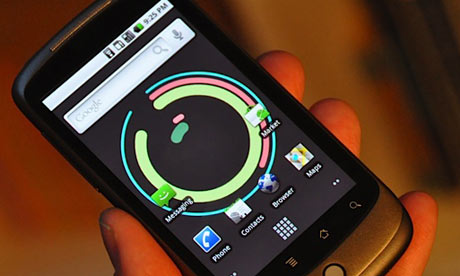 Google has said little about the phone except to confirm that its workers received the handsets three weeks ago for a final round of internal testing. Google is expected to provide the details about the phone, along with the company's vision for how such devices should be made and sold, during a news conference today at Google's headquarters.
In its invitation to the event, Google said the wireless market has only seen "the beginning of what's possible" with the free Android operating system that it introduced for mobile phones in late 2007. Android was designed to make it easier to interact on a mobile phone with Web sites and services, including Google's, while providing an egalitarian platform to run applications developed by outside programmers.
Until now, Google has been content to let other companies design the devices relying on Android. And those devices thus far have largely been distributed like most other mobile phones, tethered to major wireless carriers that typically require buyers to lock into contracts in return for discounts on the handsets.
But Google now appears to be ready to push its operating system in a new direction while trying to give consumers more flexibility to connect a mobile phone with the wireless carrier of their choice.
Google intends to stamp its own brand on the Nexus One and sell it directly to consumers over the Web, leaving it up to the buyers to pick their own carriers, according to reports published in technology blogs and major newspapers. That could open new possibilities while igniting new tensions in the mobile phone market.
Stay tuned for further updates…
2:40pm
So, it's final. the Google Nexus One is here.
At a press conference at Google headquarters in Mountain View, Calif., the company unveiled the unlocked, customizable "super phone" and a new Web store where it can be purchased. "Today we will unveil the next stage in the evolution of Android," Mario Queiroz, a VP of product development at Google, said on stage at the press conference.
However, it is not available in Canada, yet. At launch, the company is only shipping phones to the United States, the United Kingdom, Hong Kong and Singapore. "We'll gradually roll it out," a Google spokesperson said. "Right now, it's a bit limited from a shipping perspective." However, since the phone operates on the GSM network with a SIM card, phones purchased in those countries could technically be used in Canada and elsewhere, Wendy Rozeluk, a Google Canada spokesperson, said. These phones wouldn't connect to high speed 3G networks, she added.
Pointing to Google's pending US$750-million-dollar acquisition of mobile advertising company AdMob, a number of analysts said Google hopes to replicate its Web advertising success in the mobile space.
Ovum research fellow Jonathan Yarmis said Google will have to walk a fine line between marketing its own smartphone and being a supportive partner for the growing number of firms making their own handsets based on Google's smartphone operating system, Android.
Although Android's share of the U.S. smartphone market is relatively small, it has doubled in the past year to 3.5 per cent in October, according to comScore, and Gartner predicts Android-based smartphones will capture 14 per cent of the global market by the year 2012.
To take a tour click HERE.
for technical specs click HERE.