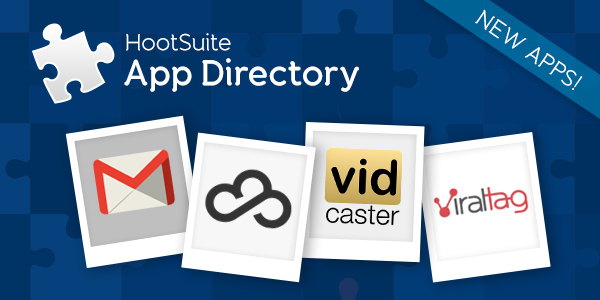 HootSuite just added four new apps, including two of the most popular user requested apps for Gmail and ViralTag for Pinterest to its App Directory.
The social relationship platform now boasts 65 social networks and tools used by today's social business.
The Gmail app for HootSuite allows you to monitor all of your points of communication within one central dashboard. According to their blog announcement today, "Never again will you have to take your eyes off another video on your Facebook feed for an urgent email. Simply tilt your vision a little to the side and you can multitask with optimal efficiency. You have the ability to read, reply, and delete emails from the dashboard".
So if you've been too busy tweeting up a storm on Twitter, you can now give your overloaded inbox some much needed attention alongside your social media streams.
The latest release also includes apps video success platform Vidcaster, and selling tool Shopseen. Social media practitioners no longer have to leave the HootSuite dashboard to access popular social tools, increasing productivity and efficiency.