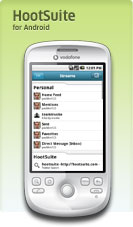 Building on the success of their iPhone App, Vancouver-based social media dashboard HootSuite launched a new version for the Google Android platform this morning. With today's launch, HootSuite also announced that they will be releasing an updated iPhone version featuring Facebook integration and landscape viewing later this week.
Users of either platform can choose between Full and Lite versions. The full-featured versions ($1.99) for Android and iPhone allow unlimited Twitter accounts plus on-board, click-through statistics tracking whereas the Lite versions (FREE) are limited to three Twitter accounts.
Both platforms are tightly integrated with the web version so current HootSuite users can quickly import accounts with help from a wizard allowing them to sync workflow from desktop to handheld and not miss any messages.
While there is no doubt that their initial foray into the world of Apps with an iPhone version made HootSuite's investors very happy, the Android Market seems to be the next logical frontier.
Yesterday on ReadWriteWeb, Jolie O'Dell shared the story of an Android App Developer that has seen his one Android App go from making $5/day in November 2009 to $400/day three months later. That's the same type of gold-rush opportunity that had everyone excited about iPhone App development this time last year.
To the HootSuite faithful out there that use Blackberries – now that the Android App is crossed off the list, we've got to be next. Fingers crossed.