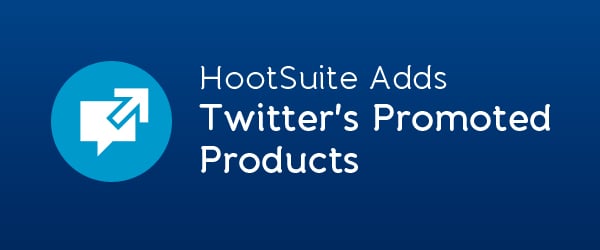 As one of Twitter's initial Ads API partners, Vancouver-based HootSuite Media today launched a new Promoted Products integration with the social network.
For the first time, social media buyers and practitioners can work together to simplify the workflow associated with buying Promoted Tweets, HootSuite says, and amplify these messages in real-time from the company's dashboard.
Twitter says that companies such as HootSuite are "important extensions" of their products. Adam Bain, Twitter's president of global revenue, says the social network is excited to "see their ability to help nontraditional marketers use Promoted Products as an exciting opportunity for both companies and our users."
Other companies that Twitter has granted its ads API to include Salesforce, Adobe, and TBG Digital.
SEE ALSO: HootSuite Named Best Company to Work For
"HootSuite provides our clients with the ability to amplify their owned content, keeping them at the forefront of social advertising opportunities. This process is now a simple and efficient one," explains Ryan Holmes, the CEO of HootSuite. "The new integration allows stakeholders in social businesses to instantly buy Promoted Tweets and Accounts from their HootSuite dashboard using our secure, role-based team workflow."
Recent reports from BIA/Kelsey, eMarketer, and Vizu all suggest that social advertising spend is expected to climb steadily through 2016. Part of that is because social grows in importance. Another reason, though, is because companies like Twitter and Facebook are making it easier and easier to spend money with them.
"We're always working on ways to make it easier to manage campaigns and get more value out of advertising with us," Twitter wrote on its blog. "One important step is to enable a diverse group of companies that can integrate seamlessly with our ads platform. We've been testing the Twitter Ads API since January with our partners, and today we're officially launching it. We think it will give you a fuller set of options to manage advertising on Twitter."
RELATED: Ryan Holmes Dissects Tech's Three Hot Markets
HootSuite says the integration provides customers with a variety of benefits. Users can deploy and discover organic content and amplify through paid campaigning; empower team members to assign tweets to paid media managers for amplification; showcase in-dashboard analytics to decide which social media messages deserve amplification; use data to create paid media strategies and elevate the impact of social media campaigns; and more.
The Twitter Promoted Products Integration is currently in limited beta for enterprise clients.