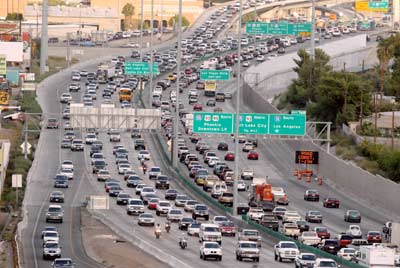 From finding a parking spot to dealing with construction and traffic jams—there's a lot to tweet about on Canadian highways.
IBM announced this week that they are giving drivers a unique perspective on the daily commute in five major Canadian cities. By analysing social media messages, their Social Sentiment Index measures how satisfied Canadians are with their daily commute. The study reflects a surprising level of variation in public opinion from coast to coast.
So which Canadian city has the most headache-free commute? According to the study, it's not Toronto. The city captured last place on the IBM index in terms of traffic congestion. Over 11 months, there were almost 10,000 tweets about traffic from Torontonians, and almost half of these were complaints.
Residents in Atlantic Canada were far less likely to complain about their commute. IBM notes that there were less than 1,000 messages about Halifax traffic on social media, and only 20% of messages were negative.
That's not to say that eastern Canadians aren't vocal about urban traffic. Interestingly enough, there were more tweets per capita in Vancouver and Halifax than in non-coastal cities like Toronto and Montreal.
A flood of negative tweets may seem like a bad thing, but IBM shows how social media can be a useful analytical tool.
"Worldwide, cities are using these kinds of data insights to better instrument physical transportation systems with sensors or mobile phones, measure the condition of assets and detect patterns to better plan routes, schedules and optimize vehicles, equipment and facilities to expand capacity," said John Longbottom, IBM's Canadian Smarter Cities Strategy Leader, in a statement.
The company's methodology includes measuring the number of tweets and keeping track of popular phrases. IBM says that the terms "commuting" and "stress" top the list of key terms, while "construction" and "weather" typically leave less of a mark on social media platforms.
Mobile technology is already paving the way for a better commuting experience in Canada. In Calgary, a new system launched last year allows drivers to pay for parking spots using text messages.
For carpoolers, there's Live Rides, an online ride sharing app that connects commuters heading to the same destination. While the startup is currently serving the Quebec City region, they plan to expand to other major cities in the near future.
Despite initial headway, there's still a lot to be done to improve life on Canadian roads. The key to future city planning, suggests IBM, is more research and analysis into our transportation systems.
"For a city planner or a company's chief marketing officer, it is indispensable to quickly know where to focus resources to have the greatest impact on the issues citizens and customers care most about," said Longbottom.
"The ability to effectively analyze data will define the next few decades of transportation, within cities and beyond."