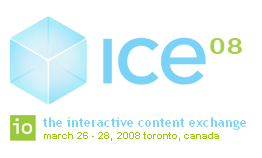 The Toronto DemoCamp community and Interactive Ontario are collaborating this year to feature a DemoCamp session at The Interactive Content Exchange (ICE). Great timing considering National Post's coverage of DemoCampToronto17 yesterday. ICE is a high-level conference and market dedicated to the business of content on interactive platforms and takes place March 26-28, 2008 at the Carlu in Toronto.
In addition, ICE organizers are leveraging social media and running a blogging contest with 2 free passes to ICE08 up for grabs. Have a read:
Tell us YOUR vision Canada's future in 300 words (or 2 minutes) to win one of 2 free passes to ICE08! Innovation. Creativity. Enterprise. ICE 2008 is the platform for showcasing and discussing these themes, bringing together the best in digital media in Canada and abroad. ICE08 looks across the media and tech landscape, identifying the trends and issues that will shape our digital future. We want to know what that future looks like to YOU – who are the leaders, what are the brightest ideas, and with what tools will the future in Canada be created? What's YOUR vision?

All forms of bloggable media are accepted, and must be tagged with "ICE08" to be eligible. Submissions will be juried by members of Interactive Ontario and the DemoCamp community, and the criteria of innovation, creativity and enterprise must be addressed.
Deadline for both the contest and DemoCamp presentation submissions (online form) is March 14th. Techvibes Media Inc. is proud to be a media sponsor of ICE08.