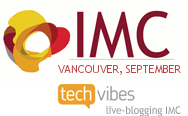 Are you coming out to this year's Vancouver Internet Marketing Conference (IMC)? Internet marketers, advertisers and business analysts from all ares of business will be in attendance at IMC this September 11–12 at the Coast Plaza Hotel. Sessions will cover the tools of the trade for doing business online: web analytics, strategy, content, search engine marketing, search engine optimization, e-mail marketing, social media, on-site behavioral targeting, multivariate testing, and much more.
On behalf of TechVibes, Monique Trottier of Boxcar Marketing and Corey Rollins of AdHack will be live blogging the conference for those who can't make it or those who are in alternative sessions but want the full conference scoop.
In particular, we are looking forward to hearing from Eric T. Petersen, Web Analytics Demystified; Xavier Casanova, Liveclicker; Christine Mykota, SAP; Tom Leung, Google; Stefan Eyram, ExactTarget; Jonghee Jo, Victoria's Secret and Bob Page, Yahoo.
Some local favourites include Darren Barefoot and Julie Szabo, Capulet Communications presenting case studies of successful social media marketing; William Azaroff, Online Strategy & Community Engagement at Vancity, talking about engagement and community on ChangeEverything.ca; Andre Charland, Nitobi, revealing cheap and cheerful ways to do usability testing; and Jim DeLaHunt, Vancouver-based software engineer and consultant helping businesses serve culturally diverse markets through multilingual websites, who is speaking on a "Writing for the Web" panel with Monique on Sept 12.
There are lots more local favourites and excellent speakers. The full agenda, with links to each speaker, is available at InternetMarketingConference.com.
If you're interested in how to acquire and retain customers by optimizing your marketing, come out to the Internet Marketing Conference this Thursday and Friday. Registration is still open.