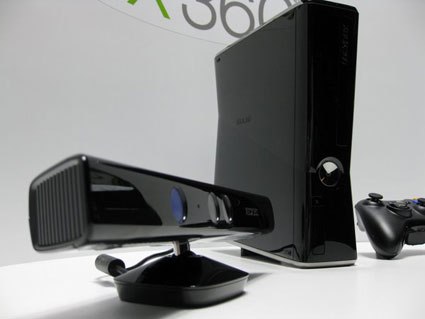 Many have seen the wide ranging applications beyond just video games of the Nintendo Wii and the XBOX 360's sensing input known as the Microsoft Kinect. However, those applications have normally been reserved for research, health, or live event marketing purposes.
At the Cannes Lions International Festival of Creativity, the General Manager of XBOX Live Entertainment and Advertising Ross Honey and a colleague showed a demo of what the company believes is the next chapter in interactive entertainment.
It says in the Cannes Lions Program Guide that "The future of Interactive TV is here. Though technology consumers are now using more natural actions to interact with their TV sets; the simplicity of the spoken word or the wave of a hand is removing the last barrier to interactive TV."
That wave of a hand or your voice will allow you to navigate the 90-plus television providers Microsoft has recently aggregated into the XBOX 360. Natural user interface technology was perhaps thought to be somewhat futuristic a few months ago on a wide scale, but Microsoft executives assured the audience that by Christmas this will be in your living room.
The guide further says, "this innovation provides the ultimate creative canvas for content providers, game developers, brands, and more to transform the way interactive entertainment is enjoyed."
This creative canvas is becoming increasingly needed for content providers, game developers, brands, and more because the millennial generation wants a say in the production process. They also want to engage with authentic brands.
That was reinforced by producer Jon M. Chu of Justin Beiber's Movie "Never Say Never," who said that they actually changed what the movie was originally going to play as after listening to some of Beiber's millions of fans. MTV President Stephen Friedman also echoed those same sentiments in a panel that also featured the multi-talented Selena Gomez, saying that fan reaction is increasingly changing the production of a television series episode-to-episode as it plays during a given season.
There are just shy of 2.4 billion millenials worldwide (which refers to persons born between 1980 and 2000), so it's important to listen to them to get the best show results. However, Microsoft has a slightly different twist on "actions and reactions" changing the outcome of a television show.
What Microsoft has coined as "Passive TV" will remove the pain of "app diving" for a favourite show. One will be able to search using their voice instead. Users will be able to watch two shows at once and go through mini-guides to find what they want.
Second, with "Active TV" the user will be able to participate within the show. Sesame Street has always wanted to allow children to interact with Elmo, for example on live television. The Kinect will stunningly allow for just that, allowing the user to make a choice whether or not to interact with Elmo. Sesame Street has an "action of the day," and the child will be prompted by the television character to "jump" for example and then the show will resume.
Third, users will be able to jump into shows in the form of playing multiplayer-based games based on the programming content. This is especially relevant for National Geographic, where kids will be able to experience a gaming adventure alongside the TV show host's adventure though the wild.
Finally, this wouldn't be complete without a component known as smart glass that was unveiled at the E3 Expo in Los Angeles recently that can connect to your smartphone or tablet. That's because many of us use our smartphones and tablets while we watch television.
The dream of advertisers is to be able to send you content to your device about the commercials one has just watched if one is willing. Further, the smart glass can also allow for your device to be used as a companion to help you learn the characters of the show you're watching. For example, HBO's Game of Thrones has over 500 characters and 5000 scenes, so you can see why the companion guide would be useful in that sort of situation.
These early ideas and more to come from Microsoft will enable much creativity when it comes to interaction design for content providers, game developers, brands, and more.