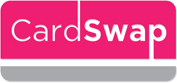 It's your boss' birthday. What to get her? Well, nothing spells a great present like a gift card for a fine steakhouse. After all, who can turn down a thick, juicy, mouthwatering steak? Foolproof!
Too bad your boss is a vegan, and you've just given her something she has no use for. Oops.
Well, it turns out that "useless" gift card isn't so useless after all. Thanks to Canadian start-up cardSwap.ca, anyone can turn those unwanted gift cards into cash by selling them to other Canadians at a slight discount. The whole process is safe and designed specifically for Canadian shoppers.
Once a card is listed on cardSwap, it is validated (either by phone or online), and an interested buyer uses INTERAC online to purchase the card. The buyer can then validate the card personally, and if everything checks out, should receive the card between three days and a week after the purchase is made. If no refund demand is made by the buyer, the seller is paid three weeks later, and cardSwap takes a six per cent fee (minimum $4.50).
Listings on cardSwap are sold at a discount. Some as low as 10 per cent, others a whopping 40 per cent or more. It's all up to seller to find what the market will bear.
So next time you get a stinker of a gift card, don't worry, you're not stuck with buying something from a place you don't like; you've just got to make a sale on cardSwap.
You can check out cardSwap and find out more here.