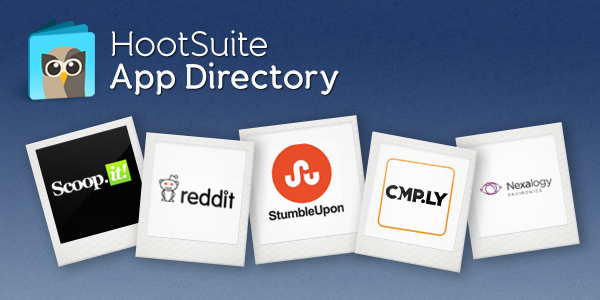 HootSuite has announced their next wave of App Directory additions. This round includes Reddit, StumbleUpon, Nexalogy, Scoop.it., and Cmp.ly.
The Reddit app allows HootSuite users to stream content, including from Subreddits, and share that content across their social networks. The StumbleUpon app allows users to discover new content by filtering for sites, topics, users and channels, view StumbleUpon pages in stream, and share that content.
"Our newest wave of apps target the growing population of social business users. Consumer-centric platforms now matter more than ever in social business and millions already use networks such as reddit and StumbleUpon to navigate and curate the web," says HootSuite CEO, Ryan Holmes. "By integrating these platforms into our App Directory, we open up new ways of exploring external content from our dashboard while keeping teams collaborating and conversing around social within HootSuite."
HootSuite launched the App Directory in late 2011. The Vancouver-based social media company now has 35 apps in it.
The Canadian company has also reached a major milestone—five million users—according to a press release issued this morning, which states that these apps are available immediately "to the company's five million Free, Pro, and Enterprise clients."
In coordination with the Reddit app launch, Ryan Holmes will participate in an "Ask Me Anything" session on October 31 at 10am PST.