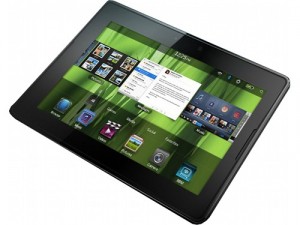 RIM has officially stated that version 2.0 of its not-so-popular BlackBerry PlayBook will launch in February 2012.
"We know that many of you are looking forward to BlackBerry PlayBook OS 2.0," RIM lies in a statement, "and we wanted to provide you with an update on the progress that we're making." (Do you hear crickets chirping?)
But get this: not only will that make it over half a year late, but it still won't come with BBM included—one of RIM's only valuable assets these days—with RIM saying, "we're still working on it." Wow, really?
RIM says that new developer tools will be available for native PlayBook apps, but let's face it—the only way BlackBerry's OS will get apps in 2012 is through Android. 
It's not all bad, though. RIM is finally addressing some of its users' concerns:
The software update will add advanced integrated email, calendar and contact apps, a new video store, as well as new functionality that will allow your BlackBerry smartphone and BlackBerry PlayBook to work together even better.
Too bad this is almost a full year after the hardware went to market. 
If you want to shake your head or /facepalm, check out the full statement.