UPDATE: Next week is now official.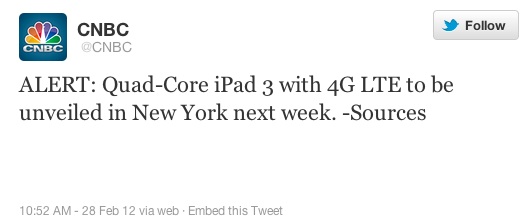 The rumours are everywhere. They have been since the day after the iPad 2 launched. Early on, they were hopelessly inaccurate. But finally, they all seem to be converging—the variance between each rumour is narrowing rapidly.
Today, a most confident CNBC tweeted, "ALERT: Quad-Core iPad 3 with 4G LTE to be unveiled in New York next week. –Sources." The timing has become the static factor: everyone believes that the iPad 3 will be unveiled in or around next Wednesday, March 7.
The quad-core and LTE compatibility, however, are up for debate. Bloomberg last month released a very similar report supporting a quad-core chip, but other rumours suggest that a souped-up dual-core processor is the route Apple would take (for the sake of battery life). And Jim Dalrymple tweeted that "CNBC is wrong," stating that the event won't be in New York—but did not attempt to diffuse the other facts.
So the amount of cores are anyone's guess, and the locale of the unveiling is still a coin-toss, but at this point, it would be a surprise if Apple didn't announce something, anything, next week.