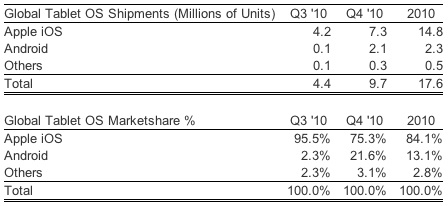 Apple iPad – Market share dwindles
Apple's iPad held as much as 95 percent of the tablet market shortly after it first launched. However, as new competing tablets emerged on the market, its share dwindled. Still, it retains a dominating 75 percent share of the market.
According to this chart from research firm Strategy Analytics, Android-rum tablets are clearly the only current competitor. However, both Microsoft and Research in Motion have plans for tablets, neither of which will run on Android, and both of which will erode Apple's market share further by the end of 2011.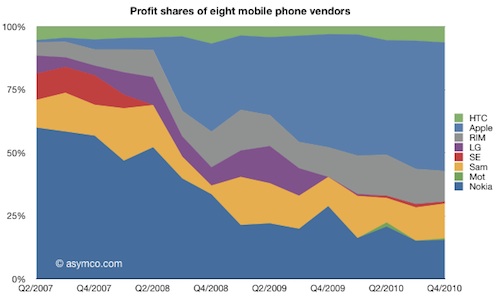 Apple iPhone – Potently profitable
Most are aware that Apple has some rather high markups on its products, making it possibly the only successful maker of "luxury" tech gadgets. But its truly remarkable to observe that while Apple's iPhone only holds a sliver of the global mobile unit market share—four percent—it accounted for roughly half of the industry's profits in the fourth quarter of 2010.
Asymco unveiled these data through a few almost psychedelic looking charts. Apple's highly focused targeting of the rapidly growing, big-pricetag smartphone market has generated tremendous profits for the company: its four percent market share translates into a stunning 20 percent of industry revenue and 50 percent of industry profits.