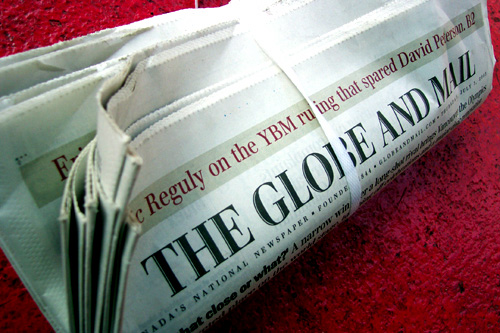 Earlier this afternoon The Globe and Mail launched a news app for the Apple iPad. This new app was developed by Spreed Inc. out of Toronto. The app provides readers with breaking news and analysis, a daily photo gallery and the ability to download content for offline reading. Spreed is not new to The Globe and Mail. Early last year they developed the original iPhone app.
The app also includes exclusive content selected specifically for the iPad reader.
It's always exciting when a Toronto-based company does good. So I seeked out Toronto's own Dave Coleman. Dave is the Director of Marketing for Spreed Inc.:
The Globe and Mail uses Spreed's ContentSync technology which provides them with a central platform to deploy, maintain, update and monitor all of their applications across all the major smart phone platforms. In addition The Globe uses our CleverAds mobile advertising platform which enables them to take advantage of all the opportunities smart phones bring to the advertising game.

Spreed stands apart from the other mobile ad platforms available as we integrate directly with the application and understand all user activity including reading behavior and location (think location based advertising to the street level and contextual advertising). We have been thrilled to be working with such a progressive organization like The Globe and Mail for the past two years and are very excited about the potential of the iPad in attracting high end advertisers to their mobile strategy.
We look forward to more developments coming out of Spreed in the near future.