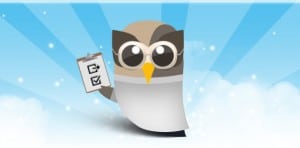 It just seems to get better and better for Vancouver startup HootSuite, who can add yet another trophy to their case: HootSuite won Best Social Media Management Tool at the Mashable Awards.
Mashable is a well-regarded site covering social media news and its Awards are based on community votes—which is good, because the American news sources otherwise find themselves forgetting about the amazing talents we have up North. But I have to give Mashable credit for thinking HootSuite is just as awesome as we do; the site regularly praises HootSuite's innovations, as HootSuite proudly points out in their most recent blog post.
This award follows the accolade recently received at the Canadian New Media Awards. And sooner or later, HootSuite will no doubt win an award for cutest logo. Seriously, their owl—who is regularly recostumed for various purposes—is certainly one of the more adorable faces representing startups today.
Congratulations to Ryan Holmes (CEO) and the rest of the gang on your achievements!
Do you use HootSuite? (I know I do.)