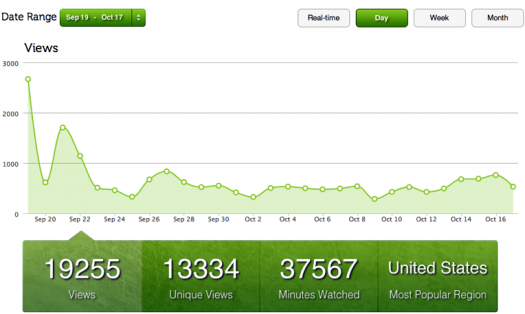 Waterloo startup Vidyard announced today that they're currently experiencing one million plays per day on their video platform.
"One million plays per day is the tip of the iceberg," says Vidyard CEO Michael Litt. "We're laying the groundwork to scale much higher. It's only a matter of time before one million plays per day turns into a million per minute."
Also included in today's press release was the news that Vidyard has hired former FreshBooks Marketing lead Mitch Solway as their Vice President of Marketing to help scale the startup's growth. Solway left FreshBooks last July on friendly terms.
According to Vidyard press release, Solway led the charge from 200,000 to over five million users in the span of 4.5 years there. Solway's experience also includes nine years driving growth as marketing vice president for Lavalife.
Last year Vidyard raised $1.6 milion from Softech VC, Y Combinator, SV Angel, Andreessen Horowitz, iNovia Capital, and a handful of angel investors. Among those angels is Jawed Karim, a cofounder of YouTube.
Vidyard was part of startup incubator Y-Combinator's Summer 2011 class and was named as one of five to watch by GigaOm from the class of 63 startups. The Canadian startup's growth is reflected by the fact that it is hiring.
Edited for accuracy.