Panel Discussion
Leaders in Tech Toronto | A Panel Discussion with Female Digital Leaders
Thursday June 28th, 2018
6:15 PM - 8:00 PM
460 King St W, Toronto, ON
Speakers From
Event Details
Want to hear from some of the top digital leaders in Toronto? Interested in the stories behind leading at companies like Shopify, Uber, Wealthsimple, RBC, Slack, Microsoft, Ubisoft, Freshbooks, 500px and more?
This panel will be an intimate discussion with inspiring female leaders in the Toronto technology space. Our panelists will share personal to professional advice and their journeys in achieving their current leadership roles. Hear about panelists' day-to-day responsibilities and look forward to discussing empowerment, stereotypes, barriers and even misconceptions of the latter.
We'll be closing with a Q&A session, where you'll have the chance to ask our panelists about leadership, professional development and more. You'll also have an opportunity to network with like-minded innovators and celebrate women leading in technology.
*Event is non-refundable and non-transferable.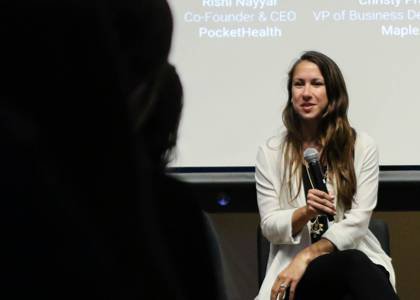 Speakers
Swapna Malekar
Senior Product Manager
Swapna is a Senior Product Manager at RBC, leading their innovation stream to create products and digital solutions using lean methodologies.
Prior to RBC, Swapna was the Head of Product at a UK-based SaaS Data intelligence company, Klood, that provided insights to enterprise clients through artificial intelligence.
Whilst in Singapore, Swapna was responsible for driving the Ecommerce growth for the Asian and European regions for the world's largest publishing company, Scholastic as their Product Manager.
She started her career with Accenture, and is a technology buff through and though. Her current passion is finding innovative usecases for blockchain and AI in the fintech/banking domain.
Nicole Millward
Senior Manager of Growth
As a Senior Manager, Growth, Nicole manages sales initiatives across BrainStation's global campuses. She has worked to accelerate the advancement of organizations in both the educational technology and not-for-profit sectors.
Inmar Givoni
Manager of Autonomy Engineering at Uber ATG
Inmar Givoni is an Autonomy Engineering Manager at Uber Advanced Technology Group, Toronto, where she leads a team whose mission is to bring from research and into production cutting-edge deep-learning models for self-driving vehicles. She received her PhD (Computer Science) in 2011 from the University of Toronto, specializing in machine learning, and was a visiting scholar at the University of Cambridge. She worked at Microsoft Research, Altera (now Intel), Kobo, and Kindred at roles ranging from research scientist to VP, Big Data, applying machine learning techniques to various problem domains and taking concepts from research to production systems. She is an inventor of several patents and has authored numerous top-tier academic publications in the areas of machine learning, computer vision, and computational biology. She is a regular speaker at AI events, and is particularly interested in outreach activities for young women, encouraging them to choose technical career paths. For her volunteering efforts she has received the 2017 Arbor Award from UofT. In 2018 she was recognized as one of Canada's 50 inspiring women in STEM.
Linda Byrne
Senior Software Engineer at Wealthsimple
Linda is a Senior Software Engineer in the Operations Engineering group at Wealthsimple, Canada's leading online investing service. Her work supports the operations of Wealthsimple including Client Success and Brokerage Operations. Prior to joining Wealthsimple Linda spent 18 years working as a software engineer in Xilinx, Algorithmics, IBM and most recently as a Cloud Platform Engineer at RBC.
Nathalie Crosbie
UX Lead at Shopify
Nathalie Crosbie is a UX Design Lead at Shopify where she empowers her talented team to build quality products that enrich the lives of entrepreneurs worldwide, supports her team to grow and thrive in their careers, and contributes to evolving UX as a craft at Shopify. In addition to her work at Shopify, Nathalie helps diverse individuals to strengthen their lives and careers through both her roles as a certified Coach and as the Director of the Toronto Chapter of Lesbians Who Tech, a global organization of 20,000 LGBTQ+ women-identified people and allies in tech.
When she's not working, Nathalie is either playing competitive volleyball, organizing foodie nights with her friends, travelling somewhere she's never been before, or soaking up quality time with her teen kids. Follow her on Twitter at
https://twitter.com/ncrosbie
Topics of Discussion
Getting Started and Moving Up in Tech

Skills and Tools for Effective Leadership

Mentorship and its Role in Career Advancement

Approaches to Gender Barriers

Programs Promoting Equality and their Effectiveness
Become a Sponsor
Become a BrainStation Event Partner to get involved with some of the industry's most exciting thought leadership events. Fill out the form to learn more about sponsorship opportunities.
Reserve Your Spot
Join a dynamic group of like-minded professionals and industry leaders.
Thursday June 28th, 2018
6:15 PM - 8:00 PM
460 King St W, Toronto, ON