Career Guide
How to Become a Data Analyst
BrainStation's Data Analyst career guide is intended to help you take the first steps toward a lucrative career in data analysis. The guide provides an in-depth overview of the data skills you should learn, the best data analysis training options, career paths in data analytics, how to become a Data Analyst, and more.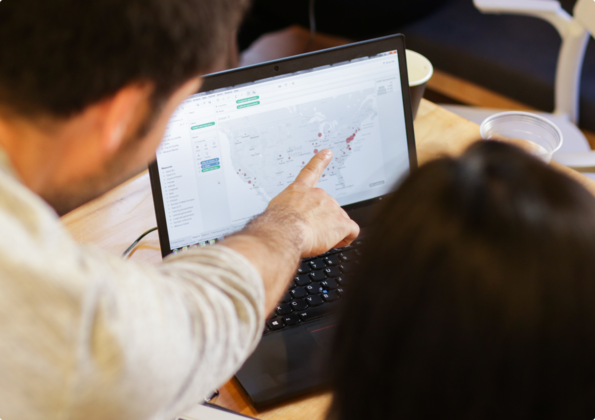 How Do I Become a Data Analyst?
To become a Data Analyst, you must have key data analysis skills and an ability to glean insights from large data sets.
Many job postings list advanced degrees as requirements for data-related positions. Sometimes, that's non-negotiable, but as demand outstrips supply—and given the often specialized, highly technical nature of the work—the proof is increasingly in the pudding. That is, data skills often outweigh mere credentialism. What's most important to hiring managers is an ability to demonstrate mastery of the subject in some way, and it's increasingly understood that this demonstration doesn't have to follow traditional channels.
In the end, there's no single path toward becoming a Data Analyst, and that's good news if you're hoping to land a data analysis role. Because Data Analysts can work across many different industries, may be generalists or highly specialized, and often play an interdisciplinary role in a company, even job titles in data analysis can be quite varied.
What Jobs Can I Get With Data Analysis?
There are a wide variety of jobs you can get with data analysis skills. All of the following roles draw heavily on data analytics skills, and are either an entree into the data field or fully immersed within it:
Researcher
Database Administrator
Data and Analytics Manager
Digital Marketing Manager
Statistician
Transportation Logistics
Business Analyst
Systems Analyst
Healthcare Data Analyst
Operations Analyst
Data Engineer
Data Analyst
Quantitative Analyst
Data Architect
Data Scientist
There are many other variations out there—new applications for data analytics are being developed all the time, and even the jobs listed here will continue to evolve as data analysis becomes more prevalent. Such a highly dynamic field, according to consulting firm Mckinsey & Co., means demand may outpace the projected supply of data professionals by 50 or 60 percent, making data science jobs ever harder to fill. All of which is to say that if you have data science skills and experience, you're already in a great position when it comes to career development and progression.
How Do I Become a Data Analyst With No Experience?
To become a Data Analyst without work experience, the best thing you can do is develop relevant data skills (and then demonstrate them publicly). Data analysis courses and data science bootcamps, for example, are an increasingly popular option for aspiring Data Analysts to learn key data skills and gain hands-on experience in an accelerated learning format.
Once you've acquired these key data skills, it's important that you display them by putting the code you've written (even as part of your coursework) up on GitHub to show what you can do and begin building your professional portfolio.
Becoming a member of an online data science network like Kaggle is another great way to show that you're engaged with the community, show off your chops as an aspiring Data Analyst, and continue to grow both your expertise and your outreach.
Finally, a well-executed project that you pull off on your own can be a great way to demonstrate your abilities and impress potential hiring managers. Pick something that you're really interested in, ask a question about it, and try to answer that question with data. Document your journey and present your findings—beautifully visualized—with a clear explanation of your process, highlighting your technical skills and creativity.
Get Started
Kick-Start Your Data Analyst Career
We offer a wide variety of programs and courses built on adaptive curriculum and led by leading industry experts.
Work on projects in a collaborative setting
Take advantage of our flexible plans and scholarships
Get access to VIP events and workshops
Recommended Courses for Data Analyst