Hiring BrainStation Graduates
Connect With Our Graduates
Welcome to our online student exhibit for our most recent BrainStation graduates. Meet graduating students from our Data Science, User Experience Design, Web Development, and Digital Marketing bootcamps by exploring profiles and watching video demonstrations. Then, let our Career Services team connect you with your top candidates.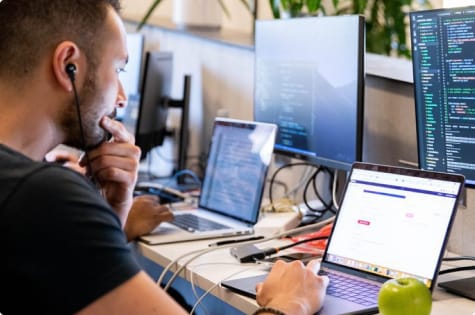 BrainStation's Bootcamps
BrainStation's bootcamps are designed to deliver a hands-on, project-based learning experience, emphasizing collaboration and outcomes-based skills development. Program curriculum is updated in real-time by industry experts, and built around real-world projects, ensuring that graduates are ready to step into a range of professional roles.
Become a Hiring Partner
Programs
Data Science
Data Scientist
Data Analyst
Data Science Researcher
Digital Marketing
Marketing Specialist
Search Engine Marketer
Social Media Manager
User Experience Design
User Experience Designer
User Interface Designer
Product Designer
Web Development
Front-end Developer
Full-stack Developer
Back-end Developer
Demo Day Students
Students
Alex Xue

Data Science

Toronto, ON

Open to Remote Work

Project: Personalized Travel Food Guide

The project is a recommender system that curates restaurant recommendations in another city based on the user's preferences in their home city.

Allan Isla

Data Science

New York, NY

Open to Remote Work

Project: Predicting Tennis Outcomes

Can we use data from prior years to help predict future matches? This can be helpful to those who are interested in predictive models.

Amol Kaushik

Data Science

Toronto, ON

Open to Remote Work

Project: Spam Review Detection

With the exponential rise of online shopping there has been a steep increase in the number of fake or spam reviews posted for products. Using Natural Language Processing, and Machine Learning, this model identifies and differentiates between spam and real reviews.

Anthony Dao

Data Science

St. Catherines, ON

Open to Remote Work

Open to Relocation

Project: Predicting Future IBM Stock Prices

Using historical data and deep machine learning model to predict the next-minute IBM stock pricem achieving > 50% accuracy and 94% ROI.

Ariyan Nooshazar

Data Science

Montreal, QC

Open to Remote Work

Not Open to Relocation

Project: League of Legends: Winning Team Analysis & Game Prediction

Using a LoL dataset of the last three years (2020-2022), can we predict the result of a LoL match within its first 15 minutes based on the amount of gold and XP earned by each team? How likely are the secondary objectives able to change the game result?

Autumn Salsberry

Data Science

Tacoma, WA

Open to Remote Work

Project: Predicting Adoptability

Using machine learning to predict if a dog is likely to be adopted or not from their images and key details about their rescue.

Barid Temple

Data Science

Regina, SK

Open to Remote Work

Project: Inventory Forecasting: Turning Data Into Dollars

Using Time-Series Machine Learning models and automated functional programming, to play the stock market with overhead expenses and drive profit margins to the extreme.

Camilla Diniz

Data Science

Oakville, ON

Open to Remote Work

Project: Stroke Prediction

Predicting the probability of patients having a stroke by using Machine Learning models.

Carlos Lesser

Data Science

Vancouver, BC

Open to Remote Work

Project: Dog Breed Image Classification with Convolutional Neural Networks

A Dog Breed Image Classification App using InceptionV3 with an accuracy score of 88% and deployed an app.

Daniel Logan

Data Science

Palo Alto, CA

Open to Remote Work

Open to Relocation

Project: Skin Lesion Predictions

Utilized images of skin lesions to train Convolutional Neural Networks to identify the categories and cancer risk of new images.

Dave Das

Data Science

Calgary, AB

Open to Remote Work

Open to Relocation

Project: Analyzing Success in the Film Industry

This project aimed to analyze the characteristics associated with successful movies by utilizing predictive modeling and data visualization techniques.

David Ongtenco

Data Science

Vancouver, BC

Open to Remote Work

Project: Predicting House Prices in BC

Houses are expensive. Let's find a way to evaluate homes to work within our budget. This capstone uses machine learning models such as XG boosting and Gradient boosting to predict the sales price of a home in BC.

Dingwu Liu

Data Science

Toronto, ON

Open to Remote Work

Open to Relocation

Project: How could machine learning uncover key indicators of heart disease?

Using machine learning to predict the probability of heart disease, identify risk factors, and provide recommendations to the general public regarding health.

Diogo Viana

Data Science

Calgary, AB

Open to Remote Work

Not Open to Relocation

Project: Boost the number of visualizations in your TED Talk

Using Natural Language Processing and machine learning to assist to understand which words in the description of the TED talks video are correlated to a high number of views, with the aim of increasing the number of visualizations.

Dylan Johnson

Data Science

Norfolk, CT

Open to Remote Work

Open to Relocation

Project: Reddit Legends

This project used unsupervised machine learning techniques on reddit posts to create a way for the developers to understand their community.

Elaheh Shakeri

Data Science

Toronto, ON

Open to Remote Work

Not Open to Relocation

Project: Image Restoration with Deep Learning

Restoring old damaged images with structural defects such as scratches and discolorations using Convolutional Neural Networks (CNNs) with an autoencoder structure.

Elena Abramova

Data Science

Vancouver, BC

Open to Remote Work

Open to Relocation

Project: Predicting Covid-19 Impact on Mental Health in the USA

Using machine learning techniques to predict people prone to stress from Covid-19.

Eugene Huang

Data Science

Toronto, ON

Open to Remote Work

Open to Relocation

Project: Predicting Covid News Sentiment with NLP

Using different NLP methods to process the texts from English Covid news articles to predict the sentiment of the articles.

Fan Polly Pang

Data Science

Toronto, ON

Open to Remote Work

Project: Fake Job Detection

Use Natural Language Processing (NLP) to analyze job postings and build Classification Models with Machine learning and deep learning model that aim to predict fake jobs from real ones to reduce the loss from employment scams.

Flávia Souza Viana

Data Science

Ottawa, ON

Open to Remote Work

Project: Spotivybes

A country-based recommendation system using Spotify data to identify patterns in the top songs categorized by country.

Greg Sakowski

Data Science

Minneapolis, MN

Open to Remote Work

Open to Relocation

Project: Let the Soil Play its Simple Part

Using analysis and predictive modeling to identify which regions could benefit from converting to regenerative agriculture.

Hamidreza Salahi

Data Science

Vancouver, BC

Open to Remote Work

Not Open to Relocation

Project: Predicting Outcome of a Loan Application

Using different machine learning algorithms, I calculated the probability of a loan application being charged off.

Hussein Warfa

Data Science

Toronto, ON

Open to Remote Work

Open to Relocation

Project: NBA Predictive MVP Model

Using Machine Learning and NBA statistics, how might we predict the 2022 NBA MVP winner.

Jelena Capin

Data Science

Toronto, ON

Open to Remote Work

Project: Predicting Wine Ratings Using Machine Learning & NLP

Using natural language processing and machine learning to predict wine ratings to understand what qualities are the best predictors for higher scores.

John Lee

Data Science

Vancouver, BC

Open to Remote Work

Open to Relocation

Project: Optimization of Timeouts in the NBA

Using machine learning, predicting the outcome of a shot after a timeout so that coaches can utilize their timeouts efficiently.

Joshua Sunga

Data Science

Vancouver, BC

Open to Remote Work

Open to Relocation

Project: Video Game Recommendation System with Funk SVD

A video game recommendation system built to provide personalized video game assortments to reviewers based on their previous ratings using Funk SVD, a machine learning technique.

Justin Felix

Data Science

Toronto, ON

Open to Remote Work

Project: X-Ray Classification

Applying CNN and Machine Learning techniques to predict pneumonia in x-ray images to provide value and efficiency in the healthcare industry.

Kasun Malwenna

Data Science

Kitchener, ON

Open to Remote Work

Open to Relocation

Project: Flight Fare Prediction and Deployment

Employing diverse Machine Learning and Deep Learning algorithms and refining them to anticipate the volatility in airfares with high accuracy in the wake of the pandemic. The model is made available as a web application.

Kate Meredith

Data Science

Grand Rapids, MI

Open to Remote Work

Not Open to Relocation

Project: Predicting Coffee Ratings from Expert Reviews

Uses natural language processing to understand the relationship between review and rating, so that coffee roasters can stand out in a competitive market.

Katy Christensen

Data Science

San Diego, CA

Open to Remote Work

Project: Predicting Aviation Accident Fatality

Utilizing supervised machine learning to predict if a US aviation accident was fatal.

Kiley Mack

Data Science

Denver, CO

Open to Remote Work

Not Open to Relocation

Project: Wind Power Forecasting

Can we make the clean energy of wind power more attractive to the electric grid using predictive machine learning models?

Kulwinder Kaur

Data Science

North Arlington, NJ

Open to Remote Work

Not Open to Relocation

Project: Optimal Sales Forecast Model Assessment – eCommerce Startup

I applied various sales forecasting models to identify the model suitable for an eCommerce startup with limited historical data.

Kyle Jensen

Data Science

Newport Beach, CA

Open to Remote Work

Open to Relocation

Project: Financial Sentiment Analysis with NLP

Can you use Natural Language Processing & Machine Learning techniques to accurately predict the sentiment of financial headlines?

Laura Mercy

Data Science

Vancouver, BC

Open to Remote Work

Not Open to Relocation

Project: What makes a book a bestseller?

Predicting a book's popularity using supervised machine learning and NLP

Leanna Lo

Data Science

Montreal, QC

Open to Remote Work

Open to Relocation

Project: A Custom Topic Modelling Method of News Articles

A topic modeling method from a dataset of online news articles on CNN.com using word vectorization and clustering and evaluated against CNN's existing classification.

Lee Pham

Data Science

Toronto, ON

Open to Remote Work

Project: Predicting Cyclists' Traffic Injuries

Uing machine learning algorithms to gain more insights into traffic accidents involving cyclists and predict potentially dangerous situations for cyclists in the city of Toronto.

Liam Kelly

Data Science

Toronto, ON

Open to Remote Work

Open to Relocation

Project: High Accuracy Speech Recognition for Industrial Machinery Operation

An investigation into the use of audio features and spectrograms for training and evaluating various speech recognition models.

Logan Heine

Data Science

Seattle, WA

Open to Remote Work

Not Open to Relocation

Project: Energy Load Forecasting

Forecasting future energy demand using timeseries modeling.

Lok-Ken Chan

Data Science

Frederick, MD

Open to Remote Work

Open to Relocation

Project: Classifying Chest X-Rays for Presence of Pneumonia

A web app to predict as a binary classifier between pneumonia and normal chest X-rays or multiclass classifier to further distinguish pneumonia types.

Margarita Popova

Data Science

Toronto, ON

Open to Remote Work

Project: Flood Damage Detection

Using TensorFlow, I designed a Convolutional Neural Network (CNN) to detect flood damage on the set of satellite images.

Mariam Elsayed

Data Science

Toronto, ON

Open to Remote Work

Open to Relocation

Project: Recommendation System for Clothing, Shoes, and Jewellery

This recommendation system utilizes popularity, the item's description and what other users have like to help customers find the perfect piece to complete their outfits.

Mark Whelly

Data Science

Vancouver, BC

Open to Remote Work

Project: Retinal Scanner

Retinal Scanner is a deep learning model that detects eye diseases in retinal images with great accuracy, designed to support health care practitioners.

Meliana Poniman

Data Science

Toronto, ON

Open to Remote Work

Open to Relocation

Project: Instacart Market basket Analysis

Analyzing user's preferences with machine learning to to recommend new products, and to predict user's next order.

Michael Leung

Data Science

Toronto, ON

Open to Remote Work

Open to Relocation

Project: Life Expectancy Prediction

Predict the life expectancy by machine learning and find out what key features affect life expectancy.

Mike Pham

Data Science

Brooklyn, NY

Open to Remote Work

Open to Relocation

Project: Recommendations for eCommerce

A custom solution that recommends products and provides sale insights using Machine Learning.

Moshe Hamaoui

Data Science

New York, NY

Open to Remote Work

Project: Insider Trading within Congress

Determining if politicians use insider knowledge to trade stocks by looking for a link between their voting records in bills and legislations, and their stock performance.

Nazhad Bari

Data Science

Toronto, ON

Open to Remote Work

Project: Predicting Football Players Market Value Based on their Performance

Using Machine Learning to predict the Market Value of European Football players, and identifing the key predictors of value based on their on-field performance.

Omoboade Afolabi

Data Science

Vancouver, BC

Open to Remote Work

Open to Relocation

Project: Gestational Diabetes Mellitus (GDM) Prediction

Predicting the likelihood of a pregnant woman developing gestational diabetes using supervised machine learning algorithms.

Oyeronke Ayansola

Data Science

Toronto, ON

Open to Remote Work

Not Open to Relocation

Project: Predicting the Risk of Customer Churn

Implementation of supervised and unsupervised machine learning to predict customers that are likely to churn and segment customers based on monetary value, frequency, and recency.

Paria Elyasi

Data Science

Austin, TX

Open to Remote Work

Open to Relocation

Project: Predicting Outcomes of Asylum Cases Using Machine Learning

Predicting outcomes of asylum cases to assist immigration attorneys gain better insight and change their approaches accordingly for a favorable outcome.

Pranav Panchal

Data Science

Toronto, ON

Open to Remote Work

Open to Relocation

Project: Study of Reinforcement Learning using Snake Game

Implementation of reinforcement learning using snake game & demonstration of the trained model's adaptability to modified game environments.

Robby Khoutsaysana

Data Science

Mississauga, ON

Open to Remote Work

Open to Relocation

Project: Vehicle Price Prediction

Predicting the price of a vehicle based on the input features, with the ultimate goal of helping consumers make informed decisions when buying or selling a vehicle.

Rosanna Luo

Data Science

New York, NY

Open to Remote Work

Project: NYC Rent Calculator

Using machine learning to train a model based on real New York City rental data that can calculate what a fair rental price for a given rental property.

Russ Kibat

Data Science

Ann Arbor, MI

Open to Remote Work

Open to Relocation

Project: Fine Tuning Neural Networks for the Wedding Industry

A study of the potential for independent contractors to leverage deep learning by training a neural network to classify wedding photos using Keras.

Sarah Gates

Data Science

Toronto, ON

Open to Remote Work

Open to Relocation

Project: Autoimmune Disease Prediction Using Machine Learning

Using supervised machine learning techniques (classification, decision tree, and KNN) to predict autoimmune disease diagnosis.

Sarah Lipoff

Data Science

New York, NY

Open to Remote Work

Open to Relocation

Project: Dreaddit: A Reddit Dataset for Stress Analysis in Social Media

Using Natural Language Processing to detect stress by analyzing social media text, with the aim of detecting it early before it worsens into a serious health concern.

Simon (Ziqi) Meng

Data Science

Toronto, ON

Open to Remote Work

Project: Flower Recognition with CNN and Transfer Learning

Using machine learning, how can we identify flower species through images and outputs their relevant botanical information through online resources.

Sven Ostertag

Data Science

Bristol, EN

Open to Remote Work

Open to Relocation

Project: Identifying Subliminal Advertising in Wikipedia Articles

In this project, I study this practice from the lens of promotional content written in supposedly unbiased Wikipedia articles, by using NLP methods to compare texts from several angles as exhaustively as possible. I then construct a machine learning model in order to see how viable a tool could be made to identify sponsorship using only an article's text.

Thai Nguyen

Data Science

Vancouver, BC

Open to Remote Work

Open to Relocation

Project: Crypto Clustering and Price Prediction

An Overview of Machine Learning Models on Crypto Clustering with K-Means and Price Prediction with AR & Prophet on Binance.

Tolulope (Tolu) Oludemi

Data Science

Windsor, ON

Open to Remote Work

Project: Detecting Fraudulent Credit Card Transactions

Utilized credit card transactions within the US to detect fraudulent transactions by using XGBoost, Random Forest, Logistic Regression, KNN, and Decision Tree Machine Learning models.

Xenel Nazar

Data Science

Burlington, ON

Open to Remote Work

Open to Relocation

Project: Make Your Next Flight a Green Flight

Planning better trips to reduce CO2 emissions.

Charlotte McArdle

Digital Marketing

Calgary, AB

Open to Remote Work

Project: Literati: Reading, Redefined

To shed a revamped light on the reading habit by redefining the old age ideology of reading, and repositioning it for the younger digital age.

Malena Smith

Digital Marketing

Pembroke Pines, FL

Open to Remote Work

Project: She Maters

A subscription box made to be a reminder for women to take care of themselves. She Matters wants to change the way the world views beauty.

Patrick Clarke

Digital Marketing

Toronto, ON

Open to Remote Work

Open to Relocation

Project: Why Float When you can Swim

A campaign to position a content scheduling software as the ultimate tool for the start-up space.

Vanessa Seymour

Digital Marketing

Toronto, ON

Open to Remote Work

Open to Relocation

Project: Digital Marketing Campaign for Trello

This campaign is focused on tapping into a very relevant but untouched market for Trello.

Aakash Sanghvi

User Experience Design

Vancouver, BC

Open to Remote Work

Open to Relocation

Project: Arrived

An app to help e-scooter users ride safe through safe routes and other safety features.

Abby Jocson

User Experience Design

Burnaby, BC

Open to Remote Work

Project: Bowwow

A mobile app aimed to help new owners and their pups to connect with the dog community.

Ahmed Shaaban

User Experience Design

Vancouver, BC

Open to Remote Work

Open to Relocation

Project: teach-room

Children with special needs and disabilities are not receiving the support they need in regards to education. This app was designed to support the educators who are vital in this process and increase communication between them and parents.

Alan Tweedley

User Experience Design

Barrie, ON

Open to Remote Work

Open to Relocation

Project: Good Day

A digital planning tool designed with ADHD accessibility in mind.

Alana Appel

User Experience Design

Miami, FL

Open to Remote Work

Project: FITFIND

A new approach to finding fitness studios. FITFIND allows user to save on offers, connect with others in their community, book and add multiple classes to the calendar with the tap of a button & explore classes based on mood.

Ali Shirmohammadi

User Experience Design

Burnaby, BC

Open to Remote Work

Open to Relocation

Project: Career Master

An app that helps high schoolers and young adults make more informed decisions about their future careers.

Allecia (Al) Verheire

User Experience Design

Squamish, BC

Open to Remote Work

Open to Relocation

Project: Plein-Refuse

An android native app that supports local litter cleanup efforts by providing a platform for volunteers, coordinators, or enthusiastic individuals to connect with each other, their community, and the areas that need them most.

Alyona Borysenko

User Experience Design

Coquitlam, BC

Open to Remote Work

Project: EasyPeasy

An aggregator platform that provides information about children's activities and allows registration for these activities in one place.

Alyssa Lee

User Experience Design

Vancouver, BC

Open to Remote Work

Project: PocketChat

A mobile app designed for Speech Therapists to use with their clients who have difficulties with communication.

Amal Roowala

User Experience Design

Toronto, ON

Open to Remote Work

Open to Relocation

Project: Maven

An app that helps beginner UXers find and connect with the right mentor for their unique needs, while entering the UX industry.

Andrea McMillan

User Experience Design

Toronto, ON

Open to Remote Work

Project: PetPaths

A mobile app that creates actionable steps to becoming a confident pet parent.

Andrea Ru

User Experience Design

Vancouver, BC

Open to Remote Work

Open to Relocation

Project: Wealthify

A mobile app designed to help young adults gain financial literacy skills by simplifying the often-complicated subject into bite-sized lessons and quizzes.

Aneri Shah

User Experience Design

Project: Pocket Ninja

A budgeting app that allows young adults to visualize their finances for the short and long term to achieve their saving goals and avoid debt more effectively and efficiently.

Angela Wong

User Experience Design

Edmonton, AB

Open to Remote Work

Open to Relocation

Project: CareerSpire

A mobile app made to help people find meaningful careers they are passionate about by matching their personalities and interests with jobs.

Angie Sullivan

User Experience Design

Carleton Place, ON

Open to Remote Work

Not Open to Relocation

Project: Blossom

Goal-setting application designed to support people who experience seasonal depression.

Anjali

User Experience Design

Toronto, ON

Open to Remote Work

Open to Relocation

Project: Stride

Stride is a platform that allows individuals to connect with mentors and gain career guidance as well as learn from their experiences.

Anjali Swamy

User Experience Design

Fort Collins, CO

Open to Remote Work

Not Open to Relocation

Project: FunChores

A household management gamification app for couples which helps in motivating couples in doing household tasks together and enjoy doing them while earning points.

Anna Mulyono

User Experience Design

Toronto, ON

Open to Remote Work

Not Open to Relocation

Project: Wing It

A travel planning app dedicated to globetrotters who love to explore every corner of the world.

Anthony Pollock

User Experience Design

Toronto, ON

Open to Remote Work

Open to Relocation

Project: Local

A mobile iOS app empowering users to discover, plan and connect with others through live local music.

Antonio Enriquez

User Experience Design

Newmarket, ON

Open to Remote Work

Open to Relocation

Project: plum

A financial management app, that focuses on a budget adjustment feature that would help users be proactive and stay on track of their monthly budget goal.

Anusha Subramannian

User Experience Design

Vancouver, BC

Open to Remote Work

Open to Relocation

Project: FinGoal

Finding reliable resources, and making financial decisions can be stressful and overwhelming, especially for women. FinGoal helps women find the answer to any finance question and make decisions independently.

Ashley Wang

User Experience Design

Victoria, BC

Open to Remote Work

Project: petCheck

A native mobile app designed to help pet parents find and book emergency and regular veterinary services from anywhere.

Athena Lin

User Experience Design

Vancouver, BC

Open to Remote Work

Project: Arise

A mobile app for empowering stay-at-home moms to live the life they have chosen for themselves, and reconnect with their circles again.

Brian Qi

User Experience Design

Vancouver, BC

Open to Remote Work

Open to Relocation

Project: Whale

A mobile financial resource designed to help gamers manage, budget, and track their video game expenses.

Carly Ji

User Experience Design

Vancouver, BC

Open to Remote Work

Project: Mommas Helpers

An app that connects task helpers to moms in need to maximize their use of time and energy.

Carmen Cheang

User Experience Design

Vancouver, BC

Open to Remote Work

Project: Momentum

Momentum is dedicated to helping individuals meet their fitness goals, and support them every step of the way.

Christina Borteye

User Experience Design

London, EN

Open to Remote Work

Open to Relocation

Project: Iron Bloom

A health & well-being app that gives personalised advice based on recorded symptoms to help improve iron levels in iron-deficient women.

Cimran Jassal

User Experience Design

Burnaby, BC

Open to Remote Work

Open to Relocation

Project: INKQ

A one stop shop tattoo inspiration and booking application aiming to make the appointment booking process streamlined not only for the client but the artist as well.

Cindy Chun

User Experience Design

Coquitlam, BC

Open to Remote Work

Project: CoordiFit

An app that allows shoppers to pick appropriately-sized clothes online by visualizing how items will fit them without having to try anything on in-person.

Cissy Yuan

User Experience Design

Surrey, BC

Open to Remote Work

Open to Relocation

Project: Knock Out

Knock out is designed to centralize information, provide detail-oriented comparisons and leave consumers coming out of the experience with one winning product in mind.

Clarinne Tham

User Experience Design

Burnaby, BC

Open to Remote Work

Project: Bloom

A cozy wellness app that hosts a variety of flexible self-care activities, makes recording daily lives easy and combines future journaling with fun plant capsules. An all-in-one, friendly companion available in your back pocket!

Cole Boyce

User Experience Design

Ottawa, ON

Open to Remote Work

Open to Relocation

Project: Spare

Spare is a personal finance and budgeting app that enables users to eliminate financial stress and reach future goals faster.

Collin Lo

User Experience Design

Markham, ON

Open to Remote Work

Open to Relocation

Project: Vetiver

Vetiver was designed to create a safe environment for gamers (who identify as women) through its strict reputation and warning systems which are based on updated traits and reviews added by users within the community. This creates an outlet where gamers can confidently find like-minded users to safely game with.

Courtney Lasher

User Experience Design

Brooklyn, NY

Open to Remote Work

Project: WeeGo

A crowd-sourced mobile app that helps users find restrooms near them in NYC that meet their needs.

Danial Malik

User Experience Design

Project: KidsClues

The KidsClues app helps parents of non-verbal autistic kids to discover their child's communication with fun and informative activities recommended by experts.

Daniel Martin

User Experience Design

Toronto, ON

Open to Remote Work

Open to Relocation

Project: greenbean.

greenbean. is an app that helps coffee drinkers discover local coffee shops selling sustainable and ethical coffee products.

David Chan

User Experience Design

Victoria, BC

Open to Remote Work

Open to Relocation

Project: Rented

Rented helps people make better-renting decisions by keeping them informed through user reviews and verified complaints on rentals in their area.

Duff Isberg

User Experience Design

Toronto, ON

Open to Remote Work

Open to Relocation

Project: Remedy

Remedy is an application that connects people with licensed physiotherapists to help them recover from and prevent injury.

Elly Jang

User Experience Design

Toronto, ON

Open to Remote Work

Not Open to Relocation

Project: Oz: Mental Health Support for International Students

I created a digital solution, "Oz" to help international students reduce the burden of facing mental health problems, pass on the basic knowledge of mental health, and encourage them to seek help.

Emily Deighton

User Experience Design

Hamilton, ON

Open to Remote Work

Open to Relocation

Project: Bestie

Bestie is a mobile app that aims to connect friends through their shared interests and suggest things to do together.

Emily Truman

User Experience Design

Victoria, BC

Open to Remote Work

Open to Relocation

Project: Maximizing Efficiency of Patient-Doctor Communication

A digital touchpoint for doctors and patients to share symptoms, test results, care plans, and referrals.

Emily Wong

User Experience Design

Vancouver, BC

Open to Remote Work

Open to Relocation

Project: Leggo

A travel app specially designed to help travellers plan their perfect itineraries. It offers a wide array of adventures to choose from, allowing travellers to discover hidden gems in every destination.

Emma Sun

User Experience Design

Vancouver, BC

Open to Remote Work

Open to Relocation

Project: Vare

A harm reduction app that allows EDM festival attendees to reduce the risk & harmful effects that come with using recreational drugs at these events.

Estefania Millan

User Experience Design

Vancouver, BC

Open to Remote Work

Open to Relocation

Project: ConnectEd

Helping international students navigate their post-secondary institution's resources & services.

Eva Wieckowska

User Experience Design

Toronto, ON

Open to Remote Work

Not Open to Relocation

Project: More To Explore | MTE

MTE connects women all over the world to travel together in groups, building a community of shared reviews and safe travel tips.

Feiyang Jing (Fei)

User Experience Design

Vancouver, BC

Open to Remote Work

Open to Relocation

Project: Oystar

An app for college students to get connected with each other by creating and participating in all kinds of activities and events.

Fharid LaTorre

User Experience Design

Brooklyn, NY

Open to Remote Work

Open to Relocation

Project: Scope

App that aims to democratize access to resources in the art industry while providing artists with a clear overview of high-quality international art opportunities.

Gail Shi

User Experience Design

Richmond, BC

Open to Relocation

Project: SCool

An iOS mobile app aiming to help newcomer parents to Canada improve their communication with children's educators.

Grace Cho

User Experience Design

Toronto, ON

Open to Remote Work

Project: Charity Choice

A donation app that suggests a catered list of charities. Users can read articles, find which charities that hep with specific issues, and access the charity's financial expenses and credibility

Harleen Gill

User Experience Design

Surrey, BC

Open to Remote Work

Open to Relocation

Project: Viah Diaries

A wedding planning app that allows couples planning an Indian wedding to access the vast amount of information and vendors available in their area all in one place.

Heather Drexler

User Experience Design

Toronto, ON

Open to Remote Work

Open to Relocation

Project: Creps Exchange

Creps Exchange is a mobile app that creates an all inclusive experience for the sneaker community to help navigate the world of sneakers in one convenient place.

Helen Kang

User Experience Design

Vancouver, BC

Open to Remote Work

Open to Relocation

Project: Re:formal

A suit rental service app that helps BC millennials prepare appropriate business attire in an affordable and efficient way.

Hooria Shams

User Experience Design

Milton, ON

Open to Remote Work

Project: Viola – Where Style Meets Modesty

Viola is an app that simplifies shopping experience by using AI technology to enable shopping a personalized style look from pictures, helping users find a modest and fashionable outfit.

Ivanna Ihekwoaba

User Experience Design

Vancouver, BC

Open to Remote Work

Open to Relocation

Project: DigiLit

A mobile app that connects older adults and seniors to digital literacy resources, in order to improve their digital literacy skills.

Jahnava Leclerc

User Experience Design

Vancouver, BC

Open to Remote Work

Open to Relocation

Project: Soshop

An app that helps small businesses reach their target audience and helps clients find small businesses.

James Gross

User Experience Design

Vancouver, BC

Open to Remote Work

Open to Relocation

Project: Kit

Kit is the smartest way to shop for menswear. The app's simple, fast, and personalized approach helps men to take control of their wardrobe and feel good about their sense of style.

James Pureza Webster

User Experience Design

Toronto, ON

Open to Remote Work

Project: automato

automato is a task management app for users who have difficulty completing tasks by focusing on the concept of 'routines'. Follow a step-by-step list of tasks that work toward accomplishing a larger goal.

James Rohan

User Experience Design

Los Angeles, CA

Open to Remote Work

Open to Relocation

Project: Stacks

Stacks connects avid readers to their local bookstores in order to encourage support for local communities in lieu of large retailers.

Jamie Chan

User Experience Design

Vancouver, BC

Open to Remote Work

Open to Relocation

Project: Community mood tracker - Aster

Aster is a mobile app that helps tackle loneliness for overseas young adults by promoting deep conversation. Aster charts our mood and allows accessible sharing of data between in-app members.

Jasmine Huang

User Experience Design

Toronto, ON

Open to Remote Work

Project: Pawfect

A pet adoption app that makes the adoption process more efficient for prospective cat parents by providing information and connecting them with local shelters.

Jide Ajide III

User Experience Design

Vancouver, BC

Open to Remote Work

Open to Relocation

Project: Jamisi

An application designed to help creatives connect, collaborate, learn and earn.

Jonathan Hoy

User Experience Design

Toronto, ON

Open to Remote Work

Project: Safely

A digital solution for travelers with severe food allergies that helps them to navigate the local cuisine when traveling abroad.

Jonathan Liu

User Experience Design

Toronto, ON

Open to Remote Work

Open to Relocation

Project: Wovn.

Wovn. is a mobile app that helps users to find and make new friends by connecting users with others in their vicinity.

Julia Veintrop

User Experience Design

Vancouver, BC

Open to Remote Work

Open to Relocation

Project: Pack & Evac BC

A wildfire evacuation preparation and planning tool, made to empower local residents facing the threat of active wildfire.

Julie Traweek

User Experience Design

Seattle, WA

Open to Relocation

Project: +Impact

An app that makes it easy for eco-conscious consumers to find sustainable fashion brands that meet their standards.

Justin Cheung

User Experience Design

Toronto, ON

Open to Remote Work

Open to Relocation

Project: Pullup

A mobile fitness social app that helps connect you with gym goers at your gym.

Katie Song

User Experience Design

Burnaby, BC

Open to Remote Work

Project: Buddy Up

A platform that aims to help off-campus students get easily connected with their peers and feel involved in their school community.

Kiran Alemayehu

User Experience Design

Calgary, AB

Open to Remote Work

Open to Relocation

Project: Ponder

An app to help young, Black, Indigenous, and People of Colour, begin their wellness journey to incorporate a daily mindful practice.

Kloe Wong

User Experience Design

Vancouver, BC

Open to Remote Work

Open to Relocation

Project: Carpito

A carpooling app aimed at improving the carpooling experience, in order to reduce commuting costs for individuals.

Kristy Lin

User Experience Design

Vancouver, BC

Open to Remote Work

Open to Relocation

Project: daily grind.

An app designed by students for students, to help them find the perfect cafe for their studying needs.

Kyla Bills

User Experience Design

Brooklyn, NY

Open to Remote Work

Not Open to Relocation

Project: Park + Play

Park + Play is a mobile app that enables people to connect to their communities through sports in public spaces.

Kyle Atienza

User Experience Design

Toronto, ON

Open to Remote Work

Not Open to Relocation

Project: Moody

Moody is a music streaming app focused on finding music that matches people's moods.

Kyle Nethersole

User Experience Design

Toronto, ON

Open to Remote Work

Open to Relocation

Project: Shore

Shore is an online music education resource that connects students and teachers with greater, music-specific communication tools.

Lauren Coyle

User Experience Design

Vancouver, BC

Open to Remote Work

Project: Foster

An app that helps reduce the environmental impact of furniture by making it easy for people to buy second-hand.

Lee Doan

User Experience Design

Toronto, ON

Open to Remote Work

Not Open to Relocation

Project: Dr.X

A mobile app that helps sedentary workers find effective and appropriate workplace exercises so that they can relive their back pains while improving their oval health.

Lena Lai

User Experience Design

San Francisco, CA

Open to Remote Work

Open to Relocation

Project: Moodie

The ultimate aim of this app is to empower users to take control of their lives, develop a more positive perspective toward their body image, and foster greater self-acceptance.

Leo Tolstikov

User Experience Design

Toronto, ON

Open to Remote Work

Open to Relocation

Project: Magic Hub

A digital interactive home display with a mobile app that makes household coordination easier.

Lianett Jimenez-Perez

User Experience Design

Miami, FL

Open to Remote Work

Project: Simplified Home

Simplified Home empowers users by allowing them to outsource their household needs to same-day available professionals in their area.

Lucia Yoon

User Experience Design

Toronto, ON

Open to Remote Work

Not Open to Relocation

Project: Care

A digital solution for improving interprofessional communication between healthcare professionals.

Lucy Gong

User Experience Design

Vancouver, BC

Open to Remote Work

Open to Relocation

Project: Talk Therapy

A mental health app designed to match people with therapists that are a right fit for them.

Lucy Lu

User Experience Design

Vancouver, BC

Open to Remote Work

Open to Relocation

Project: Day-ly

A desktop study app that seeks to help students and young professionals improve mental health and foster social connections while working productively.

Mabel Lew

User Experience Design

Vancouver, BC

Open to Remote Work

Project: Cura

A mobile app that provides resources in one space to empower users in discovering their skincare journey.

Maggie Hui

User Experience Design

Calgary, AB

Open to Remote Work

Open to Relocation

Project: MI Care

MI Care streamlines the medical imaging preparation process so that patients arrive to their appointments mentally and physically prepared.

Makenna Anderson

User Experience Design

Phoenix, AZ

Open to Remote Work

Open to Relocation

Project: Personable

Personable is an iOS application that connects individuals with others in their area based on how compatible their personalities are.

Maria Kim

User Experience Design

Vancouver, BC

Open to Remote Work

Open to Relocation

Project: Barefoot in the Park

An iOS mobile application designed to help report discarded needles and syringes easily with a mission to keep our local community safe and clean.

Maricor Espina

User Experience Design

Toronto, ON

Open to Remote Work

Project: SafelySee

A location sharing app designed for parents to track their children's location at all times using GPS coordinates and mobile device location technology.

Matthew Thien

User Experience Design

New York, NY

Open to Remote Work

Open to Relocation

Project: Prod

prod assists students with managing their time by allowing them to set reminders and providing users with time management techniques to aid them with their tasks.

Maxine Dang

User Experience Design

Vancouver, BC

Open to Remote Work

Open to Relocation

Project: Summit App

A mobile app designed to increase the sense of community within hikers by allowing them to connect and orginize hiking events together.

Megan Harrison

User Experience Design

Toronto, ON

Open to Remote Work

Open to Relocation

Project: Terra

An entire generation has never lived in a world without fast fashion. Terra is a digital solution created to guide users to shop more sustainably. Swipe. Shop. Share.

Megan Kim Ho

User Experience Design

Vancouver, BC

Open to Remote Work

Open to Relocation

Project: Tandem

A mobile app for organizing bike rides and connecting cyclists together.

Melanie Yan

User Experience Design

Toronto, ON

Open to Remote Work

Project: Chroma

Chroma is a digital community to assist Toronto-based creatives in their career development.

Melissa Feather

User Experience Design

Toronto, ON

Open to Remote Work

Project: Ethnie

A cultural exploration iOS app to help 2nd generation immigrants reconnect with their ethnic cultures through celebrations, recipes, and workshops.

Michael Nguyen

User Experience Design

Toronto, ON

Open to Remote Work

Open to Relocation

Project: Lumen

Lumen is a photo organizing app designed to help reduce the time spent organizing while also providing step-by-step guidance, suggestions and tracking help users to keep their photo collection up-to-date

Michelle Li Chen

User Experience Design

Toronto, ON

Open to Remote Work

Open to Relocation

Project: On Track

An app that uses AI to aggregate data from fellow immigration applicants and estimates when they'll hear back.

Michelle Phan

User Experience Design

Vancouver, BC

Open to Remote Work

Open to Relocation

Project: PillsMate

PillMates is a mobile app that helps you keep track and encourages you to take medication routinely with the help of a friend AKA one of your pillmates!

Monica Alfonso

User Experience Design

London, ON

Open to Remote Work

Open to Relocation

Project: Artview

Artview is an app that connects art enthusiasts and collectors to art, artists, and their art community.

Mythili Ravishankar

User Experience Design

Vancouver, BC

Open to Remote Work

Project: Vastra

Vastra is a digital closet inventory and outfit recommender that picks out new and unique combinations from your clothes/ This discourages users from buying more, reducing their contribution to fast fashion.

Nasim Ash

User Experience Design

Vancouver, BC

Open to Remote Work

Project: Green on You

An app that helps people shop for clothes by providing accurate size recommendations and a virtual fitting room experience.

Natalie Lagnese

User Experience Design

New York, NY

Open to Remote Work

Not Open to Relocation

Project: CoupleGoals

A digital solution for couples looking to strengthen their bond and enhance relationship satisfaction.

Nesreen Hajjar

User Experience Design

Toronto, ON

Open to Remote Work

Project: ezMove

ezMove is a collaborative platform that enables users to help & get help during the moving process by scheduling, creating to-do-lists, setting alerts, and sharing tasks with others.

Nia Casso

User Experience Design

San Fransisco, CA

Open to Remote Work

Project: Esther, AI Skincare Product

Esther is a solution for skincare novices to gain advanced insights and product recommendations that address their minor skincare concerns.

Niamh Fahey

User Experience Design

Vancouver, BC

Open to Remote Work

Open to Relocation

Project: Treeco

An android e-learning app that educates, empowers, and rewards young adults transitioning to a more sustainable and eco-friendly lifestyle.

Nick Grottick

User Experience Design

Toronto, ON

Open to Remote Work

Open to Relocation

Project: Disko

A mobile app to help live music fans keep track of local concerts.

Nicole Lash

User Experience Design

San Diego, CA

Open to Remote Work

Open to Relocation

Project: Avani

A retail brand aiming to bridge the gap between online consumers and accurate sizing through AR technology. Meet the virtual tape measure!

Nicole Maj

User Experience Design

Toronto, ON

Open to Remote Work

Open to Relocation

Project: HerScore

HerScore is a one-stop shop for all news and media related to women's sports. Fans can track the specific teams they want to follow, and set up their news feed to get all the latest information on women's sports.

Niki Palmer

User Experience Design

Vancouver, BC

Open to Remote Work

Project: Heyou

An iOS app that helps new immigrants connect with like-minded people through events.

Noah Titleman

User Experience Design

Toronto, ON

Open to Remote Work

Open to Relocation

Project: FantasyMRKT

FantasyMRKT is a new fantasy tool that enables fantasy users to learn about football players, and how to manage their teams via visual tools.

Odette Yeh

User Experience Design

Vancouver, BC

Open to Remote Work

Open to Relocation

Project: Purrfect

A healthcare app that helps cat parents record, document and connect with their vets.

Pauline Chang

User Experience Design

Los Angeles, CA

Open to Remote Work

Open to Relocation

Project: Artemy

Artemy is an art-sharing app that helps artists get more attention and support on their posts.

Peter Han

User Experience Design

Vancouver, BC

Open to Remote Work

Open to Relocation

Project: Co'ordi

A mobile app designed to help small business owners alleviate work-related stress by providing peer community groups and mentor matching service.

Priyanka Bimbra

User Experience Design

Surrey, BC

Open to Remote Work

Open to Relocation

Project: New Path

A mobile application connecting mentors and mentees together for a better future. The app is designed to cater to the needs of wide range of people from students to professionals, providing career and educational mentorship and valuable connections and networks.

Rachel McTier

User Experience Design

Toronto, ON

Open to Remote Work

Project: UpHealth

A mobile app that increases the efficiency and quality of care that support workers can provide to clients with intellectual and developmental disabilities.

Rajbir Nahal

User Experience Design

Surrey, BC

Open to Remote Work

Not Open to Relocation

Project: RUFFine

RUFFine is an app designed to assist pet owners with organizing and accessing their pets' health records!

Richard Hidalgo

User Experience Design

Miami, FL

Open to Remote Work

Open to Relocation

Project: OffSZN

OffSZN is a mental health messaging app that enhances communication among fellow injured athletes seeking emotional advice to maintain a positive mindset throughout their rehabilitation.

Rozette Mallari

User Experience Design

Burnaby, BC

Open to Remote Work

Open to Relocation

Project: AURA

A skincare app designed to help people find effective skin care products catered to their skin type and create a personalized skin care routine for their own needs and goals.

Ruiping (Rebecca) Yang

User Experience Design

Toronto, ON

Open to Remote Work

Project: SleepBank

A digital solution that educates and helps users organize and plan their night time more efficiently so that they can achieve a better sleep quality.

Sadaf Pourzahed

User Experience Design

Toronto, ON

Open to Remote Work

Open to Relocation

Project: Ecobuddy

With Ecobuddy, users can track their carbon footprint, adopt sustainable habits, and discover the true environmental value of their choices.

Salina Calcagno

User Experience Design

Toronto, ON

Open to Remote Work

Open to Relocation

Project: Biblio

Biblio provides users with book recommendations, the opportunity to create or join a book club and the ability to discuss books online with a community to encourage reading and connection.

Sam Lin

User Experience Design

Vancouver, BC

Open to Remote Work

Open to Relocation

Project: KUT

A haircare booking app designed to help people who are looking to receive high quality haircare anytime, anywhere.

Sasha Ma

User Experience Design

Vancouver, BC

Open to Remote Work

Project: Unwind - Your Way to Better Sleep

A mobile app that revamps people's sleep routines for optimal health and productivity.

Sayo Arow

User Experience Design

Vancouver, BC

Open to Remote Work

Open to Relocation

Project: The Box

A mobile application that allows people to book qualified handy labor in their community to fix repairs or complete renovation in their homes without compromising on quality.

Scheherazade Hasan

User Experience Design

Toronto, ON

Open to Remote Work

Project: Advisr

A financial management solution designed to help young adults achieve their goals by making the planning process intuitive, comforting and inviting.

Scott Boyd

User Experience Design

Vancouver, BC

Open to Remote Work

Project: Home Screen

An android app that helps renters make informed decisions when selecting a new living space.

Setareh Barimani

User Experience Design

San Francisco, CA

Open to Remote Work

Open to Relocation

Project: Pose

Pose is a digital solution that helps virtual yoga practitioners to have a similar experience to in studio practice through mentorship strategies.

Shay Hayashi

User Experience Design

Vancouver, BC

Open to Remote Work

Open to Relocation

Project: CoLab

An all-in-one collaboration management app for micro-influencers to stop wasting time with administrative tasks and start getting creative.

Sidra Mobin

User Experience Design

Burnaby, BC

Open to Remote Work

Open to Relocation

Project: Pull Your Weight

A fitness app for beginners: Pull Your Weight is your low cost and friendly personal trainer, tailored to your fitness goals.

Sonja Naher

User Experience Design

Toronto, ON

Open to Remote Work

Open to Relocation

Project: Sacred Circle

A wellness app that helps Indigenous people experience wellness through the balanced, culturally-relevant approach of the medicine wheel.

Sureyya Stefan

User Experience Design

Torrance, CA

Open to Remote Work

Open to Relocation

Project: Pawsibility

A social media app designed to help connect pawsome individuals to chat, adopt, foster, and learn all about cats.

Taylor Hornbeck

User Experience Design

Vancouver, BC

Open to Remote Work

Project: Tango

A mobile travel app that was created for people who want to travel with friends but are frustrated with the planning process.

Teresa Choy

User Experience Design

Vancouver, BC

Open to Remote Work

Project: Ping

An app designed to help job candidates feel more connected and informed in the hiring process.

Tony Lieu

User Experience Design

Toronto, ON

Open to Remote Work

Project: caregiver

A mobile app that helps caregivers and family members navigate long-term care centers and advocate for their loved ones.

Trisha Suharno

User Experience Design

Toronto, ON

Open to Remote Work

Project: balancekeepr

A wellness app to help young professionals manage a healthy work-life balance.

Vera Wong

User Experience Design

Windsor, ON

Open to Remote Work

Open to Relocation

Project: Comfit

A mobile app that lets online shoppers find clothes through peer reviews instead of going through the fitting room process.

Veronica Lam

User Experience Design

Brooklyn, NY

Open to Remote Work

Open to Relocation

Project: Uplift

Uplift is a fitness app for women who need a boost of motivation to achieve their fitness goals.

Victoria Malteva

User Experience Design

Coquitlam, BC

Open to Remote Work

Project: Find Co-op App

A mobile app that centralizes information about all Housing Co-ops in one place and streamlines the application process, saving people time, money and energy.

Vida Loose

User Experience Design

Vancouver, BC

Open to Remote Work

Open to Relocation

Project: ACCESS Outdoors

A community-based native iOS application designed to increase access and diversity in outdoor recreation.

Vika Blokhin

User Experience Design

Toronto, ON

Open to Remote Work

Project: Diaspora

An iOS app that helps immigrants land on their feet in Canada with guidance, community, and jobs.

Violet Wang

User Experience Design

Toronto, ON

Open to Remote Work

Project: Circle

Circle is designed to build a community of support where women professionals can share their knowledge, skills and experience by attending events and connecting with others.

Vishwa Mistry

User Experience Design

Toronto, ON

Open to Remote Work

Open to Relocation

Project: Refresh

A mobile app that helps young adults with their budgeting and financial goals by creating a simplified experience and allows you to learn more into financial literacy with free resources integrated within.

William Araujo

User Experience Design

Vancouver, BC

Open to Remote Work

Project: Play Like This

Improving concert setlist experience for musicians with a collaborative app that allows them to add detailed notes about the songs to be performed.

Xin Xue

User Experience Design

New York, NY

Open to Remote Work

Open to Relocation

Project: Sus Check

Sus Check is an app designed for those seeking transparency in fashion. The app allows you to check a specific item to see the sustainable evaluation score and learn about the breakdown of the item and brand.

Yuri Shareef

User Experience Design

Toronto, ON

Open to Remote Work

Open to Relocation

Project: Fittin

Designed to help people working from home maintain a non-sedentary lifestyle.

Zainab Kabira

User Experience Design

Vancouver, BC

Open to Remote Work

Open to Relocation

Project: Traverse

Traverse lets us create artistic maps of our trips where we can geotag activities and experiences on a personalized map with illustrations, patterns, and text.

Aaron Mahabir

Software Engineering

Toronto, ON

Open to Remote Work

Project: Ultimate Team

Ultimate team is a site that allows users to create Pokemon teams of any combination. They can see information such as move lists as well as stat totals.

Aarun Singh Jassal

Software Engineering

Project: Music Studio

This web app allows users to create their own melodies and songs in a user-friendly way that requires no prior music theory knowledge.

Abhishek Bhagat

Software Engineering

Vancouver, BC

Open to Remote Work

Project: trendE

An eCommerce website focused on local vendors.

Abrar Fahim Rahman

Software Engineering

Toronto, ON

Open to Remote Work

Open to Relocation

Project: Coffee Corner Dashboard

A dashboard for startups that aims to help make better business decisions through dynamic data visualization and data management of their products.

Adam Pietrangelo

Software Engineering

Toronto, ON

Open to Remote Work

Open to Relocation

Project: Final Fantasy Football

A full stack CRUD application where users can create fantasy football teams, and in Season Mode, users simulate a full season battling 17 teams to test their team's strength.

Alec Adolph

Software Engineering

Denver, CO

Open to Remote Work

Not Open to Relocation

Project: Get Outside

Get Outside is an everyday organizational tool for those who find themselves stuck inside everyday for work.

Aline Fernanda Bellozo

Software Engineering

Burnaby, BC

Open to Remote Work

Project: communITy study

A place where people can connect with others who share the same interests related to IT, study together, and receive support.

Allan Somera

Software Engineering

Burnaby, BC

Open to Remote Work

Project: TimeTripleDime

An app to visually cluster your day in 30 minute blocks.

André Foulem

Software Engineering

White Rock, BC

Open to Remote Work

Open to Relocation

Project: Robies NFT

Robies is phase 1 of an NFT collection web portal. Robies caters to a community captivated by emerging technologies, such as AI, Web3, VR, and Space Exploration.

Andrew Lang

Software Engineering

Toronto, ON

Open to Remote Work

Not Open to Relocation

Project: Build-A-Portfolio

Build-A-Portfolio is a website where anyone without web knowledge can create and customize their own personal portfolio within minutes.

Andrew Sito

Software Engineering

Coquitlam, BC

Open to Remote Work

Open to Relocation

Project: CRIT-HIIT

CRIT-HIIT is an exercise library and workout planner that helps make fitness easy and accessible.

Anthony Zuech

Software Engineering

Mebane, NC

Open to Remote Work

Project: Recipe Index

Recipe development app for culinary teams and professionals to share and collaborate on recipes.

Armaan Dhillon

Software Engineering

Brampton, ON

Open to Remote Work

Not Open to Relocation

Project: BeatsByArmie

My application is a platform for my users to listen to my self-produced instrumentals.

Aya Seidemann

Software Engineering

Vancouver, BC

Open to Remote Work

Project: Sudotwo!

Sudotwo is a cooperative sudoku game site! A player is able to create their own game room or join an existing room, and edit the board collaboratively with another player.

Blaze Slavkovski

Software Engineering

Oakville, ON

Open to Remote Work

Open to Relocation

Project: MotoRaceReminders

MotoRaceReminders is a one-stop shop for everything race-related. Users can browse racing series, and look at various information pertaining to specific races as well as follow their favourite races.

Bowie Wong

Software Engineering

Burnaby, BC

Open to Remote Work

Open to Relocation

Project: Bandwagon

A social networking site to help musicians of all backgrounds to find others to play with.

Cameron Makarchuk

Software Engineering

Toronto, ON

Open to Remote Work

Open to Relocation

Project: RecLeague

RecLeague makes it easy to find, join, and manage recreational sports leagues in your area.

Casey Davis

Software Engineering

Calgary, AB

Open to Remote Work

Open to Relocation

Project: Runnit

Runnit is a mobile-view web application used to provide delivery and pickup options for concert and event venue attendees.

Chathurika Jayakody

Software Engineering

Toronto, ON

Open to Remote Work

Not Open to Relocation

Project: Pronounce

Pronounce assessment app that helps users in their language learning journey.

Chloe Park

Software Engineering

Toronto, ON

Open to Remote Work

Open to Relocation

Project: DishDash

DishDash is a platform game that player becomes a server who must serve eager, hungry customers with the food they want.

Cindy Min

Software Engineering

Surrey, BC

Open to Remote Work

Open to Relocation

Project: Kikitchen

A kid's school lunch menu mobile application. It is user friendly, so even children would be able to use it.

Cody Burley

Software Engineering

Toronto, ON

Open to Remote Work

Open to Relocation

Project: SteamBL

A fullstack backlogging application that alows users to create, update and delete from a backlog of games using the Steam Store API.

Crystal Cheung

Software Engineering

Toronto, ON

Open to Remote Work

Open to Relocation

Project: Share My Cart

Share My Cart is an app that allows users to quickly and easily share the extra items in their shopping cart before they purchase to make use of the discount, or after purchase, to reduce waste and save money.

Daisy Zhang

Software Engineering

Vancouver, BC

Open to Remote Work

Project: 1001 Stories

A non-profit education project that was launched by Seeds of Empowerment to display the stories to more people and connect the community.

Damon Chouinard

Software Engineering

Nelson, BC

Open to Remote Work

Not Open to Relocation

Project: Melder

Melder is a web app that uses the OpenAI api to generate summaries from open-ended survey responses. With the right prompt, it can also share relevant insight and feedback.

Darnell Eudoxie

Software Engineering

Grand Rapids, MI

Open to Remote Work

Open to Relocation

Project: WorkFlow

WorkFlow is a powerful communication tool that helps teams collaborate and stay connected. Built using Next.js, Tailwind CSS, and MySQL, our application is fast, responsive, and user-friendly. WorkFlow is a powerful and versatile tool for teams of all sizes and industries. Whether you're working on a small project or a large-scale initiative, our app can help you stay connected and productive.

David McCaig

Software Engineering

Toronto, ON

Open to Remote Work

Project: PartsBin

PartsBin is an online marketplace for buying and selling new and used Mountain bikes and Mountain bike parts. The idea is to create an online community where anyone in Ontario can buy and sell Mountain bike gear easily.

Davon Blanks

Software Engineering

New York, NY

Open to Remote Work

Open to Relocation

Project: Amenni

Ameeni is an application that provides users nutritional resources and a space to express themselves on their journey towards wellness. Amenni was created with one of the goals being to bridge the gap between health and nutrition.

Denver Reghelini

Software Engineering

Calgary, AB

Open to Remote Work

Open to Relocation

Project: ShuttleApp

The ShuttleApp is a platform for scheduling pickup and drop off times for employees at a company I worked for and aims to eliminate scheduling errors by giving users access to real time data.

Dixon Wu

Software Engineering

Vancouver, BC

Open to Remote Work

Not Open to Relocation

Project: InstantSpots

InstantSpots enables real-time place recommendations between users without needing to sift through reviews. Full multiplexing implemented with WebSocket.

Emily Wong

Software Engineering

Vancouver, BC

Open to Remote Work

Open to Relocation

Project: Pixel Run

Pixel Run is a fully responsive, endless running game inspired by traditional HTML games.

Faiza Siddiqi

Software Engineering

Toronto, ON

Open to Remote Work

Project: Say Yes To A Dress

Say Yes To A Dress is a user friendly application that can help you sell your used wedding gowns at a discounted price.

Genn-Hong Lin

Software Engineering

Burnaby, BC

Open to Remote Work

Open to Relocation

Project: GHL Volley

A volleyball application that is aimed to give new and older volleyball players an all-in-one resource for volleyball skill training without having to scramble online to find credible sources. The app also helps people find locations to play at, and talking to coaches about what they can improve on.

Han Kim

Software Engineering

Toronto, ON

Open to Remote Work

Not Open to Relocation

Project: Food Fight

Food Fight helps users figure out what and where to eat when they're feeling indecisive, and is an homage to classic 8-bit and 16-bit games.

Hao-Wei Su (Vivi Schulz)

Software Engineering

Langley, BC

Open to Remote Work

Project: Kids Fun Zone

A children's entertainment website that provides them with a variety of fun games.

Henry Bellman

Software Engineering

Vancouver, BC

Open to Remote Work

Open to Relocation

Project: Locally E-commerce

An e-commerce marketplace that aims to revolutionize how consumers shop and discover local products in their areas. The platform empowers sellers to do what they love and helps buyers find what they love.

Hilary Britton-Foster

Software Engineering

Nanaimo, BC

Open to Remote Work

Not Open to Relocation

Project: My Library

Your bookshelf in your pocket! Add, delete and edit your books so you never forget your favourite stories.

Hyunchol Jun

Software Engineering

Toronto, ON

Open to Remote Work

Open to Relocation

Project: BetterEat

BetterEat is a web application that helps users to cook more and eat healthier by suggesting recipes based on their food preference. Users can also manage their meal plans with stored information such as recipes, inventory and grocery lists.

Ian Del Carpio

Software Engineering

Burnaby, BC

Open to Remote Work

Open to Relocation

Project: Greensfeer

An online community connecting businesses, individuals, and organizations participating in the carbon emissions market.

Ilya Kisliakov

Software Engineering

Vancouver, BC

Open to Remote Work

Project: DriveCalc

Trips are always nice, but it is a good idea to track the distance and project future costs before departure. DriveCalc helps with that!

Jack Sprinkle

Software Engineering

Centereach, NY

Open to Remote Work

Not Open to Relocation

Project: SocCar Academy

A web application for Rocket League players to track their individual progress, find coaches, and chat about all things Rocket League.

Jack Stasiulis

Software Engineering

Vancouver, BC

Open to Remote Work

Open to Relocation

Project: Backyard

Backyard is a local show and concert finder for small artists to use as a marketing tool and for concert-goers to figure out their nightlife plans!

Jacky Tam

Software Engineering

Vancouver, BC

Open to Remote Work

Project: Beauty Et Al

A website revamp for the beauty salon based in downtown Toronto.

Jan Timo Huennebeck

Software Engineering

Melbourne, AU

Open to Remote Work

Not Open to Relocation

Project: Jarvis

Jarvis is a software that allows one to write personalized cover letters while decreasing the amount of manual work and margin of error, saving 5-10+ minutes per cover letter, on average.

Janet Leung

Software Engineering

Toronto, ON

Open to Remote Work

Project: EquipMe

EquipMe recommends users a curated list of sports equipment based on their input so they can feel confident in the gear they're purchasing.

Jaqueline Nacarate

Software Engineering

Vancouver, BC

Open to Remote Work

Project: The BJJ LogApp

An app designed for Jiu-Jitsers to keep track of the techniques learned in training classes.

Jenny Quan

Software Engineering

Toronto, ON

Open to Remote Work

Not Open to Relocation

Project: Recipe Box

Recipe Box makes it easier for users to use recipes all around. Users can sort recipes by criterias, randomize recipes, add and save recipes.

Jesse McConnell

Software Engineering

Ottawa, ON

Open to Remote Work

Open to Relocation

Project: Book Bazaar

Book Bazaar is your go-to destination for the latest and greatest in literature. Explore fresh and captivating books from promising authors and show your support for independent writers by purchasing directly from the source.

Joanne Lin

Software Engineering

Vancouver, BC

Open to Remote Work

Project: FoodieGram

FoodieGram is an app that allows those with dietary restrictions to better find recipes and restaurants.

John Bosley

Software Engineering

Baltimore, MD

Open to Remote Work

Project: MyNR

An easy-to-use application built using React, Sass, and Node.js to help patients on blood thinners manage their care.

John Kim

Software Engineering

Toronto, ON

Open to Remote Work

Open to Relocation

Project: ExTrack

ExTrack is an expense tracking application. This app is designed to track your financial incomings and outgoings to help you be financially viable and responsible.

Jonah Hansen

Software Engineering

Luseland, SK

Open to Remote Work

Not Open to Relocation

Project: Easy Instrumentals

Easy Instrumentals allows anyone interested in music to easily create an instrumental that can be used as a starting point for a more complete song.

Jordan Fish

Software Engineering

Sidney, BC

Open to Remote Work

Open to Relocation

Project: Teacher's Pet

Teacher's Pet supports elementary educators by providing fun and user-friendly games to boost class management.

Julien Abraham

Software Engineering

Toronto, ON

Open to Remote Work

Not Open to Relocation

Project: Swap Right

Swap Right is a smart new platform that takes the hassle out of trading unwanted used goods. Like a dating app, you get to choose what you're looking to trade and we'll find a match for you. The excitement comes from not knowing who your match will be, just like with a dating app. Say goodbye to cluttered classifieds and hello to a smarter, more efficient way of trading items. Developed with React, HTML and SASS on the front end and MySQL, Node, Express and JWT on the back end.

Justin Antunes-Cardoso

Software Engineering

Mississauga, ON

Open to Remote Work

Open to Relocation

Project: BrainHive

BrainHive is a spelling bee application which is the perfect tool for students and language enthusiasts to improve their spelling skills. With a fun, interactive interface and thousands of words to practice from the Words of the Champions (the official study resource of the Scripps National Spelling Bee), users can test their knowledge. Whether you're preparing for a competition or just want to enhance your vocabulary, our application is designed to make spelling fun and easy.

Katia Santos

Software Engineering

Toronto, ON

Open to Remote Work

Open to Relocation

Project: chefy.

Chefy is a web-based platform to connect chefs with households for private in-home dining experiences. Chefy assists with scheduling and menu creation – all in one convenient place.

Kaushal Luffa

Software Engineering

Brampton, ON

Open to Remote Work

Open to Relocation

Project: Health One

A web app to save time for patients and doctors. Upload your medical history for your doctor to view and update with your permission.

Keegan Bond

Software Engineering

Niagara Falls, ON

Open to Remote Work

Open to Relocation

Project: EsportsHub

EsportsHub is a news outlet/blog posting application surrounding popular esports titles such as League of Legends, Valorant, and many more.

Kevin Lin

Software Engineering

Toronto, ON

Open to Remote Work

Open to Relocation

Project: Bark

Bark aims to help dog owners find the perfect friend or soulmate for their dogs. Swipe and match with other users to schedule playdates or meet new people!

Khalid Zeinelabdin

Software Engineering

Kitchener, ON

Open to Remote Work

Open to Relocation

Project: JerseyMania

An ecommerce website for buying soccer jerseys for different soccer clubs.

Khalil Merine

Software Engineering

Montreal, QC

Open to Remote Work

Open to Relocation

Project: DailyFit

DailyFit: a single-page web app for managing fitness and nutrition. Features include a daily meal prep generator, intake tracker, and exercise filter.

Kimberly Nolsin

Software Engineering

Project: LegalLink

Legal Link is a mobile application that serves as a bridge between law firms and their clients, facilitating effective communication of updates, information, and prompt responses to questions and concerns.

Li Yu

Software Engineering

Toronto, ON

Open to Remote Work

Open to Relocation

Project: Productivity.Idle

Productivity.Idle is gamified productivity tracker built in a chrome extension. It uses user inputs to collect "characters" as currency. Upgrades can be purchased with "characters" to collect even faster!

Lucas Lu

Software Engineering

Richmond, BC

Open to Remote Work

Open to Relocation

Project: bikkr

A platform that allows you to share your personal bike with others. Think of it like a AirBnb for bikes!

Mahdi Shirmohammadi

Software Engineering

Vancouver, BC

Open to Remote Work

Open to Relocation

Project: Keegly

An all-in-one solution that allows you to network like a pro.

Marcelo Brasil

Software Engineering

Toronto, ON

Open to Remote Work

Open to Relocation

Project: MB e-Commerce

A fully functional e-Commerce website with client and admin credentials. The client can save items on their cart, can ask information about the product, can see their orders, and can edit their profile. Upon purchase, the client receives a purchase receipt in pdf format on their email. Upon purchase, as well, the admin receives a sales receipt in pdf format. Also, the admin can see all orders and ship them to their owner. Upon that, the client receives an email saying their order is on its way. The admin can also register new products. Tech Stack: MySQL, React JS, Node JS, Express JS, SASS, EJS View Engine

Matthew Banh

Software Engineering

Vancouver, BC

Open to Remote Work

Open to Relocation

Project: Digital Garden

An e-commerce shop that curates products to be sold from rural farmers and producers all around Japan.

Matthew Simpson

Software Engineering

Vancouver, BC

Open to Remote Work

Project: Casting ReCall

A movie guessing game made by a movie lover for movie lovers. It presents you with a list of six movies with all their information redacted except the top cast and asks you to guess all six in no fewer than ten guesses.

Max Wanless

Software Engineering

Georgetown, ON

Open to Remote Work

Open to Relocation

Project: TrailBLZR

A web app that allows users to browse a list of Ontario provincial parks for available hiking trails, as well as create a list of favourite parks to view later.

Melody Chung

Software Engineering

New York, NY

Open to Remote Work

Open to Relocation

Project: MindexOF

MindexOF is a job exploration application based on the concept of Myers-Briggs personality assessments to assist users in exploring and determining the types of occupations to which they are best suited.

Michael Mifsud-Sweeney

Software Engineering

Toronto, ON

Open to Remote Work

Open to Relocation

Project: Bored Game

A Web App that connects neighbours to each other and allows them to exchange board games.

Michael Shimeles

Software Engineering

Toronto, ON

Open to Remote Work

Project: Exodus

An NFT analytics and trading platform that provides traders with a comprehensive toolkit to manage, track, and analyze their NFT investments. It offers instant access to key data such as price distribution, live sales, listings, and information on NFT supply.

Michelle Rogers

Software Engineering

Nelson, BC

Open to Remote Work

Open to Relocation

Project: Peace of Mind

An application meant to assist in the day-to-day self-care and mental health of the user by providing an all-in-one solution for journaling and daily gratitude tracking.

Miguel Lopez Pedres

Software Engineering

Vancouver, BC

Open to Remote Work

Open to Relocation

Project: weHike

An interactive Web Application that allows you to store existing hiking trails and create your own on an interactive 3D map.

Muskan Kapoor

Software Engineering

Victoria, BC

Open to Remote Work

Open to Relocation

Project: ORentals

A building management website that allow tenants to book building services, pay rent online, and get the latest notices related to the building all in one platform.

Nataliia Sokolova

Software Engineering

Vancouver, BC

Open to Remote Work

Project: RENTSY

A website that allows renters not only to use customization to search for leased properties, but also to check criminal statistics, off-leash parks for pets, and schools nearby.

Naveen Sharma

Software Engineering

Scarborough, ON

Open to Remote Work

Project: Waste Z

Waste Z lets users take charge of more thoughtful planning and reduce food waste by tracking the time from the date item is stored to its expiry date.

Nicholas Huynh

Software Engineering

Mississauga, ON

Open to Remote Work

Open to Relocation

Project: Carma

Carma is a true vehicle cost application where users can research and personalize the cost breakdown of their vehicle before purchasing.

Nicholas Williamson

Software Engineering

Miami, FL

Open to Remote Work

Project: All-In-One Travel App

A site where users can plan trips to foreign countries and have centralized access to customs data, language translation, and maps of the local area.

Nick Abate

Software Engineering

Newmarket, ON

Open to Remote Work

Not Open to Relocation

Project: Glucoast

Glucoast is an all-in-one dashboard to assist individuals suffering from diabetes in tracking and monitoring their glucose levels throughout the day.

Nick Major

Software Engineering

Vancouver, BC

Open to Remote Work

Open to Relocation

Project: Connex

Connex is a Craigslist-like classified site with an interface for buyers to connect with sellers.

Oda Guzmán

Software Engineering

Vancouver, BC

Open to Relocation

Project: Muse

A music player that creates playlists based on the user's emotional input.

Olanrewaju Akinola

Software Engineering

Surrey, BC

Open to Remote Work

Open to Relocation

Project: onTrack

A personal financial application that helps users keep record of their daily income and expenses, and create budgets.

Patricio Huerta

Software Engineering

Waterloo, ON

Open to Remote Work

Project: Futsal League Application

Futsal League is a website that allows users to create, update or delete players and general information about the league.

Ragib Sina

Software Engineering

Calgary, AB

Open to Remote Work

Open to Relocation

Project: dawat

An online platform where guests can book authentic home cooked meal experiences with hosts from around the world.

Rebecca Brown

Software Engineering

Toronto, ON

Open to Remote Work

Open to Relocation

Project: Sea Bound

Sea Bound is a game that shows the impact of plastic waste on our oceans. You are a sea turtle looking for jellyfish to eat while avoiding plastic.

Rebecca Collins

Software Engineering

Qualicum Beach Vancouver Island, BC

Open to Remote Work

Not Open to Relocation

Project: Oceanside United

I developed an official website for a local women's soccer team to improve their connection with the community and potentially secure sponsorships. It allows fans and sponsors to sign up and interact with the team. It includes a commenting system. The site allows users to sign up or log in to gain full access. I have implemented user authentication and authorization to ensure that only team admins can delete players or update the site. It uses Node.js, Express, Knex, MySQL, jsonwebtoken, and CORS for the backend and React, SCSS, JavaScript, Axios for the front end.

Robert Loo

Software Engineering

Toronto, ON

Open to Remote Work

Open to Relocation

Project: FitLife

FitLife is a mobile-design web-based application where users can can calculate the calories needed based on their fitness goals. It also offers a recipe search engine where users can find dishes with their required nutrients and macros.

Rowena Fonseka

Software Engineering

Toronto, ON

Open to Remote Work

Project: SoundChek

SoundChek is a website for musicians and bands to book rehearsal space. Musicians can view available rehearsal rooms around the city, book and pre-pay on the website. Users can also host their rooms for rent.

Ryan Lancaster

Software Engineering

Toronto, ON

Open to Remote Work

Project: Pillable

A full-stack web application that allows users to track medications and dosages. It also helps users track their medical history by keeping a comprehensive record of every time they have taken a medication.

Sagar Suresh Raj

Software Engineering

Mississauga, ON

Open to Remote Work

Open to Relocation

Project: 3E-ventory

An Inventory Tracking Application designed for a small truffle store with multiple locations, that allows users to add new, edit and delete inventory and also, indicates to the user when the quantity of a particular inventory falls below a certain minimum level.

Sapphira Zheng

Software Engineering

Toronto, ON

Open to Remote Work

Open to Relocation

Project: onTrack Fitness

An online workout aid that helps users reach fitness goals by providing an easy-to-use platform to structure/log workouts and visualize progress.

Seamus Naaykens

Software Engineering

Calgary, AB

Open to Remote Work

Open to Relocation

Project: GrowLocal

GrowLocal is a fully functioning CRUD application which allows users to trade food they have grown at home with other locals growing food in their area.

Sejin Park

Software Engineering

Toronto, ON

Open to Remote Work

Project: Together

A part-time job searching platform where users can post and apply for simple tasks. Making it easy to find a flexible job and connect with your neighborhood!

Shahrzad Kheradmand

Software Engineering

Vancouver, BC

Open to Remote Work

Open to Relocation

Project: Chefs Journal

A social media platform for chefs and cooking enthusiasts to share and collect recipes, and connect with one another.

Shaurrya Sharma

Software Engineering

Mississauga, ON

Open to Remote Work

Open to Relocation

Project: Realty Routes

A tool for realtors to optimize their showings, by calculating the shortest distance between multiple destinations, and creating an ideal route.

Shreyasi Bhagwat

Software Engineering

Waterloo, ON

Open to Remote Work

Project: Adoptable

Adoptable makes pet adoption easier by giving each pet an equal chance of finding their forever home. It lets individual users, rescue organizations and breeders post their pets for adoption/ rehoming.

Sofia Rojo

Software Engineering

Palm Beach Gardens, FL

Open to Remote Work

Open to Relocation

Project: PICSYL

PICSYL is an image sharing platform that tackles the problems creatives face with social media applications by giving the power back to the artists.

Sophia Kim Sing

Software Engineering

Vancouver, BC

Open to Remote Work

Open to Relocation

Project: PageTwo

A Choose-Your-Own-Adventure type of game aimed at being a fun and interactive way to help kids foster a love for reading.

Stephane Morera

Software Engineering

Miami, FL

Open to Remote Work

Open to Relocation

Project: On Tour

On Tour is a web application where users can search for upcoming concerts and music festivals by location. The user will also be able to plan out their trip with friends to create an itinerary for the trip.

Svetlana Davidchuk

Software Engineering

Toronto, ON

Open to Remote Work

Project: 30 Seconds - Go!

A social game where people can learn something new about each other in different social settings. One person is the talker, the other is the listener. The talker gets a prompt and has 30 seconds to respond to the question, but they must talk without a pause.

Thanh Nhan Tran

Software Engineering

Vancouver, BC

Open to Remote Work

Open to Relocation

Project: Build Your Diet

This website helps users build a healthy diet, calculate ideal macronutrients, and provides a rich library of detailed recipes.

The Luan Bui (Lucas)

Software Engineering

Toronto, ON

Open to Remote Work

Project: Scatdule

Scatdule is a tool for businesses to manage, modify, and create new schedule for employers / managers / employees on a weekly basis. They will no longer need to ask for their schedule or save it somewhere else, just need to login and everything will be there.

Thomas Morgan

Software Engineering

Toronto, ON

Open to Remote Work

Project: PressPrint

PressPrint strives to connect and empower urban working people with cloud based printing services, using existing hardware, within your own community.

Tommy Lau

Software Engineering

Brooklyn, NY

Open to Remote Work

Open to Relocation

Project: Meal Buddy

A social platform designed to seamlessly arrange a meal and network. Google Maps API used for visualization and Socket.IO for real time messaging.

Travis Martin

Software Engineering

Kaslo, BC

Open to Remote Work

Open to Relocation

Project: Meal Planner

Digital recipes are full of clutter. Meal Planner simplifies grocery shopping & meal planning with list compilation and easy recipe viewing.

Troy Smith

Software Engineering

Grimsby, ON

Open to Remote Work

Open to Relocation

Project: Trax

Trax leverages the Spotify API to reliably obtain the audio analysis of thousands of popular tracks and averages them by genre on a weekly basis.

William Hoare

Software Engineering

Toronto, ON

Open to Remote Work

Open to Relocation

Project: Diggable

Diggable is a crowd-funding platform specifically targeted at independent musicians looking to alleviate the financial stress of touring without a label, by offering unique personal rewards to fans and backers.

Wilson Gee

Software Engineering

Vancouver, BC

Open to Remote Work

Open to Relocation

Project: Windback

Inspired by the year-in-review highlight concept of Yearbooks, Windback is a web app that allows users to create a collage of their favourite moments with their peers.

Xiaoxiao Liu

Software Engineering

Mississauga, ON

Open to Remote Work

Open to Relocation

Project: Finding-Meows-Homes

A platform for users to adopt straycats. Users can also find their lost cats through this platform.

Yikfung Sean Tang

Software Engineering

Boston, MA

Open to Remote Work

Open to Relocation

Project: Our Best Friend

Our Best Friend allows anyone to become a professional dog trainer by providing education and a framework to operate around, giving dog owners a new sense of confidence in training and ownership.

Zealtiel Zuniga Anaya

Software Engineering

Springdale, AR

Open to Remote Work

Not Open to Relocation

Project: MuseFolio

MuseFolio is an in-browser sheet music storage application and pdf reader which empowers musicians through reliable access to their music library.