Five Startups in Canada Trying to Disrupt the Hockey Industry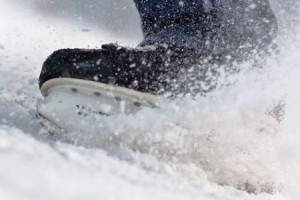 As if it wasn't clear enough already, the tech startup industry can and will tackle any problem it puts its mind to, and that includes hockey.
It took a few years in Canada before the startup geeks focused their attention on solutions outside of simple wearable products and apps for yoga, or running. Now, the two worlds of sports and tech have collided in Canada.
It was apparent weeks ago, as former Dragons' Den investor Bruce Croxon crowned a winner among 20 hacker teams building out sports-related solutions at Toronto's SportsHack.
With Pinterest keen on the hockey space, why shouldn't our own home-grown businesses get a slice of the pie?
Here are five early-to-mature Canadian startups tackling the hockey market:
1. HWKI's Wearable Hockey Camera
Fredericton-founded and Waterloo-based HWKI is going above and beyond simple long-sleeved spandex shirts attached to an app. Cofounders Shea Kewin and Tim Priamo, who both played four year careers in the OHL before going on to Canadian university hockey, created a wearable video camera for hockey players.
The camera will help players improve by recording what they see as they play a game or practice, and then review it later on a mobile or computer device, and share it with coaches or other players.
Kewin and Priamo are planning to launch a Kickstarter campaign to let people pre-order the product at about $165 and up per unit.
2. Shnarped's social platform for hockey fans
Founded by former and current AHL hockey players Dustin Sproat and Kyle Hagel, Shnarped is a well-rounded social platform that connects hockey fans with NHL and minor league professional hockey players.
Fans can dissect and discuss games and topics on the app, while also communicating directly with about 150 different players who use the app. Fans can give the pros "pounds," congratulating them on big plays.
Players like the Chicago Blackhawks' Jonathan Toews, the Erie Otters' junior phenom Connor McDavid and the Montreal Canadiens' Brendan Gallagher highlight the list of current players using the app.
Shnarped successfully slayed the dragons on CBC's Dragons' Den last year, drawing the interest of all five investors.
3. RosterBot's free team management system
Vancouver-based Rosterbot created a completely free team management system for squads of any sport. The slick platform, available on both iOS and Android, assists team captains or managers in management, scheduling, roster creation and payments. They can assign positions and automatically invite spares, send emails and notifications that sync with players' calendars and more.
The startup was founded by Ian Bell and former Stanley Cup-winning defenseman Bret Hedican, who played nearly 1,000 games in the NHL.
Like Shnarped, RosterBot appeared on Dragons' Den. However, Bell experience a minor stumble after a deal with four of the five dragons fell through. Michael Wekerle later took exception to the fact that the startup has been around for six years, still with just 90,000 users.
Still, the startup was able to attract capital from Sora Capital's Paul Reinhart (another former NHLer).
4. 20Skaters' online pickup hockey platform

Guelph's 20Skaters is focused on pick-up hockey matches, or those that aren't in a devoted league, usually with no referees. It appeals to players who can't always commit to a full season, and can only play in certain time slots.
Founder Brydon Gilliss created an online platform that helps pickup hockey organizers save money and time, by allowing potential players to sign up and pay online. If a given game is still lacking players, 20Skaters will invite substitute players in the area who could be interested.
Gilliss also runs Guelph's ThreeFortyNine coworking space, and organizes the StartupTrain every year to Montreal's International Startup Festival from Toronto.
5. BetterPuck.com's community marketplace for pickup hockey

Having just launched on Thursday, BetterPuck.com is a community marketplace for pickup hockey games. The startup recently raised a seed round of $100,000.
Recreational hockey players can use the platform when they want to play hockey, finding which rinks in their area are offering games that day, how many goalies are slated to show up, what the average age of players is and what the skill level is.
Founder Shane Talbot feels that his platform's capabilities go further than competitors based on the fact that it has partnerships with rinks offering pickup hockey, particularly in the Greater Toronto Area.
"We're guaranteeing that there's inventory of games there when players go to the website," he said. "We're providing that quality assurance in our games."
The games cost $20 per player, and goalies can earn credits through a reward system.