The Core Values Behind 'Crusaders of the Lost Idols' Creator, Codename Entertainment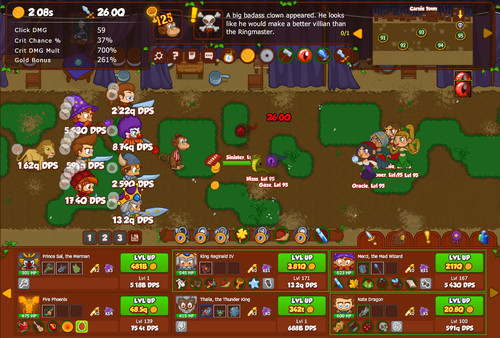 In a town known for its aged brick buildings, piers with brilliant seafood eats, and being the capital of British Columbia, Victoria sure has its fair share of young startups making a splash in the video game industry.
Codename Entertainment strives to do its name justice. Originally DJArts Games in its founding year of 2008, the studio launched with the massively successful Egg Breaker, which later spawned three sequel titled. Beginning as a studio designing games for the booming Facebook platform, they evolved to launch titles on Kongregate, ArmorGames, and even Steam.
Last year, they released Crusaders of the Lost Idols at the height of the idol game bonanza. It paid off. Later, Crusaders would be awarded the Idol Game of the Year by ArmorGames, and would ever take the podium on Kongregate as the top rated idol game.
If you haven't had a chance to play, the game is highly addictive. A refreshing side-scroller take on the idol genre, you curate a gaggle of warriors that stride through dungeons and the countryside, clicking their way through mobs.
Just a few weeks ago, Codename launched Crusaders on Kizi, a Facebook-less portal for browser games. Similar to Kongregate, which Crusaders is also out on, Kizi hosts thousands of games of all types.
Unlike many game studios (local or otherwise), Codename makes their core values very public.
"At Codename, we do our very best to live by seven simple core values that shape our every decision, from what type of games we make, to daily interactions with our fantastic, and dedicated community," says the company website.
The values are as follows. Caution, these are the best, most needed core values of a business you've ever seen. Prepare thy self.
Make Is So: Be motivated and driven, take ownership of your work and get things done. Be intelligent, innovative and creative in everything you do!
The Doctor Is In: Aim for the exceptional. Even if you miss the moon, you'll still land among the stars.
With Great Power Comes Great Responsibility: Our community places their trust in us to provide a great experience, and we trust them to give us feedback so we can improve it.
It's Dangerous To Go Alone: Share a love of video games and geek culture! Who knows what you might discover next?
Don't Panic!: Always be level headed and professional, maintain a presence of mind and don't forget your towel!
Hailing Frequencies Open: Communicate openly with your fellow employees and our community, please and thank you!
Makin' Bacon Pancakes: Make fun games and have fun doing it!
There you have it, the values that make a studio, on the verge of their tin anniversary, tick.
When you stop and think about what each one of these values mean on their own, it's no wonder the company has lasted this long. They're all fundamental ways of executing better, no matter which profession you practice.
As for Codename Entertainment—the group that put these core pillars together—things don't look to be slowing down. With 10 million unique players, and 1.1 million hours played per month (on Steam alone), they're is only aimed high.
In summary, should you find yourself having a hankering for one of the best idol experiences on the market, make sure you look up Codename's hit title Crusaders of the Lost Idols.
I can't wait to see what the Vancouver Island team do next.