Hardware Row Comes to Wearable Wednesday Vancouver March 16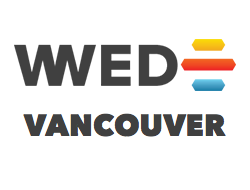 The 2016 Reboot of Wearable Wednesday Vancouver wouldn't be complete without a sampling of Vancouver's flourishing next generation hardware startups that will be featured on Hardware Row.
The purpose of Hardware Row exhibitors is to allow the opportunity for early-stage hardware startups to connect with the local community, and get a chance to meet the people and projects that are being designed and built in Vancouver's backyard.
The list of Hardware Row exhibitors so far includes:
1. Iris Automation, a high tech computer vision company that is working to build revolutionary new ways for drones and unmanned systems to see and navigate within the world.
Their high-tech collision avoidance system for industrial drones uses computer vision algorithms packaged in a physical plug-and-play perception unit that dynamically tracks line of sight. The team has worked together in the drone industry for the last three years, and combines experience from NASA, Boeing, Airbus, and other tech startups.
Is the world ready for drones? To that Alexander Harmsen, CEO + Co-Founder of Iris says, "we need to build more trust into the safety systems of industrial drones. It's that situational awareness problem that we are solving".
2. iHeart, by VitalSigns, a heart-health monitoring device co-founded by Sarah Goodman and her father Dr. Jess Goodman.
This fingertip device and mobile app determines a user's Internal Age in 30-seconds by measuring a scientifically proven parameter of internal health, Aortic Stiffness. Aortic Stiffness has been proven to be a marker of heart health, brain health, and risk of death from all causes, but is reversible with positive lifestyle choices. Perhaps the fountain of youth lies within wearables. "We help people to become heart healthy from the inside out. Learning your internal age, gives you an emotional connection to your health". Sarah Goodman, CEO. One lucky door-prize winner attendee will walk away with an iHeart device of their own.
3. PROXXI is the world's first real-time, multi-voltage connected wearable. It notifies the wearer by vibration (haptic feedback) when they get too close to an electrified device, and helps reinforce the limits of approach.
Targeted at utility workers and those in industry at risk of electrical contact injury, it is a device that provides companies peace of mind and visibility through connected monitoring and insights into employee safety.
"Our technology is not only about safety, but by providing the smart data to organizations, helping to prevent at-risk behaviours, we are also lowering the costs of operations". Campbell Macdonald, CEO. Each year, over 2000 electric utility employees in North America suffer electrical contact injuries, with thousands more exposed to this danger in other industries. PROXXI is a spin out from service company HUMAN, and the result of a BC Hydro project.
4. Awake Labs joins the Hardware Row line up from the New Venture Design Studio program at UBC.
Their product Reveal is an anxiety detecting wearable for children with autism. The device notifies parents and caregivers of an impending behaviour meltdown, thereby helping them to implement strategies to mitigate stress at an earlier stage. Early intervention helps save time, prevent emotional burnout, and augments a happier life. Awake Labs has two full-time members, Andrea Palmer, CEO and Founder and Paul Fijal, Lead Biomedical Engineer. Form factor for this wearable is an important consideration for users.
"Our ankle bracelet is designed to be a less invasive wearable that integrates easily into the lives of our users," said Paul Fijal, Lead Biomedical Engineer.