A Canadian Goliath Shows How Working with a David Can be Good for Business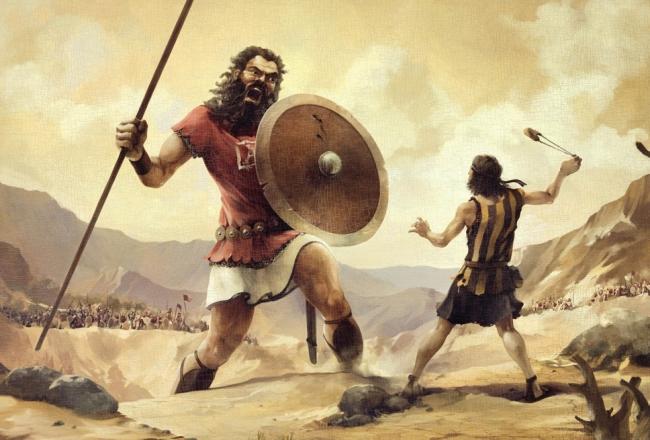 It's not a government grant check. It's also not closing an angel funding round.
It's paying clients that validate a startup.
Winning the first customer doesn't ensure success either. The lean startup school stresses talking with "clients" before building a "complete" product, and the market fit mantra has significant merit, but at some point the conversations need to culminate in a call to action. At some point a sale needs to be made.
Arguably, one of the biggest challenges many startups face is overcoming the "you won't get fired for buying IBM" paradigm. Great early product version, but no client references, is often the show stopper.
For Vancouver's voltageCRM cofounder Collin Stewart, the combination of personal experience, patience with client discovery, and perseverance in dealing with the constant barrage of "just what the world needs another CRM system, are you nuts?" has paid off by proving Goliath can take a shine to David. By building a good product and being in the right place at the right time, voltageCRM has won over Ames Tile and Stone—who turned 100 years old this year, is considered one of BC's top 50 places, and was ranked as one of BC's top 50 managed companies last year.
While the win is great validation, it's the fact that Bob Vesely at Ames Tile and Stone believed in Collin, and believed he had a solution to a big headache. According to Bob, "nobody was using the existing system and it was such a mess that the data wasn't even worth moving over to the new system. We tried [CRM solutions from] Salesforce, Microsoft, and Maximizer and not a single sales rep could agree on anything—it was like herding cats."
"They didn't like with the impersonal presentations, the extra clutter on the screen, and felt that the proposed systems were too bogged down with unnecessary features that they would never use," he explained. "The sales team was so divided, and so little progress could be made, that I told the president of the company that we were going to have to scrap the project."
Even bigger than this win, is the fact it's an example of how our established and mature companies can make, and should be making, a big difference in building and growing BC's startup company ecosystem. More of BC's IT managers should be following Bob Vesely's lead, by answering the phone, taking the meeting, and not using the lack of references as an excuse for not buying.
The voltageCRM team have been Launch Academy members since July, which Collin describes as "amazing." Launch Academy, VIATec, and Accelerate Okanagan are providing great places to start, but having a place to land, and having the opportunity to do business in the same area code, makes a huge difference.
It's time BC's big companies not only discover who's behind these organizations, but having a willingness to buy from local innovators and entrepreneurs.