Panel Discussion
The Story Behind the Design
Thursday November 28th, 2019
6:00 PM - 8:00 PM
455 Granville St, Vancouver, BC
Speakers From
Event Details
Behind every great design is a great story. In fact, every product and service we love is born out of a specific and deliberate design process. This journey from idea to realization takes many different iterations and there isn't one formula for a great design.
Join us as we hear from top Designers and Researchers for a sneak peek into their unique process. This is a rare and exciting chance to pull the curtain back on the creative design process and hear the challenges, breakthroughs, and "aha" moments straight from the source. We'll also have a broad discussion on the industry as it stands and how the design journey has changed and will continue to change for the future.
Event Breakdown
6:00PM - Doors open, refreshments and networking
6:30PM-7:30PM - Speaker presentations and panel discussion
7:30PM-7:45PM - Q&A
7:45PM-8:00PM - Networking and event wrap-up
*Tickets are non-refundable and non-transferable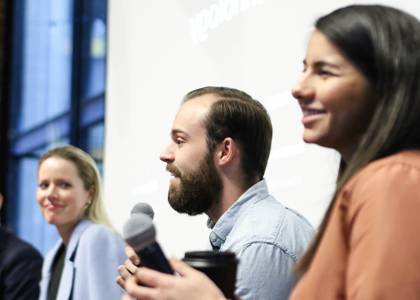 Speakers
Liv Tapper
UX/UI Design Project Lead at aequilibrium
I'm a UX/UI Design Project Lead at Aequilibrium, a digital agency in Vancouver. Originally from New Zealand, I've been creating products for over 12 years and still feel true awe and excitement about what I do. For me, being a designer is about the world we build around creating products, why we turn up each day, how we approach a problem, how we help each other, and how we transform and grow.
Guramrit Singh
Design Strategy Lead, Home Solutions at TELUS
Guramrit is the Design Strategy Lead at TELUS for its home solutions portfolio. Having worked as a UX Designer for different platforms such as Salesforce integrations, Mobile apps (iOS & Android) and even voice AI on Google Assistant, Guramrit has always aimed to provide a best in class experience for all channels and touchpoints in the customer's journey. Prior to TELUS, Guramrit was the UX Architect for Best Buy and also has experience leading branding and UX design for a startup.
Tyler Wilman
UX Product Designer at lululemon
Tyler is currently a UX Product Designer for lululemon and spends his time communicating, collaborating, designing and defining new ways to look at problems in order to connect with people in a new way.
Peter Hoang
Principal Creative Director at Microsoft
Peter is Principal Creative Director at Microsoft Vancouver's Bigpark studio. Peter works at the intersection of emerging technology and new social patterns. He started in early web as co-founder of Mod7 Communications and moved on to mobile interfaces at EA Sports. At Microsoft, Peter has worked on interactive TV, mixed reality and now modern productivity as part of the Office Media Group.
Become a Sponsor
Become a BrainStation Event Partner to get involved with some of the industry's most exciting thought leadership events. Fill out the form to learn more about sponsorship opportunities.
Reserve Your Spot
Join a dynamic group of like-minded professionals and industry leaders.
Thursday November 28th, 2019
6:00 PM - 8:00 PM
455 Granville St, Vancouver, BC