Panel Discussion
The Story Behind the Design
Thursday November 28th, 2019
6:00 PM - 8:00 PM
455 Granville St, Vancouver, BC
Speakers From
Event Details
Behind every great design is a great story. In fact, every product and service we love is born out of a specific and deliberate design process. This journey from idea to realization takes many different iterations and there isn't one formula for a great design.
Join us as we hear from top Designers and Researchers for a sneak peek into their unique process. This is a rare and exciting chance to pull the curtain back on the creative design process and hear the challenges, breakthroughs, and "aha" moments straight from the source. We'll also have a broad discussion on the industry as it stands and how the design journey has changed and will continue to change for the future.
Event Breakdown
6:00PM - Doors open, refreshments and networking
6:30PM-7:30PM - Speaker presentations and panel discussion
7:30PM-7:45PM - Q&A
7:45PM-8:00PM - Networking and event wrap-up
*Tickets are non-refundable and non-transferable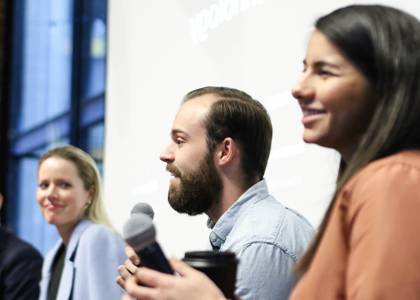 Event Speakers
Liv Tapper
UX/UI Design Project Lead at aequilibrium
Guramrit Singh
Design Strategy Lead, Home Solutions at TELUS
Tyler Wilman
UX Product Designer at lululemon
Peter Hoang
Principal Creative Director at Microsoft
Become a Sponsor
Become a BrainStation Event Partner to get involved with some of the industry's most exciting thought leadership events. Fill out the form to learn more about sponsorship opportunities.
Reserve Your Spot
Join a dynamic group of like-minded professionals and industry leaders.
Thursday November 28th, 2019
6:00 PM - 8:00 PM
455 Granville St, Vancouver, BC