Career Guides
How to Become a Business Analyst
BrainStation's Business Analyst career guide is intended to help you take the first steps toward a lucrative career in business analysis. The guide provides an in-depth overview of the in-demand skills you should learn, the best training options, career paths in business analysis, how to become a Business Analyst, and more.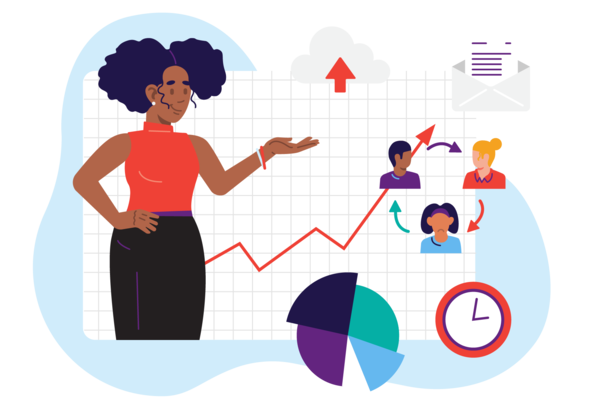 To become a Business Analyst, you must have key data analysis skills and an ability to glean insights from data sets. It's no secret that the way we do business is evolving – it's been changing for decades, and the rate of that change shows no sign of slowing down. Just the opposite: today, more businesses are learning to adapt than ever before. At the center of this great shift are Business Analysts, a category of jobs that comprises responsibilities from systems and process analysis to management consultancy to software development and everything in between. Essentially, Business Analysts are the people who provide the insights that help companies manage change.
The full scope of potential changes a business can make is wide, so the types of work Business Analysts do is just as wide. But at its core, the goal of a Business Analyst is the same no matter their level of seniority or what market they're in: to identify and define solutions that will help a business thrive.
As you'd imagine, information plays a big part in this goal – sourcing information, analyzing it, understanding what's meaningful and what isn't, using it to make predictions and devise actionable goals, and finally, communicating all this to others. More specifically, it's Business Analysts who critically examine a company's organization and process management, who implement its technical solutions, who look for new business opportunities, and who determine whether the benefits of a given action outweigh its costs.
Because business analysis impacts virtually every facet of an organization, there's almost no position working for a company that doesn't relate to it in some way or another. In fact, if you're working for a business, you're probably doing some form of business analysis already. And if you're looking to move into a full-time position as a Business Analyst, that's good news: it means that, however limited your training in business analysis per se, you still have some experience with it, and that can serve as an entrée into the field.
For some people, this could mean learning more about business analysis and applying that knowledge to their current job – to command a higher salary, or even obtain a promotion. For others, retraining could be the first step to a new career as a full-time Business Analyst. Still others may already occupy a senior executive position and simply want to grow their field of expertise, to improve their effectiveness at the job they already do.
How to become a Business Analyst in six steps:
1. Learn Business Analysis Fundamentals
The first step of any career journey is to get familiar with what your desired position entails, and with the field as a whole. The basic idea behind business analysis is quite simple – identifying a business's needs and problems and turning them into opportunities for growth. Of course, the types of problems Business Analysts work to resolve are nearly endless – just one reason that the list of jobs that require business analysis skills is so long: Systems Analyst, Process Analyst, Business Architect, Management Consultant, Requirements Engineer, Product Manager, Quality Assurance, and Data Scientist, to name just a few. All these jobs require business analysis skills, and where an employee doesn't have those skills, they'll be working directly with a Business Analyst who does.
But while you've likely had some exposure to the ideas underlying business analysis through your work experience in a related field, you'll need to turn those impressions into a clear understanding of data analysis principles before you commit to a career-changing decision. That means doing a bit of background research on the different ways Business Analysts can contribute to an organization – market analysis for untapped opportunities, data modeling, budgeting, and forecasting – and to an organization's IT strategy, communications, HR and training, supply chain, business architecture, and process management.
Most Business Analysts possess a bachelor's degree – often in business administration, finance, accounting, statistics, or computer science or programming – and for many people, this degree may be the most logical first step in getting some exposure to business analysis theory. For those looking to make a mid-career transition, this might not be feasible. But even with a degree in something completely unrelated, it's still possible to acquire an understanding of how businesses operate, either through formal training or more informal means. What really matters is that, when you begin to learn the specialized technical skills you'll need to become a Business Analyst, you have a clear understanding of how (and where) those skills can be applied to improving a business's bottom line.
2. Take a Data Analytics Course
Business administration becomes business analysis when you start looking at hard data. That data is the source of the insights Business Analysts use to define, study, and solve problems. You might even say that a Business Analyst is, in many ways, a Data Analyst whose skills are laser-focused on improving a business's operations. In fact, the primary distinction between the two roles is that, unlike Data Analysts, who are primarily looking for significant patterns within data, Business Analysts are only interested in what those patterns can do to further a business's goals.
As a business conducts more of its operations online, the amount of data at its disposal skyrockets. It's now possible to measure – with extreme precision – metrics that gauge a business's operating costs, performance, traffic, sales, and overall efficiency. But this data doesn't turn into recommendations by itself. To do this, Business Analysts need a firm grasp of techniques used in data analytics, as they either work hand in glove with Data Analysts or perform data analysis themselves.
In a data analytics bootcamp or similar course of study, you'll gain a comprehensive overview of the entire field. Studying under the direction of a professional instructor ensures there are no gaps in your training, and that the time you spend studying is dedicated to the areas you'll really need to know. You'll even have the opportunity to work on projects where you'll apply data analysis skills to real business case studies.
3. Work on Projects to Develop Your Practical Data Analytics Skills
With a clear idea of business fundamentals and the skills to analyze reams of data, you can begin practicing your ability to apply your new expertise to real business problems. Try putting together practice projects that touch on all the different ways data analysis can be used to grow a business: researching your competition and market opportunities, establishing the parameters of the data you need to collect, gathering and cleaning that data, and modeling and analyzing it using custom-built algorithms.
Depending on your career goals, your practice projects should include not only different types of business solutions, but also different types of data – mining structured data, text and images, audio, or even video to perform statistical analysis, identify causality and make predictions.
As you go, you'll also be practicing not only the technical, analytical, and business skills you'll need as a Business Analyst, but the soft skills you'll need, too: decision-making and weighing alternatives, interpersonal and communication skills, time management and organization, persuasion and professionalism.
4. Develop Visualizations and Practice Presenting Them
Brilliant analysis doesn't count for much if you can't communicate your insights to others. For this, Business Analysts rely on strong written communication skills, but also on the ability to turn data into beautiful charts, graphs, and other visualizations, and even interactive dashboards that allow others to query and interact with the data you've compiled in a user-friendly way.
Using programs like Tableau, PowerBI, Bokeh, Plotly, or Infogram, practice building your own visualizations from scratch, finding the best way to let the data speak for itself. Excel also comes into play even during this step: although the basic premise behind spreadsheets is straightforward – making calculations or graphs by correlating the information in their cells – Excel remains incredibly useful after more than 30 years, and is virtually unavoidable in the field. Creating visualizations is just the beginning. As a Business Analyst, these visualizations serve an important role in presenting your findings to your coworkers – to make the case for a given course of action. These communication skills may come naturally to you, but if not, you can improve with practice. Start small, if necessary, delivering presentations to a single friend, for example, before moving on to colleagues. Eventually, you should be able to develop a hypothesis from its initial concept, figure out the best way to communicate your conclusions to others, and ultimately see that your idea is effectively executed.
5. Develop a Business Analyst Portfolio to Showcase Your Work
Once you've acquired these key skills, it's important that you display them by putting the projects you've developed and the code you've written (even as part of your coursework) up on GitHub or a similar online portal to show what you can do and begin building your professional portfolio.
An ambitious and well-executed project that you pull off on your own can be a great way to demonstrate your abilities, impress potential Hiring Managers – and help your portfolio stand out from the pack. Pick a facet of business analysis that you're really interested in – possibly even a real-world problem you've faced at your current job – ask a question about it, gather the information you'll need to analyze the problem, and try to resolve it. Document your journey and present your findings – beautifully visualized – with a clear explanation of your process, highlighting your business analysis skills and creativity. And if you can point to real-world outcomes that improved a company's bottom line, that's a part of the story you'll want to tell using numbers.
6. Apply to Relevant Business Analyst Jobs
As mentioned above, the number of different job titles that potentially fall under the umbrella of "business analysis" is vast, including everything from Business Analysts proper to any one of the following – and, rest assured, there are many more:
Data Analyst
Functional Analyst
Quantitative Analyst
Research Analyst
Systems Analyst
Enterprise Architect
Process Architect
Business Solution Architect
IT Project Coordinator
IT Lead
Process Coordinator
Management Consultant
Research Executive
Product Manager
Project Manager
Compliance Manager
Chief Information Officer
You can safely assume that business analysis skills will be required in any one of those positions. But before applying, you'll want to research a bit more about the job, as well as the company itself and what it does. What are the company's priorities, and do they play into your strengths, goals, and career plans?
And, as with any job search, it pays to network. There are professional organizations you can join – notably, the IIBA – and both real-world and digital networking events are regularly posted to sites like EventBrite and Meetup.com. Remember, these events are for building relationships, so focus on making meaningful connections, not trying to spread your resume around, and don't be afraid to follow up.
Get Started
Kick-Start Your Business Analyst Career
We offer a wide variety of programs and courses built on adaptive curriculum and led by leading industry experts.
Work on projects in a collaborative setting
Take advantage of our flexible plans and scholarships
Get access to VIP events and workshops
Recommended Courses for Business Analyst