Career Guides
Business Analyst
BrainStation's Business Analyst career guide can help you take the first steps toward a lucrative career in business analysis. The guide provides an overview of the skills you should learn, the best training options, how to become a Business Analyst, and more.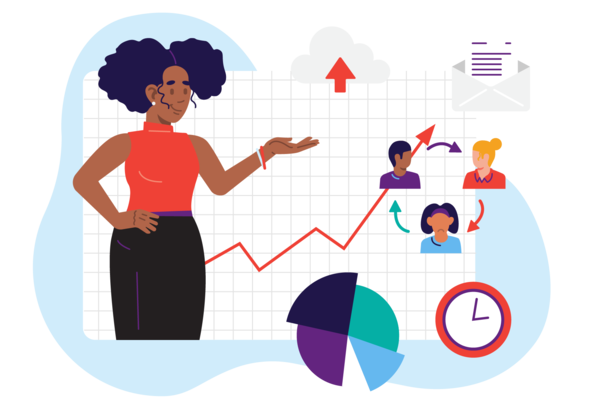 What Is a Business Analyst?
A Business Analyst uses data analytics and other tools to evaluate and improve business processes and requirements, to deliver data-driven recommendations, and to find other opportunities to improve efficiency and add value. A Business Analyst must understand the priorities of both business leaders and users alike while balancing ideas for improvement with an understanding of financial realities. They might also use data sets to improve products, hardware, tools, software, services, or processes.
A Business Analyst would interact with leaders on the business side as well as users to understand how data-driven changes to processes, products, services, software, and hardware could potentially improve efficiency and add value. They must also balance those ideas against what's technologically realistic and financially reasonable. Depending on the role, they might also work with data sets to improve products, hardware, tools, software, services, or processes.
What Are the Responsibilities of a Business Analyst?
Although the specifics will vary based on the exact role that a person has, the Business Analyst job description will usually include all of the following key responsibilities:
Leading ongoing reviews of business processes and the business model and leading the development of optimization strategies

Evaluating and improving business processes, anticipating requirements and business problems, unearthing areas for improvement, and leading the development and implementation of solutions

Staying up-to-date on the latest process and IT advancements to modernize systems

Performing requirement analysis

Working closely with stakeholders, clients, technicians, and managerial staff

Documenting and communicating the results of your efforts

Effectively communicating insights and plans to cross-functional team members and management

Gathering and sharing important information from meetings and producing useful reports

Allocating resources and maintaining cost efficiency

Ensuring solutions meet business requirements and needs

Performing user acceptance testing

Leading project management initiatives, developing project plans, and monitoring project performance

Updating, implementing, and maintaining procedures

Prioritizing initiatives based on business needs and requirements

Serving as a liaison between stakeholders and users

Monitoring deliverables and ensuring projects are completed on time
Where Do Business Analysts Come From?
A Business Analyst can come from a variety of different educational and professional backgrounds, but most Business Analysts have an educational background and skills in a related field like business or computer science and/or a professional background in IT or tech.
It would be tricky to become a Business Analyst without a degree at all, but there aren't hard requirements around exactly which degree you might need. Perhaps the ideal would be in an area of study somewhat related to business, like business administration, computer science, accounting, finance, information systems, operations management, logistics, or even human resources.
But that would just be the beginning of your path to qualifying for a job as a BA. The other pieces of the puzzle would include professional experience, skills training, and professional certification.
When it comes to professional experience, those working in a Business Analyst role now tend to have previously held positions relating to business, analytics, IT, or HR.
But if you're looking to get into a Business Analyst role with no prior experience, certification would be an important step. Gaining skills through a professional certification – and then eventually accumulating more – is important for BAs, who must show a lifelong commitment to learning. Most people working in a Business Analyst role would have a certification from organizations like the International Institute of Business Analysis (IIBA), the Institute of Management Consultants (IMC), BCS, the Chartered Institute for IT, the International Qualification Board for Business Analysis (IQBBA), Certified Professional for Requirements Engineering (CPRE), or Professional in Business Analysis (PBA).
Deciding which certification to pursue will ultimately come down to your location, budget and specific career goals as a Business Analyst. Research these and more to decide which certification is right for you.
Characteristics of an Effective Business Analyst
Effective Business Analysts tend to have a few qualities in common beyond what's in their job descriptions. Here are the skills and characteristics that all great BAs seem to share:
Top-Notch Communication Skills
A Business Analyst must communicate with a wide diversity of stakeholders – people with wildly different backgrounds and professional roles – in a way that is clear, efficient, and pleasant. They also have to be able to articulate her or his own value and to sometimes persuade management to change their priorities.
None of that is easy, so succeeding as a Business Analyst requires having an uncommon way with words, both verbally and in writing. Written reports should be clear, concise, and well-written, free of unnecessary bulk and of course any errors.
A Business Analyst also must lean on these skills to navigate meetings, presentations, and workshops.
They Listen
Typically, when we talk about communication skills we mean someone has a way with words – but it's just as crucial that a Business Analyst knows how to listen.
A Business Analyst must listen carefully as clients lay out what they need, and they must also listen closely in communicating with software development teams about timelines and budgets.
Further, those working in business analysis have to master the art of active listening. By nodding and maintaining eye contact, BAs make sure stakeholders feel heard. They should keep an open mind and know how to acknowledge dissenting viewpoints with tact.
They should also know how to keep a meeting moving by subtly nudging a conversation along. On that note, it's inevitable in business analysis activities that you will spend a lot of time in meetings, but an effective Business Analyst would make them as efficient as possible for everyone's benefit.
They're Analytical
Maybe it's obvious given that the word "Analyst" is in their job titles, but a good Business Analyst is indeed an analytical thinker who can interpret business needs and translate them into operational requirements. A Business Analyst must look at information from a variety of sources, such as documentation, surveys, and existing business systems. Someone in a Business Analyst position should be passionate about data analysis and creative in coming up with different angles from which to analyze it to the benefit of the businesses they're serving.
There could be meaningful insights hidden in plain sight in the data, and it takes a good Business Analyst to extensively analyze that data before even considering coming up with a neat solution to solve the problem. It's worth pointing out that a good Business Analyst also knows when it's time to stop scrutinizing the data and time to start working on a solution.
They're Problem Solvers
If you ask a successful Business Analyst about the best part of their career, the answer might be that they get to solve problems.
In most organizations, including non-profits, solutions to business issues aren't straightforward. A good Business Analyst has to think critically and look at these situations from a variety of angles, considering multiple scenarios and operations, before arriving at a solution – and a change – that will work for the organization. That usually involves exploring the effects on revenue, costs, sales, and performance metrics.
A good Business Analyst will also show how they arrived at this conclusion and make a solid business case once it's time to persuade stakeholders to approve the plan. Usually, finding a solution will effect change within an organization – perhaps it's a situation where a change is needed in a business process or a technology should be improved – and for that to happen, a Business Analyst must get buy-in from top stakeholders. If they understand a BA's thought process, they'll be more likely to buy into the suggested business process.
They Exercise Good Judgment
To put it simply, a Business Analyst needs to be level-headed. It's a Business Analyst's responsibility to offer counsel to management, key stakeholders, and software development teams. Business analysis is about helping a colleague or organization make the right decisions to get things right for the overall benefit of the organization.
It's also a Business Analyst's job to facilitate decisions. Indecisive leadership can be a huge problem for any organization. A good Business Analyst would define which decisions need to be made, who will make those decisions, and what information the decision-maker should leverage to make the right decision.
In a situation where the decision is being made by a group, it's a Business Analyst's role – and it's not an easy one – to somehow wrangle buy-in from everyone. It's one of the most important Businesses Analyst skills.
They Have Knowledge in a Range of Areas
In business analysis, it might seem like a BA has to be an expert in everything. That's impossible for even the most clever BA, but it is true that a Business Analyst should have at least basic knowledge and skills in a range of different disciplines.
Most in business analysis feel at home in IT. But they have to deal with many stakeholders and colleagues outside of the IT bubble, so it pays for a Business Analyst to know about the world, business trends, new tech, and the business process.
Those working in business analysis who do have a diverse knowledge background will more easily elicit the right information from stakeholders and identify business opportunities. These BAs also tend to be more versatile in their creative problem-solving and more open to trying new business analytics tools, techniques, and products.
Who Does a Business Analyst Work With?
Business Analysts tend to work as part of larger IT teams, but they could find themselves collaborating with practically every level of an organization.
Those in business analysis will work with development, sales, marketing, finance, legal, and design teams, sometimes all within the span of a day. They'll also work closely with organization management and other top decision-makers.
Reasons to Become a Business Analyst
If you're considering whether a Business Analyst career would be right for you, here are some of the top reasons to become a Business Analyst:
A Career With Variety
You'll find that any number of Business Analyst roles could call for completely different skills and responsibilities.
Some Business Analysts work almost exclusively on the business side, while others are in highly technical roles. Some BAs design technical solutions for businesses, while others are more like a Process Analyst spending more time defining and adjusting process flow.
There's also the fact that virtually every major organization will hire Business Analysts, so you could work in any industry that interests you.
A Career With Job Security
It seems the secret is out and seemingly every right-thinking organization has realized the tremendous value brought by hiring a Business Analyst. In fact, the Business Analyst job market is expected to grow by 19 percent over the next 10 years according to the Bureau of Labor Statistics, meaning 140,000 new jobs for Business Analysts.
If you're looking for a career field that's rich in opportunity, look no further than Business Analyst.
High Salaries
With all the demand for Business Analysts, it's natural that their salaries would be high. The average salary for a Business Analyst in the United States is $79,212 according to Indeed plus an average of $4,000 in cash bonuses annually.
Other factors will boost that number even higher. In places like New York and California, a Business Analyst can certainly expect a higher salary. A Business Analyst can also expect a raise after securing a certification. A common certification to show up in Indeed's job listing is the Project Management Professional (PMP) Certification, which Indeed said correlated to a 13 percent pay bump for Business Analysts.
No Two Days Are the Same
Business Analyst is a great career for people who don't want to do the same thing day-in, day-out. A Business Analyst typically gets to set their own schedule, so if you want to spend the day eliciting requirements or conducting meetings, you have the freedom to do that.
All projects are different too, so the challenges a Business Analyst faces every day will require new investigations and new solutions.
If variety is something you value in a career, you might make for a good BA.
Make a Difference
At the core of the role, a Business Analyst works to solve complex problems that businesses are having. At a high level, that requires understanding organizations' problems and pain points, developing a clear and holistic picture of the current state of an organization, breaking the problem down into smaller pieces, coming up with the solution, and helping to test and implement the solution, which in the end, should solve the initial problem. Those processes aren't easy, but when you're on the other side and you hear how you helped organizations or businesses save money or create a better product, it will be a rewarding feeling.
Seeing the fruit of their labor before getting to move on to another project is another great part of being a Business Analyst.
What Are Some Similar Jobs to a Business Analyst Role?
There are certainly some job titles that share some of the same responsibilities as a Business Analyst, including:
Project Manager: Project management and business analysis roles are frequently combined into one under this job title. Project Managers can move towards a role more focused on business analysis by focusing on the business needs, the requirements process, the business process, and product scope.

Software Developer: In a small organization with no dedicated Business Analyst, it's quite possible a Software Developer may actually conduct business analysis and data analysis.
A Software Developer could be involved in reviewing requirements specifications, creating design documentation, and managing change requests. A Software Developer who wants to become a Business Analyst could review or update requirements documentation, incorporate requirements models into technical design documentation, and begin to ponder business needs and requirements.
Systems Analyst: Generally, the Business Systems Analyst role identifies someone who is responsible for the technical design of a software system but may not do actual coding. However, unlike a Business Analyst role, a Systems Analyst needs to have a fairly deep understanding of technology.

Quality Assurance Engineer: A Quality Assurance Engineer will typically take care of test planning and test case development. They could also be responsible for the creation or maintenance of a test environment. A QA Engineer can move towards a BA role by looking at their test plans as a business process and overseeing changes that occur during the test cycle.

Product Manager: The Product Manager is the product owner, and is therefore responsible for defining the why, when, and what of any product that the engineering team builds. As product owner, the Product Manager must lead cross-functional teams from a product's conception all the way through its entire life cycle.

Business Intelligence Analyst: Business Intelligence Analyst is a role that uses data analytics, data visualization, and data modeling techniques and technologies to find trends that help other departments, Managers, and executives make decisions to improve their businesses. BI Analysts need to have strong business analytics skills.
Business Analyst vs. Data Scientist/Analyst
A Data Scientist or Data Analyst typically:
Specializes in the high-level manipulation of data and possesses a strong computer science background
Uses tools including Python, R, SAS, SQL, Excel, Tableau, and Jupyter Notebook
Requires the technical skills not only to gather, manipulate and visualize data but also to design, develop and deploy Machine Learning algorithms to create and maintain models
Must consider overall business concerns, through the lens of data
Turns data into meaningful insights
Click here to read more about the differences between a Business Analyst vs. Data Scientist.
A Business Analyst typically:
Focuses on using data analysis skills to create and interpret reports on business performance, productivity, and opportunities

Will use tools including Excel, Tableau, MS Office, Google Data Studio, and sometimes SQL

Requires some technical skill with respect to gathering, manipulating, and visualizing data

Must consider business concerns that have nothing to do with data, including organizational structure and workflow protocols

Takes business ideas (including those generated by data analysis) and figures out how to implement them effectively in the real world
Click here to read more about the differences between a Data Analyst vs. Business Analyst.
What Does a Business Analyst Do?
A Business Analyst conducts research, analyzes data, and considers overall business goals before developing clear and actionable strategies, which they are then responsible for communicating in an accessible and persuasive way to key business leaders and stakeholders.
Because a Business Analyst can be found at all levels of seniority and influence in a wide variety of organizations and industries, the exact parameters and specific responsibilities of the job description will vary dramatically.
However, these are all typical components of what a Business Analyst does:
Research
Although a Business Analyst shouldn't be confused for a Data Analyst, good BAs should be similarly gifted at finding meaningful business insights in large amounts of data. A Business Analyst will have to go beyond the numbers, looking into the goals, past performance, budgets, and operational principles of a business to better understand how it might improve.
Plan
Another difference between BAs and data professionals is that a Business Analyst is singularly focused on developing actionable insights that can be applied to a business – in other words, they must produce recommendations and practical insights that together inform a specific plan of action. So BAs must develop clear plans for the business itself and find ways to monitor and report their own progress.
Execute
A Business Analyst will often steer the process of putting their own solutions in place. That involves a high degree of communication to all stakeholders, including leadership and employees. That process can involve documentation, legal compliance, and even user testing. The Business Analyst must also make necessary adjustments to keep goals within sight.
Types of Business Analysis
While there is no one-size-fits-all answer for effective business analysis, a Business Analyst will tend to use these approaches to the business analysis process:
1. The Five Whys
Gain a deeper understanding of how things are working by being doggedly curious: ask "why" at least five times and search for the root of how a business is performing.
2. Six Thinking Hats
Diversify your perspective by putting on different "hats" and going out of your way to consider different points of view, from the creative to the negative.
3. CATWOE
Another technique requiring consideration of different perspectives, but this time it's the perspectives of Customers, Actors, Transformation process, Worldview, Ownership, and Environment (hence CATWOE).
4. MoSCoW
Short for "Must or Should; Could or Would," this technique is all about organizing and determining priorities.
5. MOST
Another acronym – Mission, Objectives, Strategies, Tactics – that helps you work backward from your ultimate objective to create a detailed, realistic plan for reaching your goals.
6. SWOT / PESTLE
SWOT and PESTLE help a Business Analyst understand as many of the factors that are impacting their situation as possible, in clear terms.
Click here to read more about the differences between a Business Analysis frameworks.
Benefits of Business Analysis
More and more, organizations are employing and depending on a Business Analyst for guidance in key decision-making. When you consider all the different ways adding this position can boost a company's bottom line, that shouldn't be a surprise.
The ways in which business analysis can be a crucial help to an organization can be largely divided into two categories. The first is descriptive, in that smart business analysis clarifies the goals and operations of a company, which improves decision-making at all levels. A Business Analyst can help a company assess strengths and flaws in its structure and operations simply by using data and business analysis processes to provide a clearer sense of where a business is and how it's doing.
The other major part of business analysis is directly proscriptive – a BA makes specific recommendations about how a business can improve its position and support growth. Those recommendations on how a business can maximize its value should always come backed by data, presented in a persuasive and accessible way.
Business Analyst Salaries
The average salary for a Business Analyst as a base figure is just under $80,000 in the U.S. according to Indeed, with the average Senior Business Analyst earning roughly $100,000 including bonuses. Of course, a salary will be higher depending on your location and whether you're an entry-level candidate or you possess more advanced analysis skills.
Demand for Business Analysts
Due to the need for organizations to improve efficiency and keep costs under control, the United States Department of Labor projects demand for business and management analysts will grow 14 percent from 2018 to 2028, much faster than average for all occupations.
Most large companies now employ a Business Analyst to keep a watchful eye on operations and improve processes. A good Business Analyst will also be in heavy demand as external consultants, who provide targeted analysis – often in a short period of time – and the development of recommendations to organizations on a contractual basis.
Business Analyst jobs are numerous in part because these professionals are employed by every industry, including health care, manufacturing, finance, retail, and transportation. Organizations also commonly hire Business Analysts to plan and execute major projects like foreign expansion or the development of their eCommerce strategies.
What Tools Do Business Analysts Use?
Since the job title can encompass such a wide range of tasks, a Business Analyst tends to use a uniquely wide variety of tools depending on their specific responsibilities and organization. There are some that come up again and again, however.
All Business Analysts must know their way around Microsoft Office, including essential business tools like Excel, Word, PowerPoint, and Outlook. For smaller companies, Excel will likely be used as a requirements management tracking tool, while other Business Analysts will use Rational Requisite Pro, Jama, ReQtest, Orcanos, and others.
Business Analysts often use Wrike for project management solutions. The app includes useful features like live editing and file management, schedule-timeline diagramming, workload view, and budget management. For enterprise resource planning, Oracle NetSuite is hailed for its modularity and usability, while Acumatica, SAP, and Sage are also frequently favored.
Pencil is popular for wireframing, modeling, and diagramming, while other popular wireframing tools include Balsamiq and Axure.
Business Analysts are also tasked with data visualization when communicating their solutions to stakeholders, and that's where Microsoft's Visio, Tableau, PowerBI, Bokeh, Plotly, and Infogram can all be helpful. Trello is a popular web-based project management tool for BAs, while for inbound marketing, Business Analysts turn to tools including HubSpot, Salesforce, and Zoho, among others.
Click here to read more what tools Business Analysts uses.
What Skills Do Business Analysts Need?
There are a number of skills you need for jobs in this field, including:
Microsoft Office with a focus on Excel, SharePoint, and flowchart-maker Visio.

Data Analysis skills that span advanced SQL, a mastery of data visualization tools like Tableau, and at least some level of understanding of programming languages like Python.

Business Management knowledge that extends to all the fundamentals of running a business including budgets, cost-benefit analysis, org charts, variance analysis, and customer relations.
Click here to read more what skills a Business Analysts needs.
Business Analyst Career Paths
One perk of a career in business analysis: the possibilities are endless. Since a Business Analyst can work in every aspect of operations in every type of business team and in every industry, two Business Analysts can have completely different career paths. Here are just a few examples of possible career paths in Business Analyst jobs:
IT Business Analyst. As businesses modernize, comprehensive IT strategies become a point of focus. This role has an intensive understanding of how technology – particularly different operating systems, data requirements, and process requirements – can be incorporated into business management and business operations.

Management Analyst. With a keen focus on how businesses are run and how a team is functioning, MAs focus on operational efficiency. Their backgrounds are usually in business rather than technology.

Quantitative Analyst. Quantitative Analysts have a head for numbers. In this job, QAs use data to build predictive mathematical models to help take the risk out of decision-making. They typically come from a background in math, statistics, economics, or finance, often with a master's in one of these fields.

Data Scientist. While not strictly limited to business, Data Scientists find insights in large sets of data. They use computer science, mathematics, and statistics to find meaningful patterns in data and, ultimately, to help organizations make better decisions.
Get Started
Kick-Start Your Business Analyst Career
We offer a wide variety of programs and courses built on adaptive curriculum and led by leading industry experts.
Work on projects in a collaborative setting
Take advantage of our flexible plans and scholarships
Get access to VIP events and workshops
Recommended Courses for Business Analyst