Panel Discussion
Digital Skills in 2020: Staying Ahead in the Age of Digital Transformation
Thursday January 16th, 2020
6:00 PM - 8:00 PM
455 Granville St, Vancouver, BC
Speakers From
Event Details
BrainStation's 2019 Digital Skills Survey found that 74% of organizations are involved in a digital transformation. This means that the roles, workplaces, workflows, and skill requirements are changing and fast. What does this mean for you, your team, and your company? And how do you prepare for the digital changes to come?
Join us as we explore the results of our 2020 Digital Skills Survey, including trends in Data, Design, Development, Marketing, and Product Management to help you sharpen your digital skills for the new year.
We'll also hear from industry leaders implementing digital transformation initiatives, including reskilling, hiring, and building a digital-first culture ready to adapt to the pace of technology.
Event Breakdown
6:00PM - Doors open, refreshments & networking
6:30PM- Discussion begins
7:45PM-8:00PM - Networking & event wrap-up
*Tickets are non-refundable and non-transferable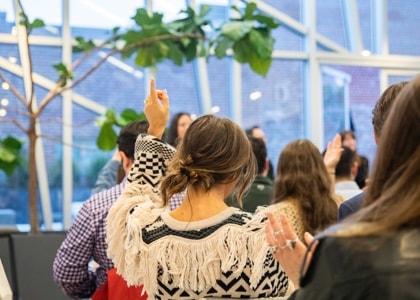 Event Speakers
Chris Yeh, CPHR
Senior Manager of Talent Acceleration at Clio
Colin Picard
Director of Human Resources at Best Buy Canada
Cheick Soumare
Chief People Officer at Clearly
Sharon Norris, CPHR
Director, Leadership and Organizational Effectiveness at Vancity
Become a Sponsor
Become a BrainStation Event Partner to get involved with some of the industry's most exciting thought leadership events. Fill out the form to learn more about sponsorship opportunities.
Reserve Your Spot
Join a dynamic group of like-minded professionals and industry leaders.
Thursday January 16th, 2020
6:00 PM - 8:00 PM
455 Granville St, Vancouver, BC