Panel Discussion
Digital Skills in 2020: Staying Ahead in the Age of Digital Transformation
Thursday January 16th, 2020
6:00 PM - 8:00 PM
455 Granville St, Vancouver, BC
Speakers From
Event Details
BrainStation's 2019 Digital Skills Survey found that 74% of organizations are involved in a digital transformation. This means that the roles, workplaces, workflows, and skill requirements are changing and fast. What does this mean for you, your team, and your company? And how do you prepare for the digital changes to come?
Join us as we explore the results of our 2020 Digital Skills Survey, including trends in Data, Design, Development, Marketing, and Product Management to help you sharpen your digital skills for the new year.
We'll also hear from industry leaders implementing digital transformation initiatives, including reskilling, hiring, and building a digital-first culture ready to adapt to the pace of technology.
Event Breakdown
6:00PM - Doors open, refreshments & networking
6:30PM- Discussion begins
7:45PM-8:00PM - Networking & event wrap-up
*Tickets are non-refundable and non-transferable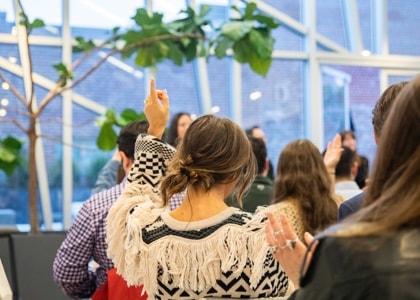 Speakers
Chris Yeh, CPHR
Senior Manager of Talent Acceleration at Clio
Chris Yeh, BSc, MSc, CPHR, is Clio's Senior Manager of Talent Acceleration. He has spent 6 years with Clio, helping scale the company from 75 Clions to now over 460 global Clions. From recruitment to learning, Chris has done it all. Today, he focuses on establishing Clio as the incubator of world-class talent through the development of Acceleration Programs and the offering of Performance Coaching.
Colin Picard
Director of Human Resources at Best Buy Canada
Colin has been with Best Buy Canada for 13 years in a variety of HR and operational roles. He began overseeing the HR needs for the eCommerce and Technology and Logistics and Supply Chain teams in 2017. Colin is a key driver of the people components of the company's digital transformation and is passionate about leadership, especially in non-traditional structures.
Cheick Soumare
Chief People Officer at Clearly
Cheick has over 12 years of international experience in Human Resources across four different continents, mainly in the Energy industry. He began his career in the nuclear sector in Paris and transitioned to the Tech industry last summer moving to Vancouver from Houston, Texas. As the Chief People Officer of Clearly, he oversees all aspects of HR. Together with his team, they have been instrumental in positioning Clearly as a Top Employer in the Tech industry.
Sharon Norris, CPHR
Director, Leadership and Organizational Effectiveness at Vancity
Sharon recently returned to the workforce after being on maternity leave with her second son and is excited to be back leading Leadership and Organizational Effectiveness at Vancity. She has over 12 years of experience in HR and has spent much of her career in the ever-changing world of Financial Services. As the digital revolution continues to advance, Sharon is passionate about maintaining Vancity's commitment to social justice, financial inclusion and environmental sustainability.
Become a Sponsor
Become a BrainStation Event Partner to get involved with some of the industry's most exciting thought leadership events. Fill out the form to learn more about sponsorship opportunities.
Reserve Your Spot
Join a dynamic group of like-minded professionals and industry leaders.
Thursday January 16th, 2020
6:00 PM - 8:00 PM
455 Granville St, Vancouver, BC