Panel Discussion
Future of Sales | Bridging the Gap of Talent and Technology
Past Event
2019-02-21T23:15:00.0000000Z
2019-02-21T23:15:00.0000000Z

–

2019-02-22T01:00:00.0000000Z
BrainStation Toronto
460 King St W, Toronto, ON
$45.00
Speakers From
Event Overview
Curious to hear more about the art of selling? How are industry leaders in Toronto propelling their companies forward? Through what methods?
Join us for a discussion on the future of sales–from nurturing a target community, leveraging data, and trends like social selling or chatbots. A 2018 Randstad report shows that sales positions are the second most in-demand job in Canada, with an increasing demand for B2B reps. From startups to major tech corporations, the need for sales talent and technology is certainly increasing.
Discover what selling looks like beyond the art of closing; and what steps you can take to equip your team for measurable success. Our panelists will be sharing their professional journeys and chatting about career mobility. Leave with applicable tips and tricks to bring back to your sales' teams for a successful 2019.
Full catering, coffee and tea is included in admission.
Make sure to use #BrainStationTO @BrainStationTO to join the conversation digitally!
*Tickets are non-refundable and non-transferable.
*This event is being recorded and may be live-streamed or broadcast on the Internet, which may include your voice or image. By attending, you consent to this.
Speakers
Eric DeMille
Sales Lead, Enterprise Segments at Shopify Plus
Fatima Zaidi
VP of Business Development at Eighty-Eight Agency
Richard Nash
Sales Team Lead at BrainStation
Kalsang Tanzin
Regional Manager, Mid Market at LinkedIn Sales Solutions
Join Us Live
Get Started
Please reserve your spot to attend this exciting event.
Past Event
2019-02-21T23:15:00.0000000Z
2019-02-21T23:15:00.0000000Z

–

2019-02-22T01:00:00.0000000Z
BrainStation Toronto
460 King St W, Toronto, ON
$45.00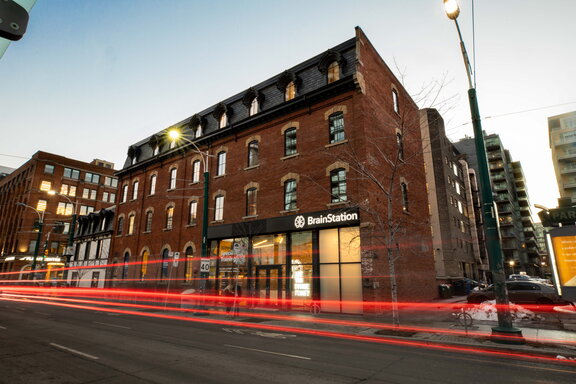 Location
Explore and Learn Within Our Toronto Campus
Located in the heart of Toronto's Tech Alley, BrainStation is at the centre of Toronto's tech scene, where you can discover the tech community surrounded by the city's best technology companies and leaders.
BrainStation Toronto
460 King St W, Toronto, ON M5V 1L7, Canada
Due to the heritage nature of 460 King the upper floors of the building are stair-access only (no elevators). Please contact us in advance regarding any accessibility questions or concerns for your course or program of interest. BrainStation also offers Online learning options.
Get Started
Join Us Live
Please reserve your spot to attend this exciting event.
Past Event
2019-02-21T23:15:00.0000000Z
2019-02-21T23:15:00.0000000Z

–

2019-02-22T01:00:00.0000000Z
BrainStation Toronto
460 King St W, Toronto, ON
$45.00