Panel Discussion
London's Digital Future: Success in 2022 and Beyond
Thursday February 17th, 2022
6:30 PM - 9:30 PM
BrainStation London, 55-57 Rivington Street, London
Reserve Your Spot
Event Details
Join us for a discussion on the future of London's rapidly transforming economy and workforce, with some of the city's most influential industry leaders.
Over the past decade, London has established itself as a global tech powerhouse, attracting investment from the most innovative digital companies. Where will this momentum take the UK capital in 2022? How will London make the most of this movement to ensure prosperity for digital businesses and talent?
Register today to hear thoughts on the future of London's workforce, which skills are in most demand, and how business leaders are preparing for the decade ahead.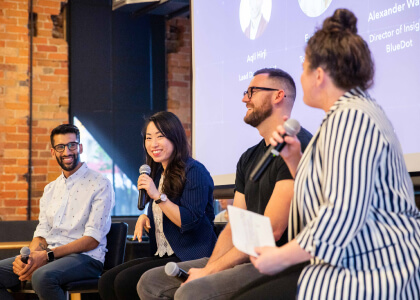 Speakers
David Jones
Executive Product Manager at BBC Sounds
Topics of Discussion
In-Demand Digital Skills

Digital Innovation in 2022

The Future of London's Workforce

Driving Digital Change
Become a Sponsor
Become a BrainStation Event Partner to get involved with some of the industry's most exciting thought leadership events. Fill out the form to learn more about sponsorship opportunities.
Reserve Your Spot
Join a dynamic group of like-minded professionals and industry leaders.
Thursday February 17th, 2022
6:30 PM - 9:30 PM
BrainStation London, 55-57 Rivington Street, London
Reserve Your Spot