Panel Discussion
Women in Leadership: Shaping Stronger Pathways
Upcoming Session
2023-03-28T22:00:00.0000000
2023-03-28T22:00:00.0000000

–

2023-03-29T00:00:00.0000000
BrainStation Miami
2650 NW 5 Ave, Miami, FL
$20.00
Speakers From
Event Overview
From engineering to entrepreneurship, women are underrepresented at every level in the corporate pipeline. At what point does this gap occur and why? And how do we work together, across generations and leadership levels, to create stronger pathways for women in the workplace?
Join us as female leaders from across industries explore these questions and discuss the ways we can continue on the road to equality.
All proceeds from this event will be donated to BrainStation's annual campaign for International Women's Day.
This event, as with all of our events, is an open and inclusive environment. We invite anyone who is interested to join us for this conversation.
*Tickets are non-refundable and non-transferrable
Speakers
Johanna Mikkola
VP & GM at BrainStation Miami
Dimple Jethani
Chief Information Officer at Norwegian Cruise Line Holdings Ltd.
Caroline O'Connor
President of Business Operations at Miami Marlins
Jessica Goldman Srebnick
Co-Chair of Goldman Properties and Founder & CEO of Goldman Global Arts
Join Us Live
Get Started
Please reserve your spot to attend this exciting event.
Upcoming Session
2023-03-28T22:00:00.0000000
2023-03-28T22:00:00.0000000

–

2023-03-29T00:00:00.0000000
BrainStation Miami
2650 NW 5 Ave, Miami, FL
$20.00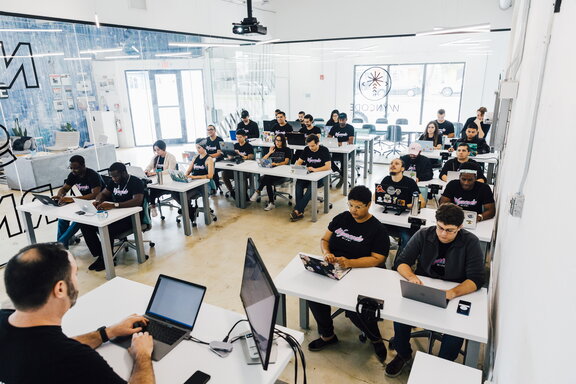 Location
Explore and Learn Within Our Miami Campus
Located in the heart of Wynwood, BrainStation is at the centre of Miami's tech scene where you can discover the tech community surrounded by the city's best technology companies and leaders.
BrainStation Miami
2650 NW 5th Avenue, Miami, FL, 33127
Get Started
Join Us Live
Please reserve your spot to attend this exciting event.
Upcoming Session
2023-03-28T22:00:00.0000000
2023-03-28T22:00:00.0000000

–

2023-03-29T00:00:00.0000000
BrainStation Miami
2650 NW 5 Ave, Miami, FL
$20.00