Panel Discussion
Social Media Vancouver | Tools, Trends and More to Improve Your Social Strategy
Thursday November 15th, 2018
6:30 PM - 8:00 PM
455 Granville St, Vancouver, BC
Speakers From
Event Details
Are you looking to get involved in social media marketing? Or are you already involved and looking for hacks to maximize your time and results? From disappearing content, paid advertisements and influencer marketing, the social media revolution isn't coming to a halt anytime soon.
Learn how to measure your success and increase your value through social campaigns. This discussion will touch on key tools, recent trends, methods of creating engaging content and making data-informed strategies to gain and retain audiences. Whether you're a small business owner, freelancer, digital creative, or working in the industry, you'll leave with new thoughts and insights from local social media experts.
Don't forget to use #SocialMediaYVR @BrainStationyvr to join the conversation digitally!
*Tickets are non-refundable and non-transferable.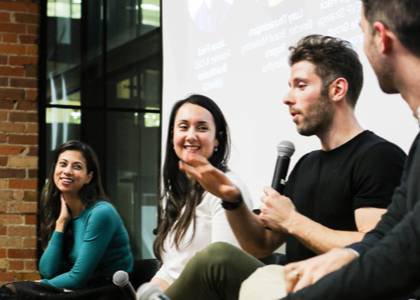 Event Speakers
Charlie Grinnell
CEO, RightMetric
Taylor Loren
Head of Marketing, Later.com
Joel Hansen
Business Development Manager, Skidmore Group, Linkedin Campus Editor, Adobe Student Advisor
Alicia Taggio
Customer Marketing Manager, Hootsuite
Topics of Discussion
How to build and engage with your social community

How to analyze and optimize social channels

Key tools that increase engagement and save time

Defining and building your brand voice

Past, present and upcoming trends to note
Become a Sponsor
Become a BrainStation Event Partner to get involved with some of the industry's most exciting thought leadership events. Fill out the form to learn more about sponsorship opportunities.
Reserve Your Spot
Join a dynamic group of like-minded professionals and industry leaders.
Thursday November 15th, 2018
6:30 PM - 8:00 PM
455 Granville St, Vancouver, BC