Women in Tech Toronto | A Panel Discussion with Female Leaders in Digital
Tuesday September 26th, 2017
6:30 PM - 8:30 PM
460 King St W, Toronto, ON
Speakers From
Event Details
The panel will be an intimate discussion with inspiring women who have paved their way to become digital leaders, sharing their advice, both personal and professional, on achieving career success. Our last panel was a sell-out event, with past panelists including female leaders from Ladies Learning Code, Uber, Hootsuite, Slack, Microsoft and more!
We recommend attendees come early to network prior to the discussion. Instagram and Tweet your questions using the hashtag #BrainStation, we will have a live board running throughout the event to monitor these as they come in!
We'll be closing with a Q&A session, giving you the opportunity to ask our panelists questions on leadership, empowerment, breaking stereotypes and much more. This is also a great place to network with other like-minded creatives and innovators and celebrate women leading in technology.
What to Expect
6:30-7:00pm Doors Open & Networking
7:00-8:00pm Panel Discussion
8:00-8:15pm Q&A
8:15-8:30pm Event wraps up
*Event is non-refundable and non-transferable.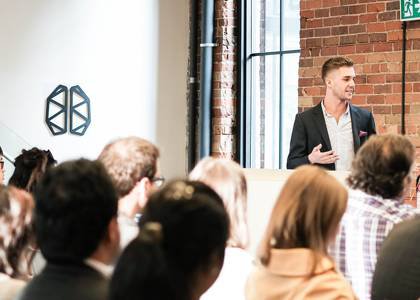 Speakers
Arati Sharma
Director of Marketing
Arati Sharma is the Director of Marketing, at Shopify, a leading commerce company empowering over 400,000 merchants to sell anything, to anyone, anywhere. In her role, she leads product marketing, sponsorships, event marketing and community development. One of Arati's legacy initiatives is leading the strategy, content, and development of Unite, Shopify's inaugural partner and developer conference which generates over 23M global impressions. Previously, Arati led operations and strategic programming for Jet Cooper, a design agncy acquired by Shopify in 2013.
When she's not hustling, you can find Arati making home-cooked meals in her downtown Toronto condo, chatting with Shopify merchants in the wild, and listening to Drake.
Sarah Stockdale
Principal at Stockdale Consulting
Sarah Stockdale is a growth veteran, with 7 years of experience growing and scaling early stage technology companies. With experience working at venture-backed companies out of both Toronto and Silicon Valley, Sarah has grown companies from scratch and led large growth teams. Past experience includes Product Marketing and Business Development at Wave and most recently, Sarah led a multi-national growth team at Tilt as the Director of Global Community Growth. Sarah mentors with Venture for Canada and 500 Startups, and has taught and spoken at Ryerson, Queen's, Brainstation, HackerYou, McMaster, George Brown and Mohawk College.
Kathryn Hume
Vice President Product & Strategy
Kathryn Hume is Vice President Product & Strategy for integrate.ai, a SaaS startup applying AI to drive growth and customer satisfaction for large enterprises. Kathryn is also a Venture Partner at ffVC, a seed- and early-stage technology venture capital firm, where she advises early-stage artificial intelligence companies and sources deal flow. As the former Director of Sales and Marketing at Fast Forward Labs, Kathryn led Fortune 500 companies to accelerate their machine learning and data science capabilities. Kathryn has given lectures and taught courses on the intersections of technology, ethics, law, society at Harvard Business School, Stanford, the MIT Media Lab, and the University of Calgary Faculty of Law. She speaks seven languages, and holds a PhD in comparative literature from Stanford University and a BA in mathematics from the University of Chicago.
Jas Shukla
Principal UX Designer
Jas Shukla is a Principal UX Designer at FreshBooks, a company on a mission to help small business owners successfully run their businesses without having to learn accounting. Jas leads a team of designers who create innovative solutions grounded in understanding customer problems and insights. She believes in always learning, not being afraid to fail and inclusive collaboration.
Jas has over a decade of experience in product management, consulting, user experience and leading teams. Prior to FreshBooks, Jas worked at Microsoft, Habanero Consulting and co-owned a design services company. Jas studied Systems Design Engineering at the University of Waterloo. When she's not nerding out on design, Jas is exploring libraries, cities and coffee shops.
Nish Balakrishnan
Engineering Manager
Nish Balakrishnan is the Engineering Manager for the Payments team at Wave, leading technology on all of Wave's core financial products. Before joining Wave in 20she served as frontline support and engineering for Amazon's Digital Organization. A University of Toronto Computer Science graduate (2009), Nish has been known to spontaneously gift her friends with Serrano pepper plants.
Topics of Discussion
How to get started in tech

Achieving work-life balance

Leading digital teams

Breaking stereotypes

How to encourage young women to make their mark in tech

How to encourage companies to promote gender equality

Be sure to come armed with your own set of questions to engage with our panelists!
Become a Sponsor
Become a BrainStation Event Partner to get involved with some of the industry's most exciting thought leadership events. Fill out the form to learn more about sponsorship opportunities.
Reserve Your Spot
Join a dynamic group of like-minded professionals and industry leaders.
Tuesday September 26th, 2017
6:30 PM - 8:30 PM
460 King St W, Toronto, ON