Panel Discussion
Women in Leadership: Shaping Stronger Pathways
Upcoming Session
2023-03-23T22:00:00.0000000Z
2023-03-23T22:00:00.0000000Z

–

2023-03-24T00:00:00.0000000Z
BrainStation Toronto
460 King St W, Toronto, ON
$20.00
Speakers From
Event Overview
From engineering to entrepreneurship, women are underrepresented at every level in the corporate pipeline. At what point does this gap occur and why? And how do we work together, across generations and leadership levels, to create stronger pathways for women in the workplace?
Join us as female leaders from across industries explore these questions and discuss the ways we can continue on the road to equality.
All proceeds from this event will be donated to hEr VOLUTION as part of BrainStation's annual campaign for International Women's Day. hEr VOLUTION is the go to place for youth, particularly young women from underserved communities in order to advance in 21st Century skills. The goal is to inspire and revolutionize the STEM industry and change the world, by encouraging girls and young women to pursue STEM-based careers and also promote stakeholder's involvement in the support of STEM education in Canada.
This event, as with all of our events, is an open and inclusive environment. We invite anyone who is interested to join us for this conversation.
*Tickets are non-refundable and non-transferrable
Speakers
Jennifer McCuaig
Director, Learning Experience at BrainStation
Alissa Polansky
Head of Digital Experience Domain (Senior Director II) at Walmart
Amber Foucault
Chief Product Officer at Drop
Elana Ostrega
VP of Marketing at Clearco
Join Us Live
Get Started
Please reserve your spot to attend this exciting event.
Upcoming Session
2023-03-23T22:00:00.0000000Z
2023-03-23T22:00:00.0000000Z

–

2023-03-24T00:00:00.0000000Z
BrainStation Toronto
460 King St W, Toronto, ON
$20.00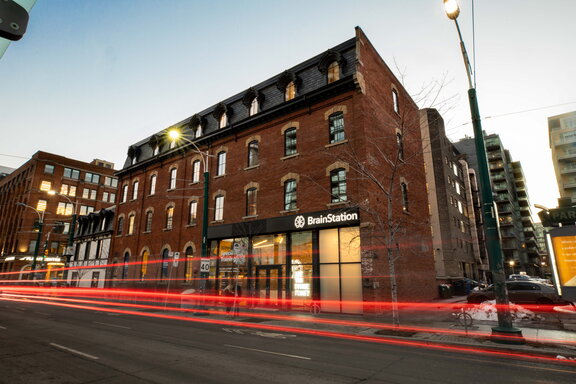 Location
Celebrate in BrainStation's Toronto Campus
Located in the heart of Toronto's Tech Alley, BrainStation is at the centre of Toronto's tech scene where you can celebrate with the tech community surrounded by the city's best technology companies.
BrainStation Toronto
460 King St W, Toronto, ON M5V 1L7, Canada
Due to the heritage nature of 460 King the upper floors of the building are stair-access only (no elevators). Please contact us in advance regarding any accessibility questions or concerns for your course or program of interest. BrainStation also offers Online learning options.
Get Started
Join Us Live
Please reserve your spot to attend this exciting event.
Upcoming Session
2023-03-23T22:00:00.0000000Z
2023-03-23T22:00:00.0000000Z

–

2023-03-24T00:00:00.0000000Z
BrainStation Toronto
460 King St W, Toronto, ON
$20.00