Panel Discussion
Stories through Data: Making an Impact with Data Visualization
Monday February 24th, 2020
6:30 PM - 8:30 PM
Industrious at Equinox - Hudson Yards, 31 Hudson Yards, Floor 11, New York, NY 10001, USA
Speakers From
Event Details
In today's world, there is no shortage of data, but what does it all mean? Data visualization is the transformation of numbers and data sets into images and stories that inform, inspire, and influence, allowing us to unlock the power of our findings.
Join us as Data Scientists and Information Designers share their experiences, and explain how getting comfortable with data is the first step to effective visualization, mastering analysis, and organizing data in ways that enhance creative storytelling.
We'll discuss how visual and verbal elements can create a more digestible and appealing experience for data novices, and unpack the stories, people, and ideas behind the numbers.

Event Breakdown
6:30PM - 6:45PM - Networking & Refreshments
6:45PM - 7:45PM - Presentations & Panel Discussion
7:45PM - 8:00PM - Audience Q&A
8:00PM - 8:30PM - Final Networking & Refreshments
*Tickets are non-refundable and non-transferable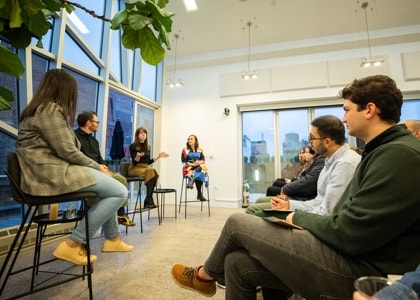 Event Speakers
Lily Boyce
Data Visualization Engineer, Condé Nast
Stuart Thompson
Editor, The New York Times
Arina Igumenshcheva
Data Analyst, Thorn
Martin Lüttgersheiden
Lead Data Scientist, Healthify
Laura Elsener
Senior Data Scientist, Squarespace
Become a Sponsor
Become a BrainStation Event Partner to get involved with some of the industry's most exciting thought leadership events. Fill out the form to learn more about sponsorship opportunities.
Reserve Your Spot
Join a dynamic group of like-minded professionals and industry leaders.
Monday February 24th, 2020
6:30 PM - 8:30 PM
Industrious at Equinox - Hudson Yards, 31 Hudson Yards, Floor 11, New York, NY 10001, USA